On the surface, it might seem Signature Theatre's world premiere comedy Walter Cronkite is Dead and Studio Theatre's production of Tracy Lett's Superior Donuts have very little in common. The hysterically funny Cronkite takes place here in Washington, where two women have been stranded in an airport bar because storms have grounded airplanes up and down the East Coast. Superior Donuts, on the other hand, is a dark and sentimental Chicago story. It's about what happens when an outgoing and gregarious young black man goes to work for an introverted hippy who spends some of his days running the Uptown neighborhood doughnut shop that his father opened decades ago. (The other days he spends not showing up and occasionally missing the coffee guy's deliveries.)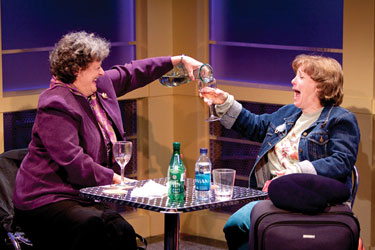 Red, blue and a carafe of white: Robinette and Edelen
(Photo by Scott Suchman)
What's striking is the fact that, despite obvious differences, both plays end up delivering a very similar message: It's only when we look closely enough, when we take the time to talk instead of just scream at one another, that we have the possibility of discovering the things we have in common. That's not to say that we'll all come together in some great, universal Kumbaya campfire moment. In the end, the connections we find may actually unsettle far more than they comfort.
Cronkite opens with Margaret (Nancy Robinette) nursing a glass of white wine and waiting patiently for the weather to clear. Her youngest son Bobby (named, as are all her children, after a member of the Kennedy clan) is scheduled to fly through D.C. to meet her in order to travel as far as New York. From there, Margaret will go alone to Moscow, her first flight abroad and only the second flight of her life.
Enter like a tornado with a Southern accent, Patty (Sherri L. Edelen). Patty is also heading abroad on her own, having been dumped by her daughter for their annual mother-daughter vacation. Pamela, the daughter, can't understand her mother's insistence on going all the way to London, even though Patty's ace British concierge has arranged tickets for them to see The Lion King. "I'm sure," Pamela has told her mother, "that the British hyenas will be much more accomplished than the American hyenas."
Pivoting off the Red-Blue divide that some feel played out during the recent midterm elections, Margaret and Patty are polar ends of the spectrum. Patty doesn't really care for the Kennedys and can't understand why Margaret would want to visit Moscow. "You can keep your empires, communists and fascists," she says. "Give me Europe."
But Joe Calarco's play is far more than a tale of opposites in close quarters and its comedy does not seek to make an imbecile of either woman. Instead, Cronkite expertly unspools two very different stories not to pick at where they conflict, but instead to lay bare where they closely align.
The show has found a great home at Signature and two phenomenal talents to bring it vibrantly to life. Robinette's Margaret is a woman many will instantly recognize from any number of spots around the city. Maybe it's the proper, tailored jacket or the skirt of an appropriate length. Or maybe it's the slight edge of exasperation that slips out when the call on the mobile phone is from a child who feels put upon in a slightly outsized fashion. Whatever that resonating bit might be for individual audience members, the reality is that Robinette has crafted a personality who is vivid, believable and smartly comic. It's a deft performance that should rightly earn praise.
As Patty, Edelen demonstrates a fearless physicality that manages to be sharp and amusing without becoming too much of a caricature. With her sweatpants and brooch festooned denim jacket and fanny pack, the danger is certainly there. But Edelen even manages her enormous Tennessee accent with enough care and intent to make Patty sympathetic. We actually care about her, as we care about Margaret, regardless of how much our personal politics and personalities might clash with them.
The playbill for Walter Cronkite is Dead includes a quote by the newsman: "In seeking the truth you have to get both sides of a story." Ironically, Calarco's Cronkite might be demonstrating just the opposite. After you get both sides of the story, the truth might be harder to determine than ever before.
In Superior Donuts, Franco Wicks (Johnny Ramey) shows up to respond to Arthur Przybyszewski's (Richard Cotovsky) "help wanted" sign the day that Arthur's shop, Superior Donuts, has been broken into. Nothing has been taken, no money stolen. The place has been messed up a bit, the glass in the front window smashed and the word "PUSSY" has been spray painted on the menu board in bright red spray paint.
WALTER CRONKITE IS DEAD





To Dec. 26
Signature Theatre
4200 Campbell Ave.
Arlington, Ava.
$50-$76
703-820-9771
signature-theatre.org
SUPERIOR DONUTS






To Dec. 19
Studio Theatre
1501 14th St. NW
$44-$65
202-332-3300
studiotheatre.org
We watch as an uneasy, sparring camaraderie grows between the two men, individuals as seemingly opposite as Cronkite's Margaret and Patty. Franco is a kid who's never caught much of a break (and found a variety of ways to diminish the ones he's gotten) but has managed to maintain a belief in the better days that he sees just ahead.
Arthur stopped expecting something more a long time ago, the shop being both the anchor to his past and the weight that is holding him down.
Cotovsky and Ramey are fantastic together, playing off one another with a brilliant generosity and spirit of collaboration. They are fantastically matched and, through their talents, manage to smooth over some of those areas where Letts's material seems strained a bit thin. Nothing completely jolting or utterly undoing, but spots where the audience is either able to anticipate where we are headed too quickly, or left questioning why we went down this particular road to begin with. This is to say nothing of the Deus ex Russian.
In spite of these occasional rough patches, however, Studio Theatre is serving up something rich and satisfying with Superior Donuts. Please note, however, that no actual doughnuts are served.