At a news conference at the Pentagon this afternoon, Defense Secretary Robert Gates spoke about the release of the Pentagon working group report examining implementation of repeal of "Don't Ask, Don't Tell," telling the reporters the working group had taken on "such a complex and controversial subject" and done so well.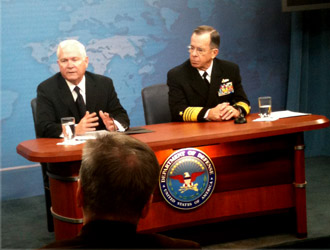 Gates (left) and Mullen
(Photo by Chris Geidner)
The "Report of the Comprehensive Review of the Issues Associated with a Repeal of 'Don't Ask, Don't Tell"' runs more than 250 pages. An additional "Support Plan for Implementation" was released today alongside the report.
The executive summary of the report concludes that "while a repeal of 'Don't Ask, Don't Tell' will likely, in the short term, bring about some limited and isolated disruption to unit cohesion and retention, we do not believe this disruption will be widespread or long-lasting, and can be adequately addressed by the recommendations we offer below."
Asked about his personal view on the matter, Gates, who – unlike the chairman of the Joint Chiefs of Staff, Adm. Mike Mullen – had not shared his personal view about repeal with the Senate Armed Services Committee when testifying before it in February, today said, "One of the things that is most important to me is personal integrity, and a policy or a law that in effect requires people to lie gives me a problem."
Although Gates said that repeal would be "potentially disruptive in the short term," he agreed with the report's conclusion that "[t]here is a low risk to repealing 'Don't Ask, Don't Tell."'
Mullen concurred, saying, "I fully endorse their report, its findings and the implementation plan recommended by the working group."
The report itself concludes, "Longer term, with a continued and sustained commitment to core values of leadership, professionalism, and respect for all, we are convinced that the U.S. military can adjust and accommodate this change, just as it has others in history."
Gates also addressed, in some of the strongest terms he has used to date, the issue of legislation pending in Congress to repeal DADT, saying, "I strongly urge the Senate to pass this legislation and send it to the president for his signature before the end of this year."
Referencing the injunction of DADT enforcement issued as a result of the trial in Log Cabin Republicans v. United States in October, Gates said, "It is only a matter of time before the federal courts are joined once more into this fray."
He called this "one of the most hazardous" options, preferring instead "well-considered implementation" available by the legislation passed by the Senate Armed Services Committee and the House in May. Those who don't support the legislative repeal, he said, are "rolling the dice that this policy will not be abruptly upended by the courts."
The executive summary, authored by the co-chairs of the working group – Defense Department general counsel Jeh Johnson and Gen. Carter Ham, the commander of U.S. Army Europe – details that they were aided by 49 military and 19 civilian personal.
The two aims of the study were to assess the impact of repeal and recommend changes in the event of repeal. The report concludes that, based on an extensive survey of servicemembers, there is "a widespread attitude among a solid majority of Service members that repeal of 'Don't Ask, Don't Tell' will not have a negative impact on their ability to conduct their military mission."
Saying that the working group successfully addressed "this difficult policy issue and its impact on the military," Gates defended the survey of troops, saying that it was essential to understand the "attitudes, obstacles and concerns" of servicemembers and their families. He added that the survey was "not a poll" of troops, a comment he had earlier made in a letter to Sen. John McCain (R-Ariz.) addressing the senator's concerns about the report.
With more than 115,000 servicemembers responding to the survey, which is 28 percent of those solicited, the report states that "the margin of error for the results was less than +/- 1%."
According to the survey, 69 percent of servicemembers report that they have worked "in a unit with a co-worker that [the respondent] believed to be homosexual." When asked about the actual experience of serving in a unit with a coworker they believed to be gay or lesbian, 92 percent stated that the unit's "ability to work together" was "very good," "good," or "neither good nor poor."
As previously reported, asked whether a service member who is gay would impact the unit's ability to "work together to get the job done," 70 percent say it would have a positive, mixed or no effect.
The report also includes data from a survey of self-identified gay and lesbian service members, conducted by RAND, that found "if 'Don't Ask, Don't Tell' were repealed, only 15 percent of gay and lesbian service members would like to have their sexual orientation known to everyone in their unit."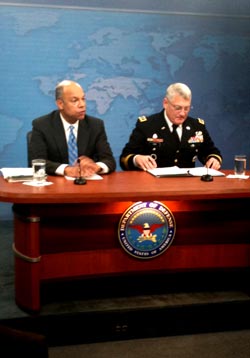 Johnson (left) and Ham
(Photo by Chris Geidner)
The report also found a difference in how servicemembers think a repeal might affect the military versus how they have experienced serving with co-workers they believe to be gay.
"[W]hile a higher percentage of Service members in warfighting units predict negative effects of repeal," says the report, "the percentage distinctions between warfighitng units and the entire military are almost non-existent when asked about the actual experience of serving in a unit with someone believed to be gay."
The executive summary shares an anecdote collected earlier this year from a focus group, noting, "As one special operations force warfighter told us, 'We have a gay guy [in the unit]. He's big, he's mean, and he kills lots of bad guys. No one cared that he was gay."'
As expected, Marines expressed the highest predictions of negative effects of repeal.
"Sixty-seven percent of those in Marine combat arms units predicted working alongside a gay man or lesbian will have a negative effect on their units effectiveness in completing it's mission 'in a field environment or out at sea.' By contrast, in response to the same question, but during 'an intense combat situation,' the percentage drops to 48 percent."
Asked about McCain's concerns that the report will be "the wrong report" because it will not be addressing the right issues, Gates said, "I think, in this respect – and I obviously have a lot of admiration and respect for Senator McCain, but in this respect, I think that he is mistaken. I think this report does provide a sound basis for making decisions on this law."
The success of the implementation of repeal, the report states, will depend upon "strong leadership, a clear message, and proactive education."
Mullen stressed that point, saying that the report found "strong leadership to be the single most important factor in implementing repeal."
Asked about the timing of repeal implementation, however, Gates said, "Frankly, I don't know." He added, "I would say this: If repeal is passed, the president would be watching very closely to make sure we don't dawdle or slow-roll this."
The report itself cites the military's experience with race and gender integration when considering repeal of DADT, stating, "Though there are fundamental differences between matters of race, gender, and sexual orientation, we believe the U.S. military's prior experiences with racial and gender integration are relevant."
Referring to racial integration, the report notes that "the resistance to change at that time was far more intense" than it is to open service by gays and lesbians. The executive summary describes racial integration as a success, stating that the U.S. military today is "probably the most racially diverse and integrated institution in the country."
The report concludes that, "Predictions and surveys tend to overestimate negative consequences, and underestimate the U.S. military's ability to adapt and incorporate within its ranks the diversity that is reflective of American society at large."
Regarding benefits, housing, relationships within the ranks and other similar issues, Gates said that many of these issues "could be governed by existing laws and regulations." He added that current regulations and policies "should be applied equally to heterosexuals and homosexuals."
The report itself does not recommend that sexual orientation be placed alongside race, color, religion, sex and national origin as a class eligible for various diversity programs.
Later, Defense Department general counsel Jeh Johnson – one of the co-chairs of the working group – said that the working group's recommendation is, "If repeal comes, gay and lesbian servicemembers must be treated the same as everyone else." In a somewhat contradictory note, however, he also said that "all members not in a federally recognized marriage be treated as single."
Ham later clarified that "there are a number of benefits to which servicemembers are entitled that are servicemember-designated." Ham said that, after a repeal of DADT, servicemembers could designate a same-sex partner in "those kinds of categories" – mentioning life insurance beneficiary and next-of-kin notification, specifically.
Johnson also said that the working group recommended that those previously discharged under DADT "be permitted to reapply" under the same circumstances as others.
The recommendations in the report discuss standards of conduct, moral and religious concerns, and privacy and cohabitation, including a definitive statement on the integration of gay and lesbian service members: "We recommend that the Department of Defense expressly prohibit berthing or billeting assignments or the designation of bathroom facilities based on sexual orientation."
The report adds, however, that "commanders would retain the authority they currently have to alter berthing or billeting assignments or accommodate privacy concerns on an individualized, case-by-case basis, in the interests of morale, good order and discipline, and consistent with performance of mission."
The recommendations also support pre-existing proposals to do away with the military sodomy law by repealing Article 125 from the Uniform Military Code of Justice.