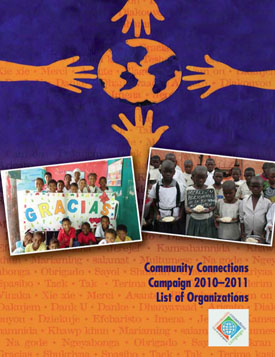 On Nov. 11, Metro Weekly reported that Parents and Friends of Ex-Gays and Gays (PFOX) had been listed as an eligible organization in the World Bank's 2010-2011 Community Connections Campaign, which would give it matching funds provided by the bank for any employee donations given to PFOX through the drive.
Today, however, the World Bank told employees of a change in the policy that will keep PFOX from getting any more matching funds during this year's campaign.
After Metro Weekly's report, Truth Wins Out and Change.org started a petition campaign, concluding, "I urge The World Bank to cease funding or matching gifts for hateful groups like Parents and Friends of Ex-gays."
TBD's Amanda Hess followed up today, talking to one LGBT World Bank staffer, who said, "If a charitable association supporting female genital mutilation, a pro-life organization or an association claiming it can turn black people white had wiggled its way in the CCC, The Bank's management would have removed it immediately and issued an apology."
Now, the World Bank has responded, with an email sent out to folks involved in the Community Connections Campaign. From the email, sent to Metro Weekly:
Dear CCC Campaign Coordinators and Volunteers:
I want to share with you information that Bank Management has made a decision regarding this year's Campaign and the provision of matching funds.
* * *
For this year's Community Connections Campaign, Bank-matching funds will be provided to those organizations that have, through prior participation, established a track record of support with staff. Organizations that have come on the list this year will not be offered matching funds in this year's campaign, though the Bank will match any contribution that has been made to this latter group prior to today, November 15, 2010. We will review the new organizations after one year, to see if they have the staff and community support to warrant a match in the FY12 campaign.
That means that, while employees will continue to be able to select PFOX for their contributions this year, the World Bank — because PFOX is new to the list this year — will only provide matching funds for donations to the group made before today.
[UPDATE: Metro Weekly has been informed that there are several other organizations that were recognized as eligible for the first time this year. They, per the email above, also would have their World Bank matching funds cut off as of today. According to the information received, they include:
NAME OF ORGANIZATION
Advocacy Project
Angel Flight Mid-Atlantic
Arc of Montgomery County
Be The Match Foundation
Best Buddies Virginia
Calvary Women's Services
Center for Adoption Support and Education
Central Union Mission
CityDance Ensemble
College Summit
Dance Place
Downtown Cluster of Congregations
Ekal Vidyalaya Foundation
GALA Hispanic Theatre
Good Shepherd Housing
International Justice Mission
Korean American Sharing Movement
Lamb Center
LifeSTARTS Youth & Family Services
National Wildlife Federation
Omid Foundation USA
Parents and Friends of Ex-Gays and Gays
Reporters Without Borders USA
Save A Child's Heart Foundation
St. Coletta of Greater Washington
Visitors' Service Center
This report will be updated as necessary.]