Rep. Barney Frank (D-Mass.), who turned 70 this year, had tears in his eyes on Dec. 21 as House Speaker Nancy Pelosi (D-Calif.) signed the enrolled Don't Act, Don't Tell Repeal Act of 2010.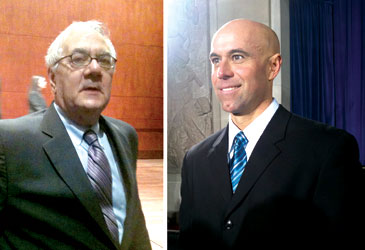 Frank, Fehrenbach


(Photo by Chris Geidner)
To an audience assembled to watch the signing, the day was historic.
For Frank and many of those on the stage and in the audience it was the culmination of a nearly two-decade effort. He told the audience of his initial effort in the House to remove the language banning gay, lesbian and bisexual people from serving openly in the armed forces from the National Defense Authorization Act in 1993.
"I was the author of the House amendment to kill this policy 17 years ago, as [Sen.] Barbara [Boxer (D-Calif.)] was in the Senate, and [now] the vote's been reversed," he said. "I couldn't be happier."
Then, though, speaking of the "grumpy old men" opposed to openly gay, lesbian and bisexual servicemembers, he added, "it took [Rep.] Patrick Murphy (D-Pa.) to show them how combat was really done. His courage and his experience combined to be invaluable in this fight."
President Barack Obama would sign the bill into law the next day in a ceremony that was carefully controlled and full of the pomp and circumstance to be expected of a presidential bill-signing ceremony. The speaker's ceremony on Dec. 21 was a different type of day.
Speaking with Metro Weekly after the speaker's ceremony, Frank said, "There are still other things, and I don't know how quickly we're going to get them, but this is a major breakthrough."
Onstage with Pelosi on Dec. 21, former Air Force Maj. Mike Almy, former Army Sgt. First Class Stacey Vasquez and Air Force Lt. Col. Victor Fehrenbach joined Frank, Murphy and several other members of Congress in a ceremony made possible only a few days before when the Senate broke the filibuster attempt of the repeal bill.
Frank, the longest-serving out congressman, took the bill after Pelosi signed it and quietly handed it to the three servicemembers. The military careers of all three have been placed in jeopardy or cut short because of DADT.
At the same time, Murphy – a straight veteran who served in Iraq and is one of the youngest members of Congress – received three standing ovations and was singled out by several other members of Congress for his leadership of the repeal effort in the 111th Congress.
Although Murphy lost his re-election bid in November, on Dec. 21 he took some time to focus on the service of others. Of the efforts of Almy, Fehrenbach, Vasquez and other gay, lesbian and bisexual servicemembers, he said, "They're my brothers and sisters, and they're so heroic.
"They love their country – it's even harder for them to serve, and yet they continue to serve even under difficult circumstances," he told Metro Weekly that day. "Frankly, I think there's a special place in heaven for them."
Just more than nine months earlier, on Mar. 18, Almy had testified before the Senate Armed Services Committee, telling the story of his DADT discharge – a story repeated many times in the months since. It was testimony a month before that, from Chairman of the Joint Chiefs of Staff Adm. Mike Mullen, that Almy pointed to as the turning point of the DADT repeal fight. Mullen told the committee then that the integrity of the military is harmed when servicemembers are forced to "lie about who they are."
"A lot changed when Adm. Mullen made his statement before the Senate Armed Services Committee," Almy told Metro Weekly on Dec. 18. "When he made that statement in February, I think it moved a lot of the committee members, it moved a lot of Americans to see the senior military leader of this country address it in that way – that this is an integrity issue, that people are being forced to lie who just want to serve their country.
"I think that did a lot to sway a lot of public opinion, and it sort of moved this forward a lot faster than it could have."
Fehrenbach, however, pointed to Almy as well.
"I think that stories like Mike's, like Jenny Kopfstein, like Margie Witt – when people started to hear our personal stories – that, I think, had a lot to do with it, too," he said, referring to Navy Lt. Gen. Jr. Grade Jennifer Kopfstein, who was discharged under DADT, and Air Force Reserve Maj. Margaret Witt, who has an ongoing challenge to be reinstated to the Air Force after having been discharged under DADT. "Just to hear Mike's story, that just makes a lot of the people out there who think [this policy is] working think."
Fehrenbach told Metro Weekly on Dec. 18 that those stories provided a response: "It's not working, we're firing good people, and we're losing them every day. We're a country at war and we need everybody we can get."
Of the gay, lesbian and bisexual servicemembers, Murphy said, "In those moments when times were tough and the personal attacks were flying in a tough district, I thought about those guys and what they had to go through, and I know I had it easy.
"It was just a nasty letter to the editor, or a personal attack during a parade, or comments from folks that shouldn't have been commenting on the floor of the House of Representatives on C-SPAN," Murphy said. "At the end of the day, I look at myself in the mirror, and I did my best for my country and for the brothers and sisters that I fought so hard for."
Almy was one of those discharged under DADT. Yet, on Dec. 13 – with the support of the Servicemembers Legal Defense Network – Almy filed a lawsuit asking to be reinstated.
Of the lawsuit he said, "As far as me, personally, with my lawsuit, I have no idea what's going to happen in the future. Hopefully, it's going to be a moot point, because my ultimate goal is just to get back into the military and to resume my career as an officer – through whatever avenue that's going to take."
But, he added, "If not, for some reason, we're prepared to press forward with the lawsuit."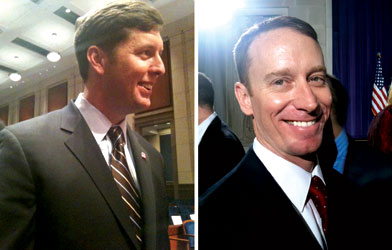 Murphy and Almy
(Photo by Chris Geidner)
Of other servicemembers he said, "The estimated 65,000 gay and lesbian Americans who are wearing the uniform today in defense of our nation, they just want the simple assurance that they are not going to be fired solely because of who they are."
Following the passage of the repeal law, Fehrenbach said that his agreement with the Justice Department regarding any discharge proceeding against him meant that he "was never in any doubt" that he was "going to be safe." But, like with Almy, his attention quickly turned to currently serving LGB servicemembers.
"They are able now to serve and not compromise their integrity and their dignity and their honor," he said. "They can serve not living in fear anymore."
He added words of caution.
"It's not over yet; they still can't come out yet. We need to wait for the certification process to play out," Fehrenbach said. "They're not safe yet, but there's a light at the end of the tunnel."
As Almy said, "It's been a long, hard slog – not just this year, but 17 years in the making, as well as decades before that, when this was just the military law – when it was just an absolute, outright ban on gay service."
The "long, hard slog" of the past 17 years has taken people – from Frank to Murphy, from Fehrenbach to Almy, and so many more – making personal sacrifices to end the 1993 law.
At the Dec. 22 presidential bill signing Murphy said of Obama and of continued inequality, "We have a lot more fights to fight, but today is a special day and it's been an honor to stand shoulder-to-shoulder with him on the right side of history."
Frank looked beyond Dec. 21 and Dec. 22, though, to the implications for the future.
"Once people can be in the military, then there's no basis for any of this. This is the hardest job in America and the most important," Frank said. "Once the country has recognized that people should get this job, then there's no rationale for any discrimination anywhere."
For Murphy, the vote was to be one of his last cast in Congress, and the Dec. 22 presidential signing the last in the 111th Congress to which he would be a guest. On Dec. 21, though, his view was not one of pessimism or even of loss.
"I took my oath seriously when I was in the military and when I'm a member of Congress, and I didn't come here to just get re-elected. I came here to fight for my country and to make it even better," Murphy said. "I know that when my two little kids are in college in 20 years, they're going to be proud of what their daddy stood for when he had the chance to serve his country in the Congress of the United States."