What is this, another ABBA greatest-hits set? (All together now: "Money, money, money; must be funny; in a rich man's world.")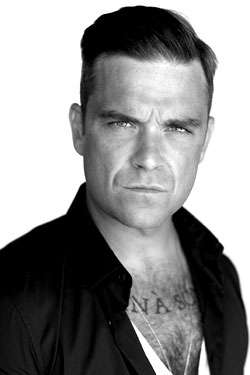 Robbie Williams
Every year record labels churn out greatest-hits sets in the fall, a quick and easy way to capitalize on consumer demand for quick and easy holiday gifts. After all, even a questionable, hastily slapped together best-of set is worth a little more in someone's collection if she didn't have to pay a dime for it herself.
But a newly re-mastered edition of ABBA Gold, featuring a DVD with original music videos? Even for the most diehard ABBA fan, the value just doesn't add up. Someone who's already got Gold in his collection — and it is an essential part in any pop lover's collection — won't likely be genuinely happy unwrapping it again. It's just not distinctive enough.
But don't worry, there are other candidates to consider. With 19 tracks, Pink's Greatest Hits…So Far!!! is a decent retrospective of the pop star's repertoire, from the 31-year-old's first hit, the sassy, hip-hop-inflected "There You Go," to her latest and greatest Max Martin-produced chart-topper "Raise Your Glass." This queer-affirmative number encapsulates the sound of Pink at her best: a little gritty, a little "dancey" and thoroughly audacious.
Regrettably, So Far!!! skips over a couple of the ballsy hip-hop-styled songs that broke Alecia "Pink" Moore into the mainstream in 2000 — namely, "You Make Me Sick" and "Most Girls." ("There You Go" is the only track from her debut album, Can't Take Me Home.) Those are excluded in favor of newer, lesser lights, stretching the meaning of the term "hit." The wan "Dear Mr. President," a collaboration with the Indigo Girls, wasn't even released as a single in the U.S. Still, Pink's fun, feisty, feminist sensibility is on display throughout — as is the raspy, lived-in tone of her voice — keeping you engaged.
As diverse as Pink can be musically, she's got little on Nelly Furtado, who can be sweet and playful one minute, sexy and sassy the next, and then a gentle world-music soul. Consistency is not Furtado's speciality — and that's problematic when it comes to overall quality. Furtado's songs often sound unpolished, if not downright unfinished. And her expressive, rich alto isn't always as clear as it could be either, with her nose getting in the way. New single "Night Is Young" is especially unimaginative. "The night is young, and so are we," the 32-year-old Furtado sings. It's certainly not the type of song you'd want to hear late at night, or else you'd just as soon call it.
Still, the Portuguese-Canadian's charm is undeniable, and her future seems as bright and limitless as her past. From the delightful light-pop gems produced with Track & Field ("I'm Like A Bird," "Turn Off The Light"), to her edgier, more adult fare with Timbaland ("Promiscuous," the stunning "Say It Right"), to her beguiling tracks with Colombian superstar Juanes, Furtado knows how to keep her sound fresh.
ROBBIE WILLIAMS
In & Out of Consciousness:
Greatest Hits 1990-2010
Astralwerks
$22.98





PINK
Greatest Hits…So Far!!!
LaFace/Sony
$13.98



AND A HALF

NELLY FURTADO
Best of
Geffen Records
$19.99




ABBA
Gold (Special Edition)
Polydor
$29.98



If nothing else, a best-of collection can make you appreciate anew someone deserving of more attention and respect. And Robbie Williams, at least in America, certainly fills that bill. In and Out of Consciousness could easily become the definitive Williams album, at least for those who've slept on his rich output until now — or at least as a definitive guide to the first half of the 36-year-old's career. (Greatest-hits sets aren't just for older stars anymore.)
Williams, who got his start in Take That, is the British equivalent of Justin Timberlake. He's far surpassed, in popularity and artistry, his original success as part of a boy band. Williams's winsomely diverse, melodic pop music builds on his British forebears, most notably The Beatles, Elton John and George Michael.
He's so established across the pond in fact, he's already got one hits retrospective under his belt, released everywhere-but-here in 2004. This new double-disc set features twice as many hits as that first one — 39 — spanning the eight albums of his career, plus one outlier from Take That, which single-handedly adds six years to his 1990-2010 chronology. (His solo career didn't really get going until 1996.)
The set is sequenced in reverse chronological order, which makes it easier to see when Williams was at his best — that'd be just after the turn of the new millennium. His more recent work isn't as sharp as his earlier material, meaning the set gets better as it goes. He hasn't yet improved upon his soaring 2002 anthem "Feel," for starters. And if you're unfamiliar with "Somethin' Stupid," his lush, mid-20th century-style duet with Nicole Kidman — yes, the mega-star — or the way he coaxes Kylie Minogue to sing with verve — really — on the KISS-esque rocker "Kids," this set will no doubt be a revelation.