Some of your favorite musicians might be in the closet — as photographers.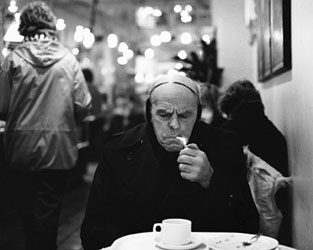 Andy Summers
"I know that there are many, many musicians who are expressing themselves in other ways," says Lori Dynan, director of music programming for National Geographic. As she set about launching a new discussion series devoted to the intersection of music and photography, she kept uncovering more and more pop photographers — Jakob Dylan, Neko Case, The Roots' Questlove, Moby.
This weekend, as part of Geographic's Music on…Photography series, Ben Folds and The Police's Andy Summers will each present and discuss their images at National Geographic. Editorial photographer Mark Seliger, long associated with Rolling Stone magazine, will engage them in a discussion followed by an audience Q&A. A sampling of each artist's photos are displayed online.
"I selected them not wholly on the merits of their photography, but really because they are in and of themselves extraordinary storytellers," says Dynan. "And the stories behind the photographs are compelling."
As an example, Dynan mentions a particularly powerful image by Summers, an established photographer in his own right. In the photograph, a Moroccan man is wearing women's clothing. "How he identifies — transsexual, transvestite — I don't know," says Dynan. "He's literally standing on a street at night. I don't know if [he's] selling himself, but it's a really powerful image."'
Ben Folds appears Friday, Dec. 3, at 7:30 p.m., and Andy Summers appears Saturday, Dec. 4, at 7:30 p.m. At National Geographic Society's Gilbert H. Grosvenor Auditorium, 1600 M St. NW. Tickets are $20 for each. Call 202-857-7700 or visit nglive.org.