Celebrity attorney Gloria Allred, and Rene Sandler, representing Jennifer Altomare – sister of slain D.C. principal Brian Bett — held a press conference in front of the Patrick Henry Building today immediately after meeting with the Department of Justice's civil rights division. Betts, who was gay, was principal at D.C.'s Shaw Middle School at Garnet-Patterson when he was found dead from a gunshot wound at his home in Silver Spring in April. He was 42.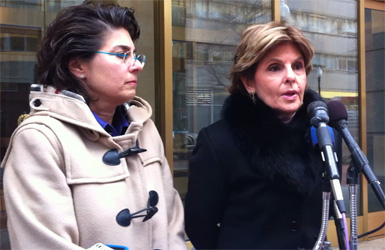 Rene Sandler and Gloria Allred
(Photo by Yusef Najafi)
"Today we met officials from the Department of Justice in Washington, D.C., to urge that this murder be investigated as a hate crime, under the Matthew Shepard Hate Crimes Law," Allred read from a prepared statement in downtown Washington at the Dec. 7 press conference.
"Although Alante Saunders pled guilty to the murder of Mr. Betts, and has been sentenced recently for that crime in Montgomery County, Md., we believe that a federal investigation should be opened to determine whether or not this case should be prosecuted as a hate crime," Allred said.
Allred told reporters that President Barack Obama signed the Matthew Shepard and James Byrd Jr. Hate Crimes Prevention Act in October of 2009 to protect people who are gay or perceived to be gay and allow federal prosecution of those who target them as victims of violent crimes.
"It is clear to us that a person who participates in a male-to-male sex-chat line would be perceived to be gay and may be thought to be an especially vulnerable target for a criminal," she said.
Allred and Sandler met with two representatives from the Justice Department's civil rights division, in the criminal section, for an hour-long meeting. Addressing reporters' questions about the meeting, Allred said: "My sense was that they listened and they're going to have to make a decision at some point. …
"This is the first step for us and, as far as we know, to date there have not been any prosecutions … yet under the Matthew Shepard Hate Crime Law."
In addition to Saunders, others charged in the case are Deontra Gray, Joel Johnson and Sharif Lancaster.
Lancaster, who pleaded guilty to charges of robbery and using a handgun during a felony, is scheduled to be sentenced on Feb. 11.