The year 2010 was as bad as — or worse than — 2009. But it ended with a gay bang, with the long-delayed, down-to-the-wire repeal of Don't Ask, Don't Tell.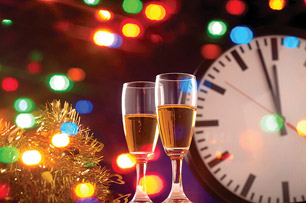 (Photo by Enrico Fianchini)
Out with the old, "out" in the new: You can raise your glass to that all over town next Friday, Dec. 31. Make that a bottle: While complimentary champagne at midnight is the rule at area bars, several bars this year are offering "champagne splits," something on the order of twice the usual amount provided in a flute. Who said anything about a recession?
And what about a midnight kiss?
"Call us superstitious, but we believe that failing to kiss someone special when the clock strikes 12 will leave you lonely for the rest of the year," says Talisha Hill of Lace Lounge. Well, we don't know about all that, but if you're a woman who loves women, Lace is a good place to be. They can't actually promise you a midnight smack, of course, but they will have a professional photographer taking free pictures of "dress to impress" patrons walking the red carpet. Once inside, the lounge will feature a "champagne fountain" and "cash money drop" at midnight, followed by a free gourmet breakfast buffet. Cover is $20. Meanwhile, D.C.'s longest-running lesbian bar Phase 1 offers its 40th New Year's Eve party, complete with party favors, a balloon drop and a champagne split. DJ Boom Boom Laroux spins for the party, with a cover of $10.
Cobalt invites both gay men and lesbians to its NYE event, which features ladies-loving DJ Rosie spinning hip-hop and Top 40 and gay DJ Drew G spinning house and club, plus party favors.
The Ziegfeld's/Secrets complex of dressed-up female illusionists, led by Ella Fitzgerald, and dressed-down male surrealists puts on its usual sensory spectacle, with DJs Spyke and Steve Henderson, plus cash balloons on both floors and champagne splits to patrons.
At Town, DJ duo BacK2bACk plays the Top 10 videos of 2010 downstairs, and Ed Bailey spin tunes upstairs, along with performances by X-Faction, the Ladies of Town — and Tatianna from RuPaul's Drag Race. Tickets cost $20 at the door or online. With a cover of $15, Apex has DJ 45Z spinning dance-pop in the Main Hall and Caliente's Michael Brandon spinning Latin-pop in the East Wing lounge.
Down the block, Omega offers noisemakers and party hats and favors, plus not one but two midnight balloon drops of cash and drink tickets. But wait, there's more! Beats from DJ Darryl Strickland and visual treats from the Men of Omega dancers. And all for just $8.
The Green Lantern offers a $15 "All-U-Can-Drink Smirnoff Buffet" after 11 p.m., plus champagne bottles for sale. Cover is $10 after 10 p.m. Remington's offers a "Country Masquerade Ball" and Karaoke with Cathy upstairs, all for $10.
Across the Potomac, Freddie's Beach Bar features a performance by RuPaul's Drag Race contestant Jujubee as well as host Destiny B. Childs and music by DJ Eric Evans, plus a free appetizer buffet. Cover is $30. Meanwhile, in Baltimore, Club Hippo features a live performance by Zna.Queene of LAZERBITCH with DJ Aisle K, plus dancers and DJ Kuhmeleon, and pastries and coffee in the morning. All for $10 at the door. In Hagerstown, Md., The Lodge presents a "Black + Lime Green Party," with prizes for best dressed, plus appetizers and a champagne fountain. Cover is $30 for two or $20 per person. And in York, Pa., Club XS offers a free midnight buffet plus champagne and party favors and music by DJ Jason Royce, not to mention drag performances. Cover is $10.
If you'd rather keep it low-key — and free — several spots ring in 2011 with no cover charge. JR.'s Bar & Grill presents the Top 10 comedy and music videos of 2010 as well as their annual, customary cash and drink cards balloon drop. Nellie's Sports Bar features DJ Wesley in the rooftop tent and its very own New Year's Eve ball all lit up on the roof. The DC Eagle offers champagne, a beer blast and party favors, with the TVs tuned to the midnight ball drop in New York's Times Square. The 18th & U Duplex Diner opens at 6 p.m. for dinner, with champagne splits at midnight, and an ensemble of the venue's popular DJs until the wee hours. Finally, not only does Annie's offer free appetizers and champagne at midnight, the steakhouse helps usher in 2011 with a midnight brunch and service for the next 24 hours.
If, by Saturday night, Jan. 1, you've already recovered from your first hangover of the new year — or believe in hair of the dog — the alt-queer Homo/Sonic party returns to the Black Cat with DJs Natty Boom, Zack and Michael. Cover is $10.
And with that, it's on. Should auld acquaintance be forgot, here's to an even happier 2011.
For more info on these and other area gay bars, visit metroweekly.com/nightlife.