Two weeks before the start of 2010, Mayor Adrian Fenty joined a crowd of about 200 at All Souls Unitarian Church where he signed the Religious Freedom and Civil Marriage Equality Amendment Act of 2009. Fenty smiled as he signed the bill, flanked by councilmembers, including David Catania (I-At Large), the gay legislator who introduced it. From All Souls, it was off to Congress where it passed its 30 days of legislative oversight without interference.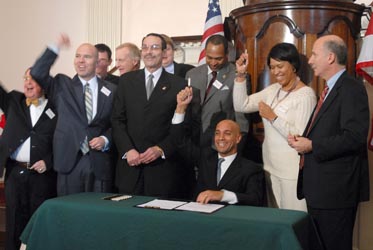 Mayor Fenty signs DC marriage equality bill
(Photo by Ward Morrison)
"I think we knew this day would come," Fenty said at the signing. And on Wednesday, March 3, it did.
Angelisa Young and Sinjoyla Townsend were among the earliest couples to arrive at the Carl Moultrie Courthouse at 6 a.m. that day to register for their D.C. marriage license [video]. By 8:30 a.m. more than 60 couples had followed in their footsteps. Registrations inside and celebrations outside the courthouse's main doors continued for days.
U.S. Supreme Court Chief Justice John Roberts set the tone for celebration by denying a request from marriage-equality opponents to halt the effective date of the law while they continued to pursue a referendum effort. D.C. Superior Court earlier ruled that the D.C. Board of Elections and Ethics (BOEE) was correct in its decision that such a measure was not a proper subject for the ballot.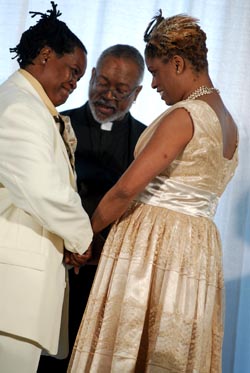 Angelisa Young and Sinjoyla Townsend are married by Rev. David K. North
(Photo by Ward Morrison/Metro Weekly)
Still, those opposing social progress in D.C. wanted to be heard. And on May 4 the nine active judges who serve for the D.C. Court of Appeals listened, for about 90 minutes, to arguments from Bishop Harry Jackson and his supporters on why they should be able to move ahead with a voter initiative on whether the District should allow voters to decide in marriage should be solely an institution for a man and a woman.
In the end, opponents were heard. But they did not prevail.
Michael Crawford, one of the leaders behind DC for Marriage, had essentially finished what he began and left Washington for New York to work on a national scale for Freedom to Marry.
"D.C. will be the first majority-minority jurisdiction where we have marriage equality," Crawford said on his way out of the District. "And I think that bodes well for our efforts to win marriage nationwide."