Who said anything about snow?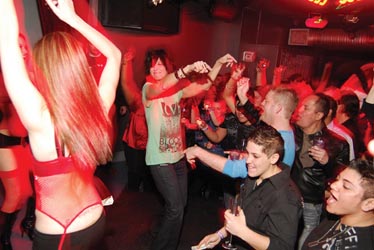 (Photo by Ward Morrison )
"We are not expecting the 's' word. We are not talking about the 's' word," says Karen Diehl of Cobalt's Bare ladies party. Last year's first anniversary party was postponed on account of the season's first big snowstorm. This year? The night will go on as planned, solely devoted to the "L" word.
"We have somebody coming out from The Real L Word, but we're not releasing the name," teases Diehl. That's hardly the only enticement. DJ Keenan and DJ Rosie will spin as usual at Cobalt's popular third-Saturday party. There will also be go-go dancers and "$5 You-Call-Its" all night long, meaning even premium alcoholic beverages won't break the bank. Diehl touts a complimentary shot-dispensing "ice luge, where you pour shots at the top and it goes through a big custom-made ice block."
All that's for those holding a VIP ticket. Given overwhelming demand for VIP last year, Diehl says the club has flipped the script, with the VIP area this time on the third-floor Cobalt level and general admission on the 30 Degrees level.
There will be a red-carpet entrance with "paparazzi" and giveaways all night. "We're trying to encourage people to get there early," Diehl says, "so we have huge gift bags for the first 100 that come through the door. Don't be gay-late!"
Over the past year, Bare has raised money for its many nonprofit beneficiaries, including Whitman-Walker Clinic and the Mautner Project. It also threw a big end-of-summer bash. Now Diehl's promotions company, the Ladies of Lure, plans to branch out with a party in Baltimore.
But Bare will remain at Cobalt, Diehl says, adding that manager Mark Rutstein and his staff have been huge supporters. In fact, Rustein and JR.'s Dave Perruzza are expected to appear at Bare's birthday bash this Saturday. In drag.
"We've come to realize that they're the actual true lesbians of 17th Street," says Diehl. "We're just borrowing the turf."
Bare's second anniversary party is this Saturday, Jan. 15. Doors at 9 p.m. Cobalt, 1639 R St. NW. Cover is $10 for general, $25 for VIP. Call 202-232-4416 or visit cobaltdc.com.