While it's not necessarily the answer you expect, Florence Lacey makes a little bit of madness sound kind of relaxing. At least, that is, when she's discussing the descent of Sunset Boulevard's silent-screen diva, Norma Desmond.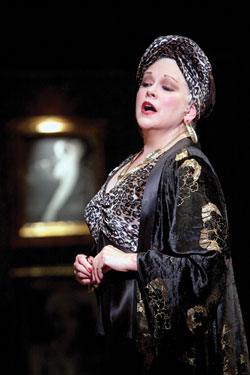 Florence Lacey (as Norma Desmond)
(Photo by Scott Suchman)
"Norma is an extraordinarily interesting character," says Lacey. "She is actually in such a delusion that she believes nothing has changed since she was in her prime. Going into that world every night is a kind of wonderful escape because I can go back to the things that I was so proud of doing when I was a young actress. Physically, I feel totally different, like I'm in my 20s again. That's kind of fun.
"Of course, then Norma goes insane."
The character first brought to life by Gloria Swanson is currently filling the spotlight at Signature Theatre, where Andrew Lloyd Webber's Tony Award-winning musical Sunset Boulevard is having its D.C. premiere. As they have done before, Signature's production of Sunset demonstrates that "intimate" does not mean minimal. Schaeffer and company take a boutique-hotel approach, filling the stage with sumptuous design, clever movement and, for good measure, a 20-piece orchestra.
"It's really thrilling," Lacey says, a clear note of excitement in her voice. "I was saying to a friend who's coming to see the show, 'I don't think you've ever been this close to an orchestra as large as this.' I think she's going to be bowled over."
One can hope Lacey's friend will be as taken by Sunset Boulevard as Lacey is with the D.C. theater scene. "Working here you have this wonderful feeling of accomplishment and are able to work with so many wonderful, talented people. Not just on the stage, but behind the scenes and with the designers. I don't even know that there is another theater community like the one here. I find working here so rewarding, it's just so fulfilling as an artist."
Sunset Boulevard runs until Feb. 13 with a special Pride Night Performance on Friday, Jan. 7 (with a $5 round-trip shuttle from Dupont Circle; for more details see Out On the Town, Spotlight). Signature Theatre, 4200 Campbell Ave., Arlington. Tickets range from $59 to $85. Call 703-820-9771 for information or visit signature-theatre.org.