Life after coming out may be liberating, but that doesn't mean there won't be some speed bumps along the way. When Chely Wright came out in a very public way last spring — from the pages of People to the couch on Oprah — she became the only country music star to be both active and out in the Nashville industry.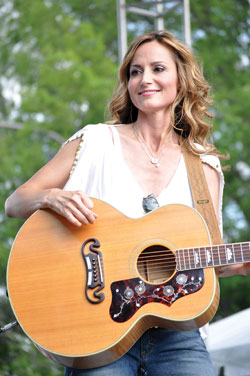 Chely Wright
(Photo by Todd Franson )
"I expected to feel an untold freedom, which I do," says Wright. "I also knew I would be met with negatives. When you say anything publicly, it just seems to be inflaming to certain people that some of us are like this…. It does leave me bewildered."
The negative jabs can take a toll, but they don't keep her down long.
"The next day I'm up and let's do it. Let's do it for the next generation so they don't have fight this fight the way we've had to fight it."
While Wright still maintains her home in Nashville, these days she's a New Yorker, where she finds some welcome anonymity on the streets of the city after the glare of the media spotlight.
"I see really famous celebrities on my sidewalks and nobody bothers them. If you're a tiny little baby star like me, nobody even cares or gives you a second glance," she laughs.
One thing that spotlight hasn't done, however, is boost her record sales. As she predicted when she came out, her record sales dipped.
"Going to Facebook and hitting the 'like' button, there's a large gap between that and actually buying a ticket to a show or buying a record," says Wright, though there has been some change in the makeup of her audiences. "I see a lot more LGBT folks at my shows and that's exciting."
Coming out may have changed Wright's life as an openly gay country star, but it hasn't changed what she hopes to do as a performer. "When I was a kid doing clubs [and] playing honky-tonks in Kansas, my mission was the same as it is now: It's a chance for people to get swept up in music," she says. "I'm one of the lucky few who get to write stuff down and sing it."
Chely Wright plays Friday, Jan. 21, at 7:30 p.m. at the Birchmere, 3701 Mt. Vernon Ave., Alexandria. For more information visit birchmere.com.