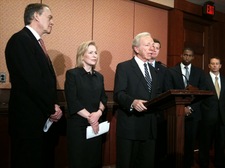 Sen. Joseph Lieberman (I-Conn.) — one of the key champions of "Don't Ask, Don't Tell" repeal in the Senate — announces his Senate retirement: Live via MSNBC now.
From The Washington Post's Greg Sargent, who received an advance copy of the speech, some of Lieberman's announcement:
My interest in public service was inspired by President John F. Kennedy, who — coincidentally 50 years ago tomorrow in his Inaugural Address — asked us to ask ourselves what we could do for our country and challenged us to bear any burden to assure the survival and success of liberty.

The politics of President Kennedy — service to country, support of civil rights and social justice, pro-growth economic and tax policies, and a strong national defense — are still my politics, and they don't fit neatly into today's partisan political boxes any more either.
In his speech, Lieberman specifically mentioned the work he was able to do to advance equality for "African-Americans, women and gay and lesbian Americans."
Lieberman had pushed for DADT repeal throughout its existence, from his opposition to it in 1993 through his sponsorship of the Don't Ask, Don't Tell Repeal Act this past December.
Noting that he has had forty years in public service, Lieberman says that it is time to turn to a new chapter. He says that after leaving the Senate, he will continue to look for opportunities to continue advancing those issues about which he is passionate.
[Photo: Lieberman speaking at a Servicemembers Legal Defense Network news conference in December 2010. (Photo by Chris Geidner.)]