You may think of bankers as very traditional people, but that's not how Ken White thinks of himself. "I like to think outside of the box — I see the glass as half full," says White, vice president/Branch Operations Business Development with Signal Financial Federal Credit Union. "That's not always the mindset of a banker."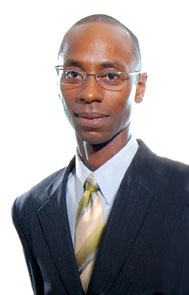 Ken White
(Photo by Todd Franson)
But his "nontraditional" mindset is what sets him apart, with his experience and skills in community banking and economic development making him one of D.C.'s top "go-to" bankers.
White's career path started early with his first high school job: stuffing envelopes at a Bank of America branch in Pasadena, Calif. From there he spent 13 years working in the bank's branch system. After banking deregulation opened markets across state lines, he found himself able to mix business with family.
"We opened an office in Anchorage, Alaska, where I volunteered to travel back and forth because my parents lived in Anchorage," he says.
White moved to D.C. "sight unseen" to open Bank of America's first Small Business Unit in the Washington market. After that, he struck out on his own, launching New Day Consulting, a business focused on "assisting small businesses with financing, business planning and government certifications."
Five years later, he became director of entrepreneurial services at Southeastern University, working in partnership with the Mayor's of Office of GLBT Affairs and the Potomac Executive Network (PEN). It was a formative event for both White and the LGBT business community.
"I joined [PEN]…because I saw the opportunity to increase visibility for LGBT businesses and professionals," he says. Under his leadership as board president, PEN became the Capital Area Gay and Lesbian Chamber of Commerce (CAGLCC) in 2009.
CAGLCC was also an important networking tool for White, who wanted to pursue new career goals.
"I shared with colleagues that I would love to work for a minority-owned financial institution or credit union," he says, pointing to his experience and desire to work in business development. That contact and desire led to his current post at Signal Financial.
So White's mindset may be nontraditional, but it's certainly one that has created opportunities — for himself and others.
DO YOU CAGLCC?
CAGLCC's mission is to advocate, promote and facilitate the success of LGBT businesses, professionals and their allies in the metropolitan Washington region. After 21 years serving as the voice of the LGBT business community, individuals and businesses still join one at a time. Here's what some of The Chamber's members have to say:
"There is no other organization where I can get the same amount of support, advice and growth from other LGBT business professionals." — Eboné Bell, B.O.I. Marketing & Promotions LLC.
"I joined CAGLCC to take advantage of the deep network of committed business owners and professionals who understand that success for one CAGLCC member means success for all CAGLCC members and the broader LGBT community." — Kate Karasmeighan, Gay & Lesbian Victory Fund.
"It's about helping out 'family' and being in a community of like-minded business owners and entrepreneurs that will support each other's growth and develop in our careers." — Jay Vilar, Plan A Consulting.
"CAGLCC is an opportunity to do business with people and businesses who understand more than just your product or service needs. Our people and businesses understand you and your community." — Tavarious Butts, BB&T.
"You will not find a more fun way to build your business." — Donna Smith, RAFFA, P.C.
"Being a member of CAGLCC opens the door to many contacts that can help your business grow through the power of referrals and networking. Membership also conveys credibility and community responsibility to your customers and clients." — Thomas Sanchez, Social Driver.
"Whether you own a business or are looking for a new job, CAGLCC facilitates in creating the introductions to the people you need to know." — Joseph Kapp, Lincoln Financial Advisors.
CAGLCC means business. You can find out more at caglcc.org.