In a day that included remarks at the Conservative Political Action Conference (CPAC) from GOProud advisory council members Andrew Breitbart and Margaret Hoover, the biggest talk about LGBT issues came from Ann Coulter.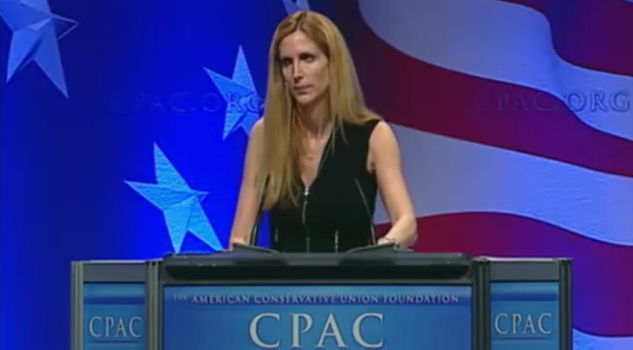 The last questioner during the Q-and-A portion of Coulter's Saturday afternoon speech asked abut "the controversy at CPAC surrounding GOProud."
And she said, first, that she "talked them into dropping the gay marriage plank." There was muted applause for this line. (A message left seeking comment on this point from GOProud was not immediately returned.)
Of what she called the left's goal to "destroy the family," she said, "And now they're using the gays." Talking about the left's efforts on marriage equality and making that a strong issue, she said, "I go to sleep one night being friend of the gays, and I wake up the next day: homophobe."
To the left: "You just made up this gay marriage thing."
Then though, she said, "I have one more point."
Of conservativism and "gays," she said, "The gay argument is: 'Why do conservatives act like our sin is worth than any other sin? Did none of you have pre-marital sex?'"
Coulter agreed, saying, "I think there is a little extra animosity directed against gays." She then said that the conservative counter-argument is, "We don't go to CPAC and have a group, Republicans Against Tithing."
Her response: It's different being gay. You have all of culture telling gays, 'You should be liberal. … This is the left trying to co-opt gays.
"For now, I would like for gays to just be part of conservatives the way women are and blacks are — without a special designation," she told the crowd. "We don't need the special designation for it.
"There is something to being gay apart from the sodomy. That's what I want their new motto to be, by the way: Gays Without the Sodomy! This is why I get along with the gays. We like the same music, the same cocktails — often the same men. There is a whole culture to it.
She went on to say, "I know chaste gays. I honor them. … But, I can't tell you that — that — that I'm without sin — as none of us are."
Not exactly resolving the "sin" issue, though, she concluded, "The left is trying to co-opt gays, and I don't think we should let them. I think they should be on our side. We're for low taxes. We're against crime. We're against the terrorists who want to kill gays.
"Gays are natural conservatives."
The crowd cheered.
Watch the video: