The Obama cachet goes a long way. Whether it's first lady Michelle's refreshing flair for fashion or Barack's global goodwill, the Obamas certainly have delivered the cool. This time of year, we're reminded of that in one very particular way: date night.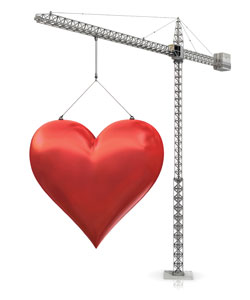 (Photo by Geoffrey Holman)
Even gay D.C. has been treated to the magic of the first couple stepping out, with the Obamas hitting the chic Komi restaurant on 17th Street, in the midst of a bevy of gay venues, last May.
As the first lady told Roland Martin of TV One during a discussion of those dates nights – which always grab headlines, whether in Paris, New York or the Kennedy Center, "This family is not just two folks raising kids, but it's two people building a life together." Obviously, even the leader of the free world and his partner need to nurture their relationship, just like anybody else.
Ahead of Valentine's Day, Feb. 14, some may be thinking of such nurturing more than usual. A fantastic tool that will go a long way toward making those thoughts reality is Destination DC's romantic resource, "Date Nights DC."
On the Date Night homepage, which includes that TV One clip of Michelle Obama, visitors can find suggestions for any number romantic rendezvous, events for singles, a list of sexy sites and more.
"We've had more than 2,600 downloads of the itineraries," says Rebecca Pawlowski, director of communications at Destination DC, a private nonprofit entity promoting the District. "Response has been really good."
Pawlowski, who is married and lives in Vienna, has a few variables for her own perfect D.C. date night.
"My ideal date would start with a trip to a museum – maybe the National Gallery of Art or the Phillips Collection," she offers. "That would be followed by a walk." After a stroll along the National Mall or Embassy Row, perhaps, she'd like dinner at the Blue Duck Tavern or Restaurant Nora. Following a signature D.C. supper, Pawlowski is partial to a bit more pounding of the pavement, her ideal being a walk along the Georgetown waterfront, complemented by a digestif at one of Washington Harbour's many venues.
Kim Rosenberg, president of Mixology – the local matchmaking service she runs with her business and romantic partner, Meghann Novinskie – obviously has some ideas of her own when it comes to crafting a perfect date, whether for a newly acquainted pair or long-term stalwarts.
"If you want to have a great date night, something a little more original, arrange for a personal chef to come to your home," she suggests. "It's a little more intimate. You really get time to know your partner – or potential partner."
What about that age-old tradition of a romantic movie?
"A movie is a terrible idea," says Rosenberg, noting she'd prefer to spend tête-à-tête time at POV atop the W Hotel, sipping champagne and drinking in the bird's eye view of the nation's capital at sunset.
Paul Wharton of The Real Housewives of D.C. fame has tastes not at all unlike Rosenberg's, pointing to the 22nd Street Ritz-Carlton lobby bar as a wonderfully romantic spot.
"You get the Ritz-Carlton experience without spending so much money," he advises. "You can go in, order a cocktail and enjoy a beautiful room with the burning fireplace. It's a good place to start or end a date."
For Valentine's Day, however, he's even closer to Rosenberg's sensibilities, opting to stay in and craft a romantic vegetarian dinner for his no-meat boyfriend, Michael. That sort of graciousness goes a long way, he says, adding that the beginning of any date sets the tone for its remainder. Accordingly, he instructs, don't leave your date in a potentially awkward position by meeting at someplace like a bar.
"We've all seen these people waiting at a bar alone," he observes. "If you start the date with confusion, waiting, that's how it will end. Instead, open your home to your date for a pre-outing cocktail. That puts the other person at ease."
Whatever the plan, Rosenberg says it's the plan itself that makes the difference between a date and two people simply popping out for dinner or a drink.
"When you actually take the time to plan a date night, you decompress a little bit and you prepare yourself for a night with the two of you alone," she says. "You put a little more thought into it, which makes it a little more intimate."
And when it comes to planning, it's right back to the Date Nights DC site, where the LGBT component alone has nearly 40 unique date-night suggestions, from "The 14th Street Shuffle" to "Yo Gaga Gaga."
"We are the tourism office for D.C., so coming up with great ideas to experience D.C. is something we do every day," says Pawlowski. "There's a lot of creative energy in this office, and with the groups we partner with. D.C. has a reputation for being a bureaucratic, conservative place, but there really is so much romance. So many couples have stories of how they met in D.C. This really can be quite a romantic place."
Visit Date Nights DC at datenightsdc.washington.org. For more information about Mixology, call 888-739-2649 or visit readytomix.com.