In On The Razzle, an incompetent tailor creates a too-tight parade uniform for the show's shopkeeper Zangler. "I suppose it will have to do, at a pinch," Zangler harrumphs, adding, "One false move and we could have a farce on our hands."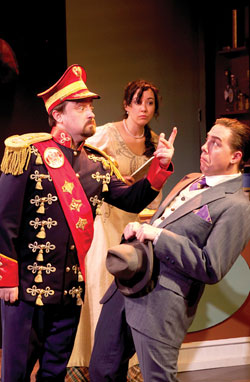 On The Razzle
(Photo by Daniel Schwartz)
There are actually few false moves in Constellation Theatre's production — and still the show is nothing but a farce.
As it happens, the comedy, written by the storied Tom Stoppard, traffics in just the kind of fun punnery popular with the Carrie Bradshaw set. It's also as light on substance as the Sex & The City oeuvre. This isn't the usual high-minded Stoppard fare, mind you. It doesn't explore existential themes, a la his Tony-winning Rosencrantz and Guildenstern Are Dead, or chaos theory, as in Arcadia. It's not even as sharp as his screenplays for Brazil or Shakespeare in Love.
But you won't leave On the Razzle wanting for more. With a solid cast and an elaborate set — it moves on a mechanical turntable! — chances are you'll be a bit heady from all the goings-on.
"On the razzle" is a British term to describe excessive revelry, Lindsay Lohan-style. In this case, the focus is on an Austrian store clerk (Ashley Ivey) and his naïve apprentice (Matthew McGloin), who decide to shirk their duties to mind the shop while the boss is away. They take an unexpected day trip to cosmopolitan Vienna. Zangler, the shop's owner, has also gone to Vienna, initially to wine and dine his fancy fiancé, and then to stop his niece from eloping with her beloved. The plot itself derives from a 19th Century Viennese play by Johann Nestroy that has also inspired Thornton Wilder's The Matchmaker and Jerry Herman's musical Hello, Dolly! (That's a lot of mileage out of one ephemeral, forgotten story.)
There's no Dolly in Stoppard's story, set at the turn of the 20th century, during the Austro-Hungarian Empire before World War I. But Michael Glenn plays up the larger-than-life aspects of Zangler, with diva-like showmanship, complete with bells on his boots. Glenn dominates the stage with his booming voice and confident mannerisms. You have no reason to doubt why everyone fears the character — even as they pity the man for his lack of refinement and his constant stumbling to find the right word or phrase, to much comic relief.
Ashley Ivey and Matthew McGloin lead the cast as the fussy store clerk Weinberl and his naïve apprentice Christopher, respectively. McGloin especially dazzles as the eager beaver Christopher, displaying the right mixture of reserve and rowdiness. After Weinberl prattles on and on about the value of the merchant class and then asks Christopher if he's ever thought of that, he retorts: "Not in so many words, Mr. Weinberl."
ON THE RAZZLE




To March 6
Source Theatre
1835 14th St. NW
$25-$30
202-204-7741
constellationtheatre.org
Charlotte Akin plays three characters with aplomb, including as Zangler's stern German assistant Gertrud and better still as Fraulein Blumenblatt, Zangler's sister-in-law in Vienna, a dowager who tells everyone she meets about a brief romantic encounter she once had. And then there's Katie Carkuff's turn as the campy Viennese fashionista Madame Knorr, Zangler's betrothed. Few can resist her charms. Designer Kendra Rai dresses up Carkuff in gorgeous period fashion. Rai also gleefully embellishes the play's running joke about the fashion for plaid: "I think this tartan fad has had its fling," one chides another.
The script's steady stream of verbal comedy, from double entendres to malapropisms, is enhanced by the staging. Director Nick Olcott has the action move as quickly as the quips, allowing for oodles of slapstick. Working with set and lighting designer A.J. Guban, the physical comedy is far beyond what's called for in the script. In fact, Guban's transporting set design, especially with the decadent mechanical stage allowing for three distinct scenescapes — a shop, an elegant restaurant and a garden — is a revelation in the Source Theatre space, which becomes far more than just a glorified black box.
You might not mistake it for Vienna — but you'll enjoy spending time there just the same.