Eddie Elias knows a thing or two about heating up and cooling down a room. He toiled for 12 years as a heating and air-conditioning mechanic, after all.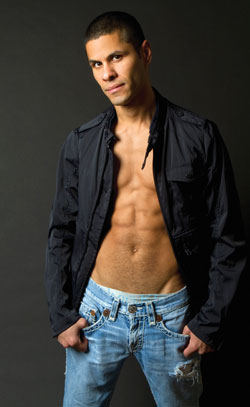 Eddie Elias
(Photo by Dale Stine)
These days he's solely focused on raising a club's temperature as a DJ and producer. "Three years ago, I decided to go full-time with the DJ-ing. It's going well, knock on wood," says Elias, who doesn't miss being a mechanic. "My passion was always in music."
The 34-year-old New Yorker of Dominican descent only started DJ-ing about 12 years ago — a late bloomer, especially considering he's been going to clubs since he was 16, when he got turned on to the mixed crowds Junior Vasquez drew.
"The straight people would stay on one side, and the gay people would be on the other side," he recalls. The straight Elias would nonetheless hang out on the gay side. "My ex-wife was a fag hag," he says. Also in the same circle: Victor Calderone and his wife. Calderone, a leading DJ in the gay scene at the time, mentored Elias to follow suit. He started at house parties in Fire Island. Now, he's a regular at leading gay parties around the country, most notably New York's Alegria and the Black Party. He's also started his own gay party in New York, Verve, which takes place on holiday weekends after Alegria.
Elias has spun locally at Five and Cobalt. Next Saturday, Feb. 12, he makes his debut at Town. "I'll bring my signature sound — high energy, vocals, really good stuff," he says.
Elias is also increasingly working in music production, creating his own dance tracks. He'll keep spinning for gay events, though. "I like it better like that," he says. "I wouldn't like playing for just a straight audience. I just love the energy that the gay crowd brings. The gay crowd, they come out for the music and the DJ. The straight crowd, they're not really paying attention."
Eddie Elias spins Saturday, Feb. 12, at Town Danceboutique, 2009 8th NW. Cover is $12. Call 202-234-TOWN or visit towndc.com.