Although we'll have more at Metro Weekly on tonight's Andrew Breitbart-hosted GOProud "Big Party" (which was crowded and featuring more than one would-be presidential candidate), the talk of the party among the journalists in attendance — and there were more than a few — was the apology.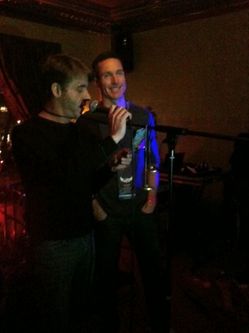 GOProud's brash board chairman, Chris Barron, was in the unusual position of backing down.
From Metro Weekly's "Guess Who's Coming to CPAC?":
Asked to explain [the Heritage Foundation boycott], Barron places the blame at the feet of Cleta Mitchell, the big-name Republican D.C. lawyer who was the attorney for the groups trying to keep marriage equality from coming to the District. Mitchell did not respond to multiple requests from Metro Weekly for comment.
"I think there's a couple people in Heritage who, at the behest of Cleta Mitchell – who is just a nasty bigot … she got some of the people at Heritage early on fired up about this," Barron says. "We tried very, very hard to smooth this over and to avoid any public fight with Heritage and then when Heritage came up with their excuse about how this wasn't about GOProud – first of all, we knew it was, we knew it was six months ago – but we were willing to publicly let them."
He puts on his "really, I'm a nice guy" face.
"Look, Heritage does a lot of good work, and I didn't want – it looks terrible for them, and I didn't want to have them humiliate themselves. But they've seemed hell-bent on it. Their story keeps changing and now we're down to the truth, which is: It was about us. And they've lost donors. They've lost supporters."
With a nod of agreement from LaSalvia, Barron concludes, "There's a lot of people in the conservative movement who are looking very differently at the [Heritage Foundation]."
The "nasty bigot" line led right-wing Red State's Eric Erickson to write on Thursday morning "this is too much." That post — and specifically his line that "GOProud is not a conservative org & its agenda is not a conservative agenda" — was tweeted out by right-wing blogger Michelle Malkin.
That was all done by noon, though, and the next I heard of the line was when Tim Mak at FrumForum reported on an interview he had with the American Conservative Union's new chairman, Al Cardenas.
In it, Cardenas said, "I have been disappointed with their website and their quotes in the media, taunting organizations that are respected in our movement and part of our movement, and that's not acceptable. And that puts them in a difficult light in terms of how I view things.
"It's going to be difficult to continue the relationship [with GOProud] because of their behavior and attitude."
All of which led to the apology.
Barron:
"For the past six months, we have watched as unfair and untrue attacks have been leveled against our organization, our allies, our friends and sometimes even their families. Everyone has their breaking point and clearly in my interview with Metro Weekly I had reached mine. I shouldn't have used the language that I did to describe Cleta Mitchell and for that I apologize."
A contrite Barron is a rare sight indeed.
But, by 8:30 p.m. or so, Barron had recovered enough to be the gay host everyone would expect him to be at the Big Party.
Four hours later, after a long day of ups and downs, Barron tweeted:
Back at the hotel. The Big Party rocked.
That, and:
Almonds + a beer = dinner.
Day one of CPAC, down. Two to go.
[Photo: GOProud executive director Jimmy LaSalvia speaks at the Big Party, with board chairman Chris Barron at his side. (Photo by Chris Geidner.)]