David Mariner, executive director of The Center, announced today, March 22, that the organization is expecting to vacate its current space at 1318 U St., NW by June of 2012.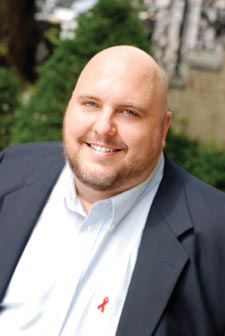 David Mariner
(Photo by Todd Franson)
"We expect to be asked to leave right before the [19th annual] International AIDS Conference," Mariner says of the event scheduled to take place a few blocks away from the Center at the Reeves Center from July 22 to 27, 2012.
The Center, the District's LGBT community organization, was renting its current space temporarily from JBG Properties, which had previously offered the Center space in the building once occupied by Whitman-Walker Clinic at 1810 14th St. NW, which JBG bought in 2008.
"We knew the space was temporary," Mariner says, "but we also knew it was what we could afford."
JBG Properties offered both spaces to The Center at below-market rent. At its current location, the Center pays a rent of $2,500 plus expenses, according to Mariner.
The arrangement was to last until JBG could find funding to demolish the building in order to build condominiums. According to the DC Mud, a real-estate blog, JBG is moving forward with its plans to build a hotel.
Asked by Metro Weekly about the possibility of securing free or reduced-rent space for the Center at the Reeves Center, Councilmember Jim Graham said he would be "delighted" to see that happen.
"But I have to be realistic," he added.
"They're still going to have to face the rent issue," he says. "I think it's going to be very difficult to have a rent-free situation because there are a lot of organizations that would like free rent in a government building, as you can well imagine. The Reeves Center right now is being structured as market rent.
"If they have a proposal for a rental situation I would be glad to advocate for it, definitely."
Despite the need to vacate the current space by next summer, Mariner says he's optimistic that the Center is continuing to grow.
"I'm excited that the Center is growing," he says, "we'll be hiring another full-time person next month, our visibility in the community is growing, our budget is growing, even in these difficult economic times, but we're not where we need to be to get a permanent home quite yet.
"I was really encouraged that the city found free space for the International AIDS Conference, and if they could find free space for us that would be an amazing thing."
The Center currently operates with Mariner as full-time executive director, Ej Dean as its part-time HIV program associate along with the help of four interns and hundreds of volunteers. The Center will be looking to hire a full-time person to work on tobacco issues.