"I'm really glad Cherry stepped out and got Oscar G, somebody a little bit different as far as the gay circuit goes," says Alyson Calagna.
Calagna certainly knows from the gay circuit. These days, the DJ is a circuit leader, as one of the scene's most in-demand headliners. Just a few weeks ago she helmed Miami's famed Winter Party.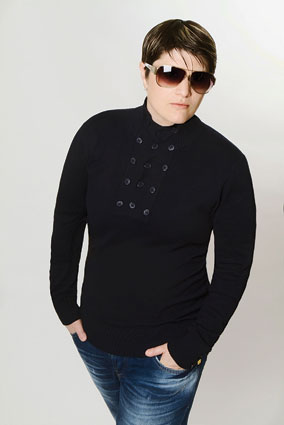 Alyson Calagna
Calagna, it turns out, also knows from D.C.'s dance weekend event Cherry, having been here several times over the past decade. She returns again this year to spin the Friday night party at Apex.
"I always look forward to D.C., especially Cherry," she says. "It's always a pleasure. The D.C. crowd's always really fun."
The straight Miami-based DJ Oscar G, part of the recording team behind Funky Green Dogs and Murk, first played Cherry in 2008, when he closed the event. Organizers brought him back this year to headline Saturday's Main Event at Town. It's just one of several small ways they've planned to shake things up.
They've also expanded the schedule of events to include an auction, with past and present leather titleholders, as part of Town's popular Friday night Bear Happy Hour. And they've affiliated themselves with a lesbian party Friday night at Lace, as well as a leather party on Saturday night at Green Lantern.
"We're trying to target different audiences, to really let people know that Cherry is not just … a circuit party," says Allen Sexton, chair of the Cherry Fund, the nonprofit that puts on the event. "We've really tried to [reach out] to the 18 to 25 crowd, the bear community — just really trying to make our community aware that this event is for everybody. We like to call it a charity dance event.
"We definitely have been trying to put ourselves out there and bring Cherry back to where it once was," Sexton adds.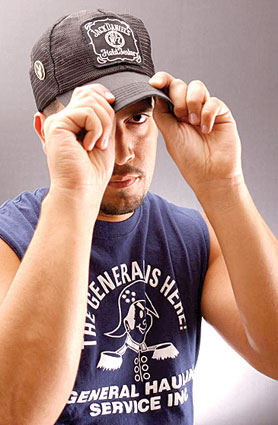 Oscar G
Sexton is talking more about Cherry during the early-to-mid 2000s than in the past few years. He's certainly not talking about reviving Cherry to where it was at the turn of the millennium, when the 2000 March on Washington made everything else pale in comparison, before or since. A better gauge might be the Cherry in 2005. That year, Cherry was one of the first to christen the new Washington Convention Center, and the weekend attracted over 10,000 people.
For Cherry 2011, the 13th put on by the Cherry Fund and 16th Cherry overall, organizers have tried to give each party in the lineup its own identity — or at least its own draw. Things kick off Thursday, March 31, with an "Ignition" party at Cobalt, where Lena Lett will help start your engines hosting her usual ribald Best Package contest. The party will also serve as the release party for a new Cherry-branded Centaur dance mix compilation, the first in years. Randy Bettis compiled the set, and will spin that night after local opener Jason Horswill.
Cherry also hopes to draw crowds by bringing in D.C.-popular, nationally recognized DJs Steve Henderson and Sin Morera to open for its Friday and Sunday night parties, respectively. Longtime local DJ Timothy Mykael will open for Grammy-winning legend Peter Rauhofer, another Cherry veteran, for Sunday morning's after-hours party at Fur nightclub.
Sexton promises that early birds to all Cherry events will get worms — that is, swag from various cross-promotional sponsors, everything from clothing to CDs. Another enticement is a Sunday Tea Dance at Cobalt with local up-and-comer DJ Mike Reimer, who actually beat out fierce competition to win Cobalt's amateur DJ contest last spring, earning him a Cherry slot.
BEHIND THE MUSIC
"IT'S A HOBBY for now," says Mike Reimer of DJ'ing. "It's a huge passion of mine, almost an obsession." Reimer got his start DJ'ing in the mid-'90s in his hometown of Harrisburg, Pa., at the club Stallions. But he's only DJ'ed at public events in D.C. the past couple years, starting at the now defunct EFN Lounge and more recently at Confessional, a new Sunday night gay party at Dupont Circle's Sweet Spot. The soon-to-be-40-year-old also spins at a large pool party in Rehoboth Beach every summer.
"I like to think I play a fun, upbeat style of music," he says. "I play music that I myself want to hear when I'm dancing on a floor."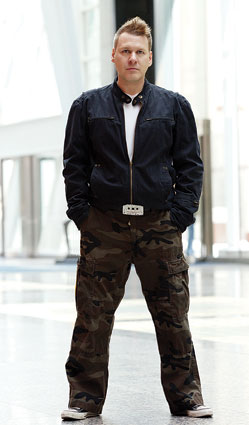 Stephan Grodin
The auto-claims adjuster by day – and former elementary school teacher – doesn't expect to make music his main pursuit, but he's certainly not opposed. "If I develop more as a DJ and I have the opportunity, I would love for this to be full time."
Not so Timothy Mykael. "Being a DJ is just my fun creative outlet," says Mykael. "If I had to do it full time, if my livelihood depended on it, that would probably take the fun out of it for me."
Mykael's real name is Tim Sheehan, and the 44-year-old former Navy officer works by day for the U.S. Department of Agriculture. "Michael is actually my middle name [but] I didn't like the way 'Timothy Michael' looked, so I just kind of bastardized the spelling of the second name to make it look a little novel or unique."
Mykael got his start spinning for college night at the old Tracks in 1999. That same year he also subbed for Michele Miruski at the former strip club Wet. But the first half of this century he spent as a resident at Apex. Mykael's career would have ended there — he took an extended hiatus mid-decade — but love intervened.
"I have to give my partner credit, he's sort of the one that brought me back into it," says Mykael. His partner is Tim Morse, better known as Secrets' resident DJ tim e. Sheehan and Morse met three years ago, when Morse "was just starting out." Morse asked Sheehan to sub for him one night when he couldn't make a gig, and the rest is history. The two even occasionally spin together at Secrets. "It's nice to share that kind of passion for music with my partner," Sheehan says.
Calagna remembers getting turned on to the basic idea of DJ'ing early. The Louisiana native spent her childhood in Dubai — her step-dad was in oil. "The only contact with music in America that we had was Casey Kasem every Sunday," she says. "I would literally just be parked in front of the radio listening to his old Top 40 countdown. I used to always repeat to my mom, 'Keep your feet on the ground, keep reaching for the stars.' Remember when he would say that? … I don't know, there was something about him talking about music and being a DJ, it just really, really called to me."
Calagna — pronounced with an open "a" and a hard "g" because her ancestors, she says, "didn't want to sound Italian" — got her first gig back in the states before graduating high school. "I wasn't even legal — I was about to turn 18." Eventually she would move from Louisiana to Florida. She's lived in Fort Lauderdale for seven years, though she intends to settle down one day with "a mountain home in Colorado."
Ultimately, Calagna is usually on the road more than at home. In addition to gay circuit parties, she's increasingly DJ'ing for parties around the world, not just North and South America, but also Europe and Asia. But never strictly lesbian events. "They want more hip-hop and pop-based [music]," says the inveterate house head. "It just really doesn't work for me."
LIGHTS AND MAGIC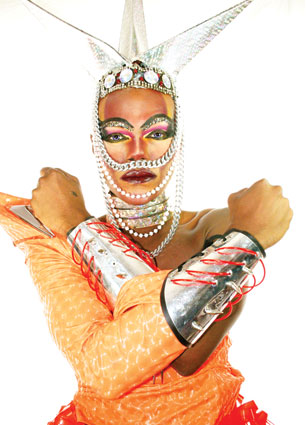 Macaviti
ADAM CAMPBELL ASPIRES to become better known as a DJ, under the handle DJ 45z. But for now, and certainly for Cherry, he's known as a DJ interpreter. That is, he's the lighting guy.
"I just kind of listen to the music," he says, "just basically let the music take me wherever it's going to go."
"I look at the room," he continues. "Once I figure out everything [the lights] can do, then I kind of just play, try out some tricks throughout the night."
Campbell won't have much trouble figuring out the rooms this weekend when he helps with lights at all of the main Cherry parties. He's the head lighting technician at both Apex and Town and has also previously worked with the lights at Ultra Bar — home to Sunday night's party.
Campbell, who works by day at Blackboard Inc., got what he calls his "lighting training wheels" at Apex years ago. But the 24-year-old's interest came sooner than that. "I come from a family of electricians," he says. He first started handling lights as a play stagehand at his Alexandria high school. "I built a two-deck ship to sink every night in a performance of Titanic," he says.
Darius Hughbanks, meanwhile, took his stage name from a character in the first musical he ever saw, Cats.
"Macaviti is different from all the rest of the cats. He does his own thing, which is sort of like me," says Hughbanks. "I'm different from the rest of the [drag] queens. I don't mimic what everybody else is doing. And they all scatter because they know they are pretty much no match for Macaviti."
Foozie
Hughbanks, 33, has performed as Macaviti for 12 years. "I consider [it] a hybrid, androgynous – sort of like if Michael Jackson and Grace Jones had a child." It's also on par with famous gay club performers Circuit Mom or Kevin Aviance. It's a "wilder, more artistic" type of drag performance, Hughbanks says, one that's not generally about impersonating women or even necessarily lip-synching. It's about putting on a "high-energy show."
The Tampa, Fla.-based Hughbanks grew up in Gary, Ind. — "just like the Jackson family" — but has made Florida his home ever since an internship at Disney World. A corporate employee by day, he's working to create his own dance recordings as Macaviti.
Macaviti performed at Cherry in 2008, but had the flu at the time. "It wasn't a very enjoyable time at all," he recalls. This year, he'll be the weekend's main drag performer, with a performance at Town Saturday night and an encore, with adult film star Spencer Reed, at the Fur After-Hours.
Cherry is also bringing in Miss Foozie, a drag personality from Chicago, to host the Friday night party. And then of course there will be the all-out performance in store at Moody Mustafa's "Cherry Sanctioned" birthday party Saturday afternoon at Town. This year's theme is "Moody GaGa," so expect extra extravagance.
COMMUNITY CIRCUIT
ALLEN SEXTON SAYS things are already looking up this year compared to the past several Cherry events. They've recruited new members for a board that had grown a little stale. (Among the new members: Todd Ayers, Jonathan Schenk and George Steinwehr.) They've also lined up more cross-promotional sponsors for the event. And advanced ticket sales are up.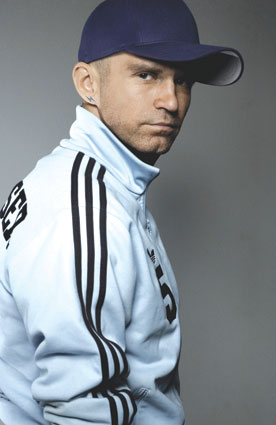 Peter Rauhofer
"Hopefully we'll be able to give a good, comfortable amount back to our community," he says. "That's high on my list."
Two years ago, the organization revamped how it distributes its proceeds. Instead of selecting beneficiaries ahead of time and then spreading out funds among them, the Cherry Fund now uses what it calls a voucher system containing proceeds from each year's events, to which nonprofits can apply. This year's voucher system will be announced a couple weeks after the event.
The Cherry Fund has long been criticized for its low — one year, no — returns to the community, even though it prides itself on being a fundraiser.
"I've actually taken [the criticism] a little personally," says Sexton. "People don't realize the scope of the [all-volunteer] work that goes into putting on this weekend and making it happen and trying to keep the organization alive, especially during the struggle we've had with our economy."
Based on publicly available tax records from the organization, it takes upwards of $76,000 to throw the event. And organizers haven't been able to raise enough to cover costs and give back more than a couple thousand dollars in any recent year. Yet, Cherry has donated nearly $900,000 to charity since 1996.
That's certainly a lot more money than would have been raised otherwise. And the event does allow people to come together on multiple occasions and in ways that go beyond a normal weekend out.
"Our goal is to make Cherry a success and to still be able to assist our community no matter how big or small that is," says Sexton. "We're here for the long haul to support our community."
Cherry Host Passes are $100, allowing entrance and no-line at all main events but not sanctioned parties. More information, including purchase of passes and individual tickets, is available at cherryfund.org.