Congress – and particularly the legislative body's myriad ancillary offices – could be considered Andrew Noyes's stomping ground. For years, he covered the intersection of government and technology for National Journal's Congress Daily, among others with an eye on Washington.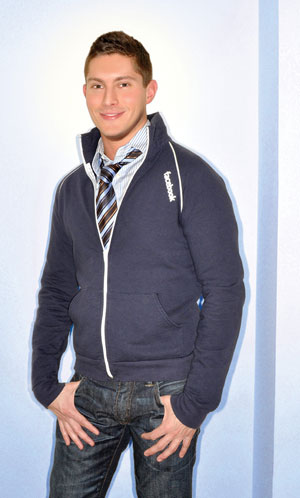 Andrew Noyes
(Photo by Todd Franson)
He's also at home on the American University campus, where he earned both his bachelor's and master's degrees, and where he continues to contribute as a member of the adjunct staff.
But he truly seems right at home in the offices of his current employer, Facebook. In November 2009, he switched gears from journalism to — well, it's not exactly clear what track he's on, as Facebook continues to evolve along the cutting edge of what it means to keep humanity connected.
"My title is manager of public policy communications," he explains in Facebook's D.C. offices a few blocks from Dupont Circle, above the Ann Taylor Loft. "Essentially I'm the spokesman for Facebook in Washington. But I also wear a bit of a policy hat, because Facebook is not like your typical large company, with policy people here, and security people here, and legal people here. At Facebook, it's all kind of together. But, generally, people would view me as Facebook spokesman on policy topics and Washington."
Along with that policy hat, he's also wearing his company's cute logo jacket. And there is no denying that he wears it without irony. It may be his job, but Noyes's level of enthusiasm for Facebook cannot be simulated. Why not? As a tech enthusiast, where better to work than Facebook? As a policy wonk, where better than the company's pioneering D.C. office? As a journalist, he can sit down and interview movers and shakers for FacebookDC Live – never mind the eyeless, cut-out Halloween mask of Facebook founder Mark Zuckerberg stuck to the camera.
And as a gay man, the circle is complete, because even Noyes's passion for supporting his community has found voice on the job.
For starters, it's things like Facebook employees coming together to make an "It Gets Better" video, in which even the chief operating officer, Sheryl Sandberg, took part. Noyes's work takes him much further, though, working with LGBT organizations he would've had little need to partner with while running in the halls of federal power writing about wiretapping.
"Last fall, GLAAD worked with Andrew and Facebook to come up with a solution to the hateful comments and violent images that were littering a Facebook page for Spirit Day," Allison Palmer, director of digital initiatives at the Gay & Lesbian Alliance Against Defamation told Metro Weekly via email. "From that work, Andrew spearheaded the Network of Support, which is now a critical ally for LGBT Facebook users. Given Facebook's reach and power to shape our culture, his voice is critical and his work is helping to make the network a safe and inclusive place for all."
Reach is right — Facebook has surpassed the half-a-billion-users mark. All the more reason it's crucial for the LGBT community to have a sort of go-to guy.
"It's a very fruitful relationship, and Andrew was instrumental in making that happen," says Charles Robbins, executive director and CEO of The Trevor Project, which has launched its own social-networking platform for LGBTQ youth, TrevorSpace. "He's articulate and smart, but also very committed to his ideals and to our community."
For balance, Noyes is also dedicated to a boyfriend in New York and a dachshund here at home. Walking a couple hundred floors on the StairMaster at Washington Sports Club before work also helps him keep up his stamina. That, and his trips to Filter Coffee House, Starbucks and Teaism.
"Caffeine is a general theme in my life," he says. It doesn't hurt that he's still a couple weeks shy of 31, too. Youth and caffeine, however, only go so far. Last week, Noyes sat with Metro Weekly to share a bit about how he got where he is, and why it has him so enthused.
METRO WEEKLY: Professionally speaking, where would I run into you in D.C? Capitol Hill? K Street? Union Station?
ANDREW NOYES: All of the above. You would run into me in this office. I'm here a lot. I'm on Capitol Hill – although not as much as my colleagues who are lobbyists. It should be no surprise to you that we work very hard at Facebook. It's still very much a start-up mentality, especially in the D.C. office. We've grown from three people – I was the third person, in 2009, to join – to nine, and we have a lot on our plates. So we work very hard, very long hours.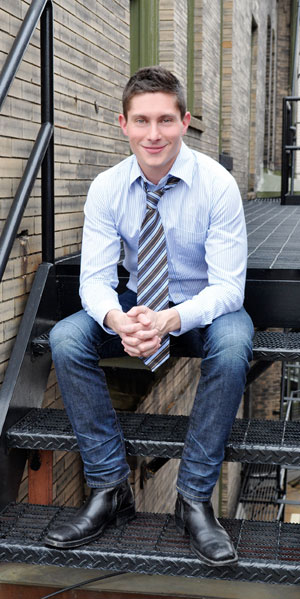 Andrew Noyes
(Photo by Todd Franson)
We had our first Facebook D.C. employee here in 2007. That's my colleague, Adam Conner. At the time, he was working out of his apartment. Facebook was still very new. It had just become available to the general public, and official Washington certainly didn't know what to make of it. So his job at the time was really to be kind of the Facebook evangelist in D.C. He met with members of Congress and federal agencies and all the folks around official Washington to introduce the technology to them and explain to them why they should be on Facebook. That was his job for quite a while. It's still his job today. Although, these days our conversations with members of Congress and federal agencies and political campaigns are now focused much more around how to optimize their experience on Facebook, because everybody knows at this point that they should be on Facebook.
MW: Even my mother.
NOYES: Certainly. But in the political arena, everybody, essentially, has come to realize that it's huge benefit to be there. Now it's much more a conversation about how to make their experience the best that it can be.
Getting back to your question, they hired our public policy director, Tim Sparapani, in the spring of 2009, and they hired me in the fall of 2009. When Tim came onboard, right around that time is when we opened up a physical office.
MW: How did you come to Facebook? Were you recruited? Applied for an opening?
NOYES: Tim Sparapani was at the [American Civil Liberties Union] before he came to Facebook. He was their top technology and privacy guy. We worked together very closely as a reporter and a source. I interviewed Tim a lot, starting around the time of the Bush administration warrantless wiretapping stuff. When he left the ACLU to come to Facebook, he asked if I would be interested in leaving journalism to come work for Facebook. That kicked off several months of soul searching on my part, because I'd never done anything but be a journalist. I think you're born a journalist. I don't think you ever stop being a journalist.
When I was trying to figure out whether I wanted to change careers, one of the questions that I really needed to ask myself was, "Am I wedded to journalism, or do I really like technology and policy? Do I really like the subject matter?" I weighed both and decided that I really like the subject matter. If I wanted to advance in journalism, I was going to have to change beats, cover House or Senate leadership or something that was more prominent. Or, I would need to continue covering what I was covering, but maybe leave National Journal and maybe go to The Wall Street Journal or The New York Times or The Washington Post. And newsrooms are not in the best condition these days.
The ultimate decision I came to is that I love the intersection of technology and politics and policy. I love Facebook's mission. I love what we do here. I couldn't see myself anywhere else. And all the things I loved about journalism – the deadlines, the variety of work, the writing, the communicating – I'm doing all of that in this job. I thought I would miss State of the Union night. I thought I'd miss covering the election. But the brilliant thing is we do that here. We did great things around the midterm-election cycle, and we have big plans for 2012. And on State of the Union night, rather than being in the press gallery, I was covering it for our U.S. politics hub. All of the things I loved about journalism I'm doing in this job, just in a different way.
MW: Do you still get the equivalent of a byline?
NOYES: It's weird. It's weird to go from a byline in Congress Daily to being quoted by papers around the world every day. It's a different experience.
MW: Tell me about your first reporting job. What was the name of your hometown paper in Beckley, W.V?
NOYES: The Register-Herald. I was 15. As a kid, I never wanted to be a fireman or anything. I always wanted to be a writer. So I started working for my hometown paper. I just sort of showed up at the paper one day and said, "I want to write." My very first mentor in journalism, a guy named Neal Clark – he actually passed away a number of years ago – he took a chance on this 15-year-old who just showed up at the newspaper and wanted to write. After school, I would basically go to the paper and listen to the police scanner and run off and cover whatever was breaking in the evening.
MW: Did you ever feel like you were in over your head?
NOYES: I just took the ball and ran with it.
MW: Tell me about Beckley. It looks really charming.
NOYES: Oh, it's gorgeous – whitewater rafting and hiking and biking. It's a good place to grow up, the kind of place where you left your front door unlocked. Beautiful, beautiful environment. And I was excited to get the hell out of there as soon as I possibly could. [Laughs.]
By the time I was ready to go to college, I needed to go someplace else. I came to D.C. My mother is actually from D.C., so I have family in the area still. At the time, coming from a rural environment, D.C. seemed like the really big city. I immediately took to the city. I like the fact that dinner parties revolve around politics and policy, and typically not Hollywood celebrity or whatever else people talk about in cities that aren't D.C. I like the vibe of this city. I've been here since '98, and all my work – I covered Congress and the administrations – I needed to be in D.C.
Now I'm in New York every other weekend for my relationship. I'm in the Bay Area a lot because our headquarters are in Palo Alto, and I think San Francisco is a great city. But I'm a Washingtonian, absolutely.
MW: Your small-town high school, Woodrow Wilson High, struck me as peculiar. It's graduated Morgan Spurlock —
NOYES: Yes! His mom was my guidance counselor.
MW: — and Chris Sarandon, the actor. And a sitting congressman, and an astronaut. Something in the water?
NOYES: I don't know.
MW: Did you come out in high school?
NOYES: No. I wasn't out in high school. I had a fantastic support system. I had a great family. I had great friends. I wasn't, like, athletic popular, but I was art club, drama club, varsity tennis popular. A different kind of popular. [Laughs.]
It's actually funny. My mother and my stepfather are both therapists. For a long time, my dad and I didn't have a great relationship. For the really important period of my life – junior high, high school – my support system was my mom and stepdad. I think that a therapist's kid, like a preacher's kid, is going to turn out either incredibly well-adjusted or incredibly screwed up. I think I'm pretty well-adjusted. [Laughs.] So I never had to come out to my mom. She came to visit me in D.C. one weekend, and with my boyfriend at the time, we all went out to dinner. There was never a question.
I look up to my mom. She and my father got divorced when I was in the second grade. We were kind of out there on our own and didn't have a lot of money, and she provided for me. So I look up to her.
MW: Support systems, coming out, high school – this all sort of speaks to the March 10 White House Conference on Bullying Prevention. What was Facebook's role, broadly, and yours specifically?
NOYES: Broadly, Facebook as a company – safety, security, privacy – these are major things for Facebook. We don't take them lightly. Over the years, we've rolled out a number of things in the safety portfolio. Our philosophy around Internet Age safety issues is that this is a shared responsibility between parents, teens, educators and, of course, industry. The fact that the White House was interested in bringing together all of these components for a daylong discussion about that shared responsibility was something we were really eager to get behind.
I helped plan our participation. As an external partner in a pretty massive event, it ate up all my days.
MW: You weren't just walking in on the day of the conference and asking where to sit?
NOYES: No, no, no. We had very preliminary conversations months ago with a number of folks at the White House, at the Department of Education, and elsewhere about our commitment to safety issues. We have a Safety Advisory Board, which is made up of a handful of the leading experts on safety in North America and Europe. They advise us as products are going to launch. They help us craft our policies around safety. They're really kind of our sounding board for safety issues. They're very involved. We had a number of conversations leading up to the event to discuss how Facebook could be most useful. We decided there were a number of things we could do. As a company, we decided that we were going to commit to do some major enhancements to our safety center. It's a customized experience for anybody. It's going to be much more multimedia oriented. We're actually getting input from teenagers about the kinds of things they would like to see in the safety center.
MW: Were you bullied in high school?
NOYES: I wouldn't say that I experienced a lot of bullying, but there were definitely a couple of jocks that bullied me.
MW: So there's a personal component for you?
NOYES: Absolutely. We can talk about the LGBT Network of support at some point.
MW: What is that?
NOYES: After tragedies involving youth who had taken their own lives after anti-LGBT bullying, we organized an LGBT Network of Support that includes a number of leading organizations, teaming up with MTV's "A Thin Line" campaign: the Gay & Lesbian Alliance Against Defamation (GLAAD); the Human Rights Campaign (HRC); the Trevor Project; the Gay, Lesbian and Straight Education Network (GLSEN); and Parents, Families & Friends of Lesbians and Gays (PFLAG). I'm the company's liaison between this group and Facebook. When we were considering the "relationship status" change – adding domestic partnerships and civil unions to relationship status – I worked with the LGBT Network of Support. I collected a lot of feedback from the community, from these groups, and it helped us a lot.
MW: How does a change like the "relationship status" change actually happen? Is it a discussion among the board of directors, or just a guy with a keyboard tweaking a template?
NOYES: There's a cross-functional team. There's an LGBT group of employees at Facebook, Gays@Facebook. So this idea, and a number of ideas to come, come from our organic communications through this group. We're very responsive to our community, to our users, and that was something our users had been asking us for. As far as infrastructure is concerned, it was something that could be done in the near term. That particular change was the result of a lot of cross-functional work internally, and also our Network of Support.
MW: And this LGBT Network of Support began after you joined Facebook?
NOYES: I started it. I don't want to toot my own horn, but fine. [Laughs.] I said it would be great if we had something like the Safety Advisory Board that we could call upon for issue that are particularly important to the LGBT community. And the great thing about Facebook was that my bosses were like, "Yeah, do it. Go. That's great."
MW: Did the partner groups jump on this?
NOYES: Yeah. I had been working informally, mostly with GLAAD, but somewhat with other groups just because I had personal connections. I had worked for a number of months with GLAAD to address things piecemeal. For example, one of my contacts at GLAAD would email me and say, "Somebody reported this page to us. It looks like hate speech. Can you guys take a look?" So we had a sort of informal relationship with GLAAD based around things people were seeing on Facebook that they believed needed to come down. It was a very important, informal relationship that we had, because nine times out of 10, the content did violate our terms and we did take it down. This just kind of formalized that process.
The timing was particularly significant, because there was so much attention on LGBT bullying and we really wanted to beef-up our own resources to include LGBT-specific resources.
The formation of that group and the evolution of that group is something I'm very proud of. It was always kind of around policy, and it's fun to see that group also helped us make a change in the product.
MW: It's always seemed that the LGBT community has been
really comfortable moving online as early adapters.
NOYES: LGBT aside, broadly, I think we're learning that Facebook is not just for young people. One of our fastest growing demographics is the AARP set. Their kids are on it. Their grandkids are on it. They want to see vacation photos. They want to keep up, to stay in touch. It's heartening to see that the barriers for entry to technology like ours are very low. Getting on Facebook is not like learning how to program a VCR back in the day.
If I had Facebook when I was young and questioning and growing up in Beckley, W.V., I probably would've come out sooner. Fortunately, I had a great support system, loving parents who accepted me regardless of my sexual orientation. But our technology allows you to connect with like-minded people, or even groups, that you wouldn't have otherwise been in touch with in your real life.
MW: Talking about the culture at Facebook, most people haven't been able to peek behind the curtain much more than watching The Social Network.
NOYES: The Social Network was a fun movie. It was Hollywood's treatment of a book that was largely fiction. All of the theatrics aside, yes, Facebook is filled with incredibly driven, talented people who work long hours, who collaborate on amazing projects. We move fast. The fast-paced, "quippy" dialogue that Aaron Sorkin is known for, I think that's fitting for our culture. Because we do move fast and we're passionate. The office space depicted in the movie – I don't know what the Harvard dorm room looked like – but in the movie when they moved into the space with the brightly colored walls, that's kind of like this. [Laughs.]
MW: Have you met Mark Zuckerberg?
NOYES: Yeah, I see him when I go out to headquarters. He's a great guy. He's very passionate about Facebook and about building it and having it evolve in a very smart way. The movie did do an excellent job of re-creating the T-shirts and hoodies that he wears. The costume design was brilliant.
MW: I asked you where somebody might bump into you professionally. What about socially? Where do you go at night?
NOYES: I don't really go out a lot during the week, just because I'm typically in the office till 6:30 or 7, maybe later. Then go home, walk the dog, and work until bedtime.
MW: Sounds like a lot of fun.
NOYES: It is fun! It's fun work. That's the thing. It doesn't seem like work.
But, gosh, where do I like? I love the new American Ice Company, and it's literally a stone's throw from my apartment. I'm there a lot. Nellie's occasionally. The 9:30 Club. I live right across from the 9:30 Club for a reason. I love any kind of indie pop. Really anything that will play at 9:30, Black Cat. I was really bummed that the Scissor Sisters' bus got stuck in a snowdrift and they missed their concert. Now they've rescheduled for June and I'm going to be teaching that night, so I have to give my tickets away.
MW: Are you proud of the work you're doing here?
NOYES: Incredibly proud. As the events in Japan have played out, I've been inundated with just these amazing stories of how Facebook and other technologies have helped people remain connected. We have the Global Disaster Relief page on Facebook, which is something colleagues as headquarters created in the middle of the night, hours after the Haiti earthquake in January of 2010. It was just because we were seeing people reacting to the tragedy on Facebook and we wanted to provide a place where people could get resources, information, where they could figure out how to help, so we launched the Global Disaster Relief page.
From Haiti, to the earthquake in Chile, to the New Zealand earthquake, and now in Japan, we kind of hold that page up as a really great example of the power of Facebook in trying times, because you can go there and find information about how to give.
MW: What's an adjective your friends would label you with?
NOYES: It may be "driven." But I think "driven" also has a bit of a negative connotation. I would also hope that my friends would say that in addition to being driven, I'm also thoughtful.
MW: How would you say your life is meeting your expectations?
NOYES: I feel blessed to have been given the life that I've had, and the career opportunities that I've had. And I'm incredibly blessed to be working for this company. We have really the most talented, wonderful people I've ever worked with in any setting. And we all really believe in the power of our service. It's a great environment and that's why I'm blessed to be here. I think absolutely my life has met my expectations.