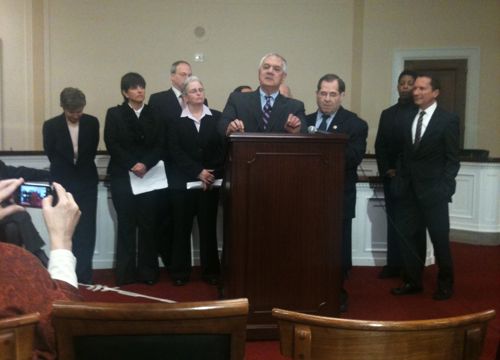 [Photo: Rep. Barney Frank (D-Mass.) speaks at the reintroduction of the Respect for Marriage Act on March 16, 2011. (Photo by Chris Geidner.)]
Rep. Barney Frank (D-Mass.), the longest serving out LGBT member of Congress, today looked back on the change that's taken place since the passage of the Defense of Marriage Act in 1996. As he stood in the Rayburn House Office Building with colleagues and supporters at the introduction of the Respect for Marriage Act, which would repeal DOMA and add additional protections for legally married same-sex couples, he told those assembled in response to a question from Metro Weekly, "The fact that we've now evolved to the point where Republicans are complaining that we are introducing this bill because it causes them political problems is a good sign of progress. It used to be the other way around. It started out as a wedge issue for them."
Rep. Jerrold Nadler (D-N.Y.), who is the lead sponsor of the bill, added, "We're hoping for some Republican sponsors at some point."
Of the lack of any Republican co-sponsors to the legislation, Frank said, "Finally, I would say, as a general principle, the notion that people who believe in something should be deterred from pressing it because no one in the other party will support them is nonsense — absolute nonsense."
Regardless, Nadler said he had "no commitment" from the Judiciary Committee, chaired by Rep. Lamar Smith (R-Texas), to bring the bill up for consideration but added, "We will seek that obviously. We're going to ask for that. The fact that 108 put their names on the bill initially, before its introduced even, shows a considerable amount of support for it."
Along with Nadler and Frank, who had not co-sponsored the bill in the 111th Congress, Reps. John Conyers (D-Mich.) and out LGBT Reps. Tammy Baldwin (D-Wisc.), Jared Polis (D-Colo.) and David Cicilline (D-R.I.) were in attendance, along with LGBT equality advocates, including the lawyers and plaintiffs in two cases challenging DOMA's federal definition of marriage.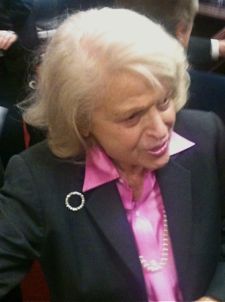 Nancy Gill, a federal postal employee for 23 years, said of herself and her wife, Marcelle Letourneau, "Marcelle and I have been happily together for 30 years and happily married for five. We're raising two kids. Unlike my married co-workers, I can't put Marcelle on my health insurance because of DOMA."
They are the lead plaintiffs in a case, Gill v. Office of Personnel Management, brought by Gay & Lesbian Advocates & Defenders that succeeded at trial and is currently before the U.S. Court of Appeals for the First Circuit. Gill said of the need for an end to DOMA, "Our family should be treated the same as the families of our co-workers, and our children should be just as secure as theirs."
Edith Windsor, the plaintiff in a New York federal court challenge to the law, Windsor v. United States, said today, "All marriages should be treated equally in the eyes of the law."
Roberta Kaplan, Windsor's attorney, had described her client's relationship with Thea Spyer, which began before the Stonewall riots and led to the couple's 2007 marriage in Toronto.
Despite her long history that visibly moved people in the room, it was Windsor who said of the members of Congress and LGBT advocates in attendance, "It's thrilling to be here and to meet all these heroes."
The Senate introduction of the bill is slated for 2 p.m. today.
[Photo: Windsor (Photo by Chris Geidner.)]