Mayor Gray may have taken time out March 3 at the Covenant Baptist United Church of Christ to mark the one-year anniversary of marriage equality in the District, but the party's not over yet. Partners – in both the business and romantic senses – Deborah Cummings-Thomas and Sheila Alexander-Reid – have timed their wedding expo to continue the celebration.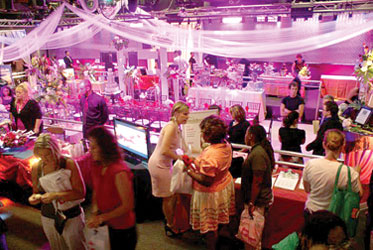 Marry Me in D.C.
"We planned it in March to celebrate the same-sex marriage bill," says Alexander-Reid of the Marriage Equality Wedding Expo, Saturday, March 19, at D.C.'s Washington Court Hotel. "I'm an activist. Everything I do has a little bit of activist flavor to it. I thought it was important to celebrate this milestone."
Indeed, there will be some pretty serious components to the expo, presented by the two women's company, Marry Me in DC. There will be legal workshops for same-sex couples, for example, focusing on living wills, family planning and the like. But it will also have heart, with Stephen Holt and Jon Paugh of Kentucky tying the knot at the expo.
"Deborah is going to marry them," explains Alexander-Reid, who, like her partner, is registered to perform weddings in the District. "We've been marrying quite a few couples who come from all across the country. I think it's going to be an awesome event, and it's going to make a statement that D.C. is still the capital and the go-to place to get married. We see a lot of out-of-towners coming to D.C. because it's the nation's capital."
The third leg of the event, which follows a similar event the duo produced last year in Baltimore – Charm City's first same-sex wedding expo – is also its tastiest: the vendors. That means all those who want to make your wedding a feast, and who will vie for attendees' attention with a piece of wedding cake or a panko-encrusted prawn.
"Last year we had samples of everything," promises Alexander-Reid. "Lots and lots of samples."
The Marriage Equality Wedding Expo is Saturday, March 19, from noon to 4 p.m. at the Washington Court Hotel, 525 New Jersey Ave. NW. Tickets are $10 in advance, available at marrymeindc.com, or $15 at the door.