With just a few small adjustments, The Adjustment Bureau could have been great. As it stands, it's just good.
To say that it's based on Philip K. Dick's short story of a similar name is like saying James Franco did a fine job of hosting the Oscars — it's being very generous. The general concept may be the same, but the characters, plot and themes are dramatically different. Writer George Nolfi (The Bourne Ultimatum) not only adapted Dick's story for the screen, he also directed the movie in his first time behind the camera. While he mostly succeeds on both fronts, he stumbles in finding all the right answers to the film's myriad questions.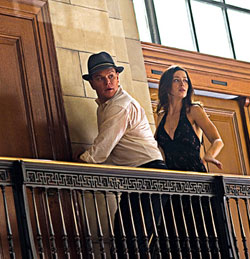 In need of a tweak: Damon and Blunt in 'The Adjustment Bureau'
(Photo by Andrew Schwartz)
David Norris (Matt Damon) is the country's wunderkind politician. The youngest congressman ever elected, indiscretions in his youth come back to cost him a Senate seat. After meeting a beautiful woman (Emily Blunt) hiding in a men's bathroom at a hotel, Norris is inspired to give the most improbable concession speech ever. While the speech may be more unbelievable than the science-fiction plot that follows, it solidifies his future chances of political success.
Meanwhile, as Norris learns, a cadre of hat-wearing men follows his every move and sometimes changes his future. Like the Cylons, they have a plan, and The Plan is supposed to become his reality. But chance intervenes and Norris goes off-book in pursuit of the mysterious bathroom girl, Elise. By this point, the looming question is: Are all the coincidences that populate Norris's life part of something bigger, or just necessary plot devices?
Nolfi tries to tackle some big themes with the story, including fate vs. free will, which has a faint hint of religious overtures in it, and love vs. success, which is what drives the plot forward. Despite the years that pass, Norris never forgets the beguiling Elise, but the bureau men stole her number from him. While one could argue that a candidate who was almost elected to the U.S. Senate could find a woman in New York City if he was willing to bank on his fame, that's not the direction that Nolfi decides to go, so Norris pines instead.
It's this balance between the unrequited love and science fiction that prevents The Adjustment Bureau from ever finding solid ground. A step to one side and the film would have been more like The Time Traveler's Wife, a sappy romance with a hint of science fiction. One step the other way and it would have been The Box, a film so caught up in its mythology that it ended up being a garbled mess. So while Nolfi tries to strike a balance between the two, it's still not "just right."
What does work very well is the chemistry and energy between Damon and Blunt as the lovelorn couple. Damon's boyish charms really serve him here as Norris wins over large ballrooms just as easily as he seduces Elise time and time again. Though Nolfi is experienced at writing for Damon's Bourne persona, the duo manages to avoid any allusions to the well-known action character. Damon ensures that Norris is just average — or as average as he's ever going to get. Blunt, meanwhile, is mesmerizing as Elise. Playing a modern dancer, she performs beautiful routines on screen, but it's her ability to capture Elise's conflicted emotions that really makes her shine. The two carry the story when the plot otherwise leaves them hanging.
THE ADJUSTMENT BUREAU



1/2
Starring
Matt Damon,
Emily Blunt
Terrence Stamp
Rated PG-13
105 Minutes
Area Theaters
In a supporting role, John Slattery could very well have walked over from the Mad Men set to play his part as a bureau man. From costume to demeanor, Slattery channels his Roger Sterling role; it's highly entertaining to watch, but nothing new. Playing an anomaly among the bureau men because he actually seems to be supportive of Norris, Anthony Mackie has to find the right balance between mysterious stranger and omniscient narrator as he's forced to explain the plot's finer points to Norris and the audience. Tasked with this responsibility, Mackie's flat performance may well have more to do with the script than his acting abilities. A bevy of cameos ranging from Jon Stewart to New York's Mayor Bloomberg are fun asides.
The clue to determining if The Adjustment Bureau is science fiction or a romance in electric sheep's clothing may be the ending. If it's a romance, then the couple ends up together; if it's science fiction, then they might not live happily ever after. While the shifting of genres is ultimately a tough adjustment to make, audiences might as well hold on to their hats and see if Norris and Elise get their happy ending.