Unless your senior prom was the highlight of your high school years, you might figure Constance McMillen fared well. In exchange for essentially being tricked out of her prom because her date was her girlfriend, she won a $35,000 settlement from her Mississippi school district, which included adding sexual orientation and gender identity to the district's anti-discrimination policy. She scored spots on Ellen Degeneres's and Wanda Sykes's TV shows. She served as grand marshal for Pride parades in New York and Memphis. Katy Perry and Lady Gaga threw concert tickets her way. She even rubbed elbows with the president at the White House. Not too shabby.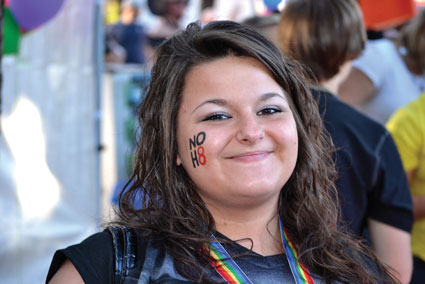 Constance McMillen
(Photo by Kevin Reed)
Then again, McMillen's future already looked bright, long before the public shunning. And that stain of last year's prom is one that's hard to remove.
"It really hurt my feelings more than it made me mad," McMillen says of Itawamba Agricultural High School's decision to drop the prom rather than allow her to attend in a tux with her girlfriend. Then they reinstated prom, but nobody told McMillen that except her and a tiny handful of kids, everybody else was partying at a different prom, free from a troublemaking lesbian like her.
"There were times that I was angry," she reasonably admits. "Our senior year is supposed to be the best part of our high school career. I'm never going to get my senior year back. Really, it just hurt my feelings more than anything. So many of those people I'd been a really good friend to. I'd helped them in schoolwork. I'd taken up for them."
In her small town of Fulton, Miss., with just a couple thousand people and its own Christian TV channel, the way McMillen was treated was no minor slight. She was raised in Fulton and grew up with those who shunned her. She didn't even want to raise the stink she did, explaining that she didn't turn first to the ACLU, the organization that stood up for her. Rather, she first raised the issue of the school's discriminatory policy to a vice principal. Then the principal. Then the school board's attorney. Then the superintendent. And she got nowhere – if you're not counting Jackson, Miss. The ACLU found McMillen a family to stay with there, five hours from Fulton, to finish out the school year due to the hostility she faced at home.
Steven King's fictional Carrie fared only slightly worse. But rather than burn down the gym, McMillen has actually risen above. Her feelings may have been hurt by her hometown, but McMillen just can't seem to hold that against anyone.
"I'm not going to blame them," she says of her should-have-been graduating class. "Even though we were seniors, we're still teenagers. We have a lot of experiences left, a lot of room to grow, things that we need to learn. We're not fully matured adults, like the people on the school board. But I can't really blame them, either. Most of them have lived in Fulton their entire lives, in that little bubble. So I don't blame anybody for anything. People make mistakes. I just wish that they learn from their mistakes."
While the good people of Fulton think about what they've done, McMillen will continue living her life in Fulton, at least till her girlfriend graduates in 2012. And she'll be donning a tuxedo again for a blow-out, second-chance prom March 19 on the Potomac: the fifth annual Capital Queer Prom. Rest assured, there will be no simultaneous, secret soiree. This prom is indeed where it's at.
The Capital Queer Prom, Saturday, March 19, for ages 21 and older, will be held on the Spirit of Mount Vernon, departing Southwest Waterfront's Pier 4 at 9 p.m. Boarding begins at 8:30. Tickets, starting at $75, are available at the HRC Store, 1633 Connecticut Ave. NW. To purchase tickets online or for more information about the cruise and ancillary events, visit capitalqueerprom.com.