Jacob Pring and Charger Stone photographed by Julian Vankim
Need to refuel? This Sunday, May 1, take an exit to Adams Morgan for D.C.'s first-ever gay "Truck Stop."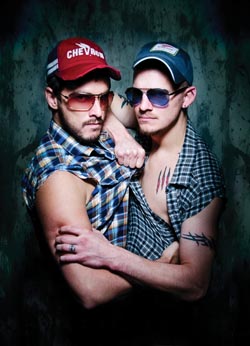 Truck Stop
(Photo by Julian Vankim)
"If Nasty Pig and Larry the Cable Guy had a bastard child that drove a semi-truck, Truck Stop is what you would get," jokes local party promoter Charger Stone. "We're crossing [gay sub-genres]."
The party will be held at Adams Morgan's popular straight dance club District. "We're not just going after one type of market," says Stone. "We're going after all of them. We want this to be a man dance party. Not just the typical gay night dance party that everybody's used to."
For starters, there's the fact that it's on Sunday night. Stone says it should be thought of as "a last hurrah for the weekend and a big 'fuck you' to the beginning of the week."
Stone is best known for organizing Town's Friday night bear happy hour, which averages 600 people a week and bills itself as the nation's largest weekly bear event. He's teamed up with Jacob Pring for Truck Stop. Pring, a promoter known for the popular monthly fetish party Code as well as regular POZ events for the HIV-positive community, says the vibe will be more dance-oriented and less laid-back than your typical Sunday night event in D.C. In fact, the venue, which several years ago went by the name Chloe, host of a short-lived gay party, reminds him of Nation.
"It's basically like a mini-Nation, where you have the second floor overlooking the dance floor, and it has a rooftop deck," says Pring. The venue holds up to 800 people.
To draw that many people week in and week out, Stone and Pring are front-loading the event with special entertainment and events. This Sunday's party features local DJs Mikey Adolphson, aka DJ MAJR of Shift/Siren parties, and David Merrill of POZ/Code. Future events will feature music by Rich Morel of Blowoff as well as DJs from a couple popular parties in New York: Gustavo and Rich King of SNAXX, and Willautomagic and Sean B of Spank. Pring says they also plan to bring in guest bartenders from other local clubs, likely dressing them up in flannel and trucker hats. (There's no dress code for partygoers.) Plus, they'll work with District to offer ticket giveaways to top-draw local concerts.
Raging Stallion adult entertainer Ricky Sinz will appear at the debut, which will also launch the party's weekly "Best Tool Contest," an open-ended amateur body contest for willing patrons to answer the question, "What tool do you use to keep his motor running?" The top three winners will earn cash prizes of as much as $300 the first three weeks, culminating in a grand prize competition in which the best-of-the-best will earn $2,000.
Truck Stop will be the first true gay party at District, open since the start of 2010. Originally it was planned as a monthly party — until Pring and Stone saw the space. "The place is brilliant," says Pring. "I fell in love with it as soon as I walked in."
Adds Charger, "It's got a darker feel to it. It's an awesome atmosphere, but not what I would call a pretty club," with "lots of black and grey and silver, lots of metal."
In other words, a great refueling stop at the end of a gay trucker's long-haul weekend.
Truck Stop is every Sunday beginning this Sunday, May 1, from 9 p.m. to 2 a.m., at District Nightclub, 2473 18th St. NW. Cover is $5, with $5 Svedka drink specials. Visit truckstopdc.com.