For some, spring is not about "spring cleaning" your home, but rather about buying a new one.
"A lot of people do like to get on the market at this time," says real estate agent Evan Johnson. "Washington, D.C., is so transient. As it is, we don't see the seasonal trends here as much as other cities. However, spring does add a little bit of buzz to the real estate market. For instance, a lot of people just like to get out of their homes on the weekends and enjoy the city, and part of that is a lot of people start to shop for homes."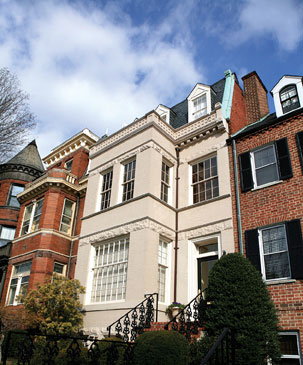 Kevin McDuffie, managing broker of the Dupont Circle Coldwell Banker, agrees, adding that there's a need for inventory as well.
"It's a good time for real estate," says McDuffie. "The markets are pretty balanced. We do need good inventory, though. There seems to be a shortage of inventory. There are people looking, there are people who are ready, willing to buy, but there's just not enough inventory to fill the need."
For those hoping to get into buying for the very first time, Coldwell Banker's Dupont Circle office provides a "first time buyer" seminar on May 14.
"It's going to cover things like finding the potentially new great neighborhood and then finding the great residential neighborhood, an investment or primary residence, teaching you how to go through the process and figuring out the best mortgage," McDuffie says.
Johnson says that spring brings to real estate a sense of renewal in the market – particularly to the aid of McDuffie's note on inventory.
"People are trying to take advantage of the great interest rates," he says. "And some new inventory has been hitting the market over the past couple of weeks as it gets a little warmer. A lot of people have been waiting to put their properties on the market … when the flowers are looking beautiful and everything is looking perfect.
"What we're seeing is actually due to the frenzy on both sides – the buyers' side and the sellers' side – that we are getting a lot more competition in contracts."
The competition highlights D.C.'s ability to bounce back from the recession.
"The D.C. market is one of the best in the country, if not the best, because it has so much employment and great real estate properties," says Johnson. "I'm not saying that we're fully insulated. But compared to other markets, it's a tremendous advantage being here."
To reach Evan Johnson, call 202-536-3092, or visit www.evanjohnson.com. For more information about Coldwell Banker Dupont, call Kevin McDuffie at 202-439-2435, or email .