"If you go to an average 18-year-old and ask him, 'What's on your iPod?"' says Vijay Iyer, "he'll be like, 'Well, Lil Wayne and Lady Gaga,' and maybe [Beethoven's] Für Elise or something. It could be all kinds of stuff."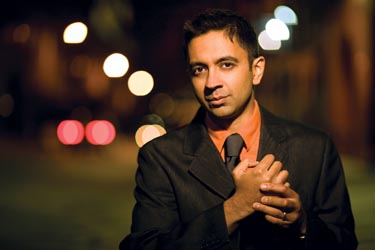 Vijay Iyer
Iyer's point? "No one person is stuck in one style." And certainly not Iyer. Best known as a jazz pianist, Iyer over the years has collaborated with Indian classical musicians, electronic and hip hop artists, and Mike Ladd, DJ Spooky and Das Racist.
He developed an interest in music at an extremely early age growing up in upstate New York. "Signing me up for violin lessons when I was 3 I don't think [my parents] were thinking, 'Oh, our son is going to be a violinist,"' says Iyer, who notes that his young daughter is now learning violin. "They were thinking more like, 'This is something for our son to do, that will enrich his youth but hopefully he'll get a real job someday."'
In fact, the son of Indian immigrants pursued math and physics in college. "It was sort of a cliché maybe for our community, but it seemed like what could work for me at the time." Though he incorporated music into an interdisciplinary science doctorate degree from the University of California, Berkeley, the New York-based Iyer says most of his musical training has been "on the job."
Much of it has come from working with longtime collaborators bassist Stephan Crump and drummer Marcus Gilmore, who form the basis of the Vijay Iyer Trio. The trio's album Historicity was nominated for a Grammy this year and features originals and covers of everything from Bernstein to M.I.A.
"I find myself learning some things and being surprised every night," says Iyer of performing with his trio. "It's very dynamic. We just keep pushing ourselves."
The Vijay Iyer Trio performs Saturday, April 30, at 8 p.m., at Sixth & I Historic Synagogue, 600 I St. NW. Tickets are $30. Call 202-785-9727 or visit wpas.org.