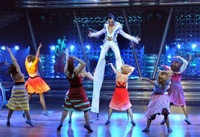 DAY 2
I started my second day in Las Vegas by going to The Spa at Encore. I hit the fitness center first (I was feeling inspired after watching the ripped men of Le Reve perform the prior night), and then I had the Encore Escape treatment. It is described in the brochure as the "ultimate indulgence" and let's just say that's an understatement. It was nearly two-hour of pure bliss.
Post-spa, I had lunch at Encore's wonderful Wazuzu restaurant. I was joined by Stephanie Rosol, Vice President of Human Resources, and Michael Bertetto, Niche Marketing and Public Relations Manager, openly gay employees of Wynn Resorts. They provided me details about the company's internal commitment to equal treatment of its LGBT employees, and external acceptance of its LGBT guests. Wynn Resorts was the first casino-resort to offer domestic partner benefits, and it received a perfect score in 2010 on the Human Rights Campaign Corporate Equality Index with a repeat performance in 2011.
After lunch, I headed to Vdara, an MGM Resorts property and one of the signature properties of the new CityCenter development. The property is a non-casino and has the distinction, along with its neighboring sister property Aria, of being one of Vegas' first LEED Gold Certified hotels. It offers a nice modern decor and a good location along The Strip (hence the name, CityCenter). I spent most of my afternoon walking around and people watching — akin to a sport in Vegas.
After ambling along The Strip for a few hours (please note, the resorts look closer together than they actually are), I freshened up back at my hotel and headed across the street to Aria for dinner and a show. I ate at Julian Serrano's tapas restaurant, which was superb, and saw Viva Elvis, a high energy tribute to the life and music of Elvis Presley and one of the newer Cirque du Soleil shows to take up residence in Vegas (Cirque has seven unique productions in Vegas including the homoerotic Zumanity).
My evening ended with a visit to downtown's Fremont Street Experience for a taste of "Old Vegas," which actually feels very new, with its cool multi-million dollar overhead video canopy.
Note: MGM Resorts is a member of the International Gay and Lesbian Travel Association.