In Russian, the root for both "red" and "beautiful" is "kras." Some say this aspect of the language evolved out of Russia's notoriously harsh winters, during which some color in the form of the red berries of the Russian mountain ash trees, for example, broke through the bleak monotony of white and gray. In those conditions, that little splash of color certainly is beautiful.
Some corners of these United States might endure the equivalent of Siberian seasons, but not D.C. Still, who can blame Washingtonians who know a good thing when they see it? The nation's capital may have been spared a 2011 "snowmageddon," but craving summer color need not be reserved only for those who weathered harsh winters.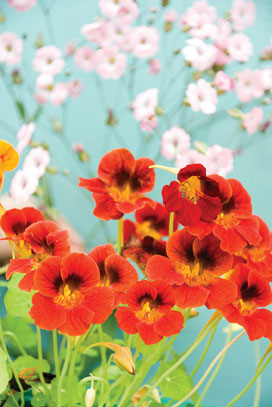 Nasturtium
(Photo by Irinia Igumnovai)
Frank Asher, owner of the Old City Green nursery at the corner of 9th and N Streets NW, says now is the time to get planting to enjoy summer's rainbow.
"We've pretty much passed frost," he says. "At this point in the game, we're pretty safe. And in the city, it's usually a few degrees warmer."
Sounding the "all clear" for warm-weather flowers, Asher advises getting the seeds into the ground for a summer staple: sunflowers. While the mighty sunflower might seem as tired as traditional, he points out that there are a number of varieties to mix things up – as long as you've got about four or five hours of direct sunlight.
"You can have huge yellow ones, red ones, multi-colored ones," he says, ticking through varieties such as mammoth, red sun, and evening sun.
Other dependable summer flowers Asher suggests – particularly for cutting – are cosmos and echinacea. Or, for those who might be heading to Rehoboth most summer weekends, zinnias are a good low-maintenance choice.
"Zinnias are really wonderful and come in all different kinds of varieties, and they're very hearty. You have to water them, but not every day."
Asher, however, seems partial to a splash of color that does more than offer a pretty face. He suggests putting on the "urban farmer" hat and planting window boxes of nasturtiums.
"It's a really nice, droopy, hanging plant, and the flowers are edible. They have kind of a spicy taste to them. They're really delicious. I like them in salads."