It's a small world, after all.
No, there are no animated dolls serenading you about global peace and world unity in a trip around Ford's Theatre's new whimsical musical Liberty Smith. It's not quite Disney World. But it's also not the real world.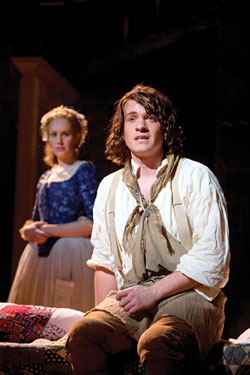 Liberty Smith Packard and Kelly Karbacz
(Photo by T. Charles Erickson)
Instead of animatronics, we float around 20 glorious singing actors, reenacting and reinterpreting the history of the American Revolution. And the writers have taken a little liberty with the school-worn tales.
Why, we even get a rousing song, "It's A Small, Small World," which finds Benjamin Franklin (Christopher Bloch) and company in a French fantasyland, leading a hoedown (yes, really), all the while asking for support from King Louis XVI (Thomas Adrian Simpson) and Marie Antoinette (Gia Mora) for the American revolt against England.
If you ultimately leave the theater charmed, it'll be more because of Michael Weiner's irrepressible, catchy music and the superb cast of actors, with assist from an eight-piece orchestra, who bring the play to life in spite of a simplistic, somewhat silly story.
Liberty Smith (Geoff Packard), as put forward by the show's writers Marc Madnick, Eric R. Cohen and Adam Abraham, is the fictitious forgotten founding father, accountable for so much of what transpired in the making of our country. He was a childhood playmate of George Washington, became an apprentice to Franklin, and worked alongside Betsy Ross (Donna Migliaccio). Smith also met and assisted the likes of Paul Revere, Samuel Adams and Thomas Jefferson. He even helped sharpen some of the key phrases in the Declaration of Independence, the writers fancy. But he declined fame and glory – even turning down serving as Washington's vice president – preferring instead to be a footnote to history.
It's a Forest Gump-like imaginative conceit for retelling the basics of how America eventually broke free from British rule. The amusing, if a tad stilted, story is not flawed so much by factual embellishments. After all, these are mostly quibbles, and nothing that a right little history lesson or Wikipedia research won't clear up for the impressionable types. A bigger problem is the notion that Smith's pivotal work in earning the nation's freedom only happens because he's in hot pursuit of love, motivated only by a girl who agrees to marriage if he succeeds. It cheapens the cause, you might say. It further cheapens the cause that the girl in question is the well-to-do Martha Dandridge, soon-to-be Martha Washington, played to the nines by Lauren Williams. She harbors no interest in the working-class Smith and challenges him in a drunken state only to get him to go away. Love is a battlefield, Pat Benatar once sang. That notion is reinforced with Franklin's many funny, far-reaching pop culture witticisms here, but there are far more important reasons to justify starting a war to birth a new country.
Nevertheless, Packard shines in the role of Smith, just as he did last winter at Shakespeare Theatre in the title role of Candide. He hits all the right notes portraying another wholesome boy, full of optimism and wonder in a world populated by older and more jaded types. He meets his match in Emily Andrews, winsomely played by Kelly Karbacz. Andrews, who aspires to be Franklin's apprentice despite her having two X chromosomes in the patriarchal 18th century, sings a pleasing de facto feminist ballad, "A Better Tomorrow," dreaming of a day when girls are on equal footing with boys.
Everyone will have his or her own favorite moments and performances in this show, one of the largest and most expensive that Ford's has yet mounted. Local leading light Migliaccio adds great verve to her characterization of Ross, and Richard Pelzman is even more charismatic as a drunken, midnight-riding Revere than he needs to be. Anyone would join his cause.
LIBERTY SMITH



and a half
To May 21
Ford's Theatre
$35 to $55
202-397-7328
fordstheatre.org
By all means, if you simply want to be entertained and revel in gloriously anthemic music – with 23 musical numbers! – and a Broadway-caliber cast and set design, Liberty Smith is your ticket to ride. The whole production team deserves praise for their work, from Court Watson's evocative set designs to Wade Laboissonniere's inspired costumes to Denis Jones's playful choreography, with assist in fight-scene dances by Brad Waller. Director Matt August does yeoman's work in keeping everything running smoothly.
You can't help but think the team behind Liberty Smith is angling for more to come from the show than just a two-month run at Ford's, or even a national tour of the production. With Disney such a major force on Broadway these days, surely the producers will push in that direction. If nothing else, no one would be surprised if the show pops up in another medium, be it film or television or, heck, a Disney World ride. The show was originally conceived as a fully animated film, after all. And Weiner has even written music and lyrics for previous Disney vehicles, such as Twice Charmed, Cinderella 2, Cinderella 3, and songs for Disney theme parks.
As the chorus sings in Liberty Smith, "Such a small, small world, after all."