What's a 10-person modern dance troupe with three gay members — including its founder — doing based full-time in Boise, Idaho?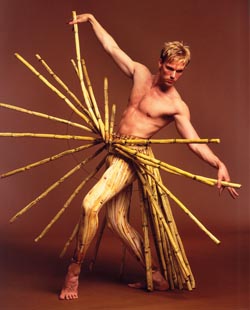 Trey McIntyre
(Photo by Basil Childers)
"It's a pretty liberal city," Trey McIntyre says. "It's a college town, so like any red state, the college town is usually where all the crazy people go."
Since McIntyre set up his Trey McIntyre Project in Boise three years ago, there has been "zero issue" about his being gay. "My partner is the [Project's] executive director and also a dancer in the company," says McIntyre. "There's certainly no secret whatsoever about our relationship. And people here have been nothing but accepting of us as members of the community.
"Our shows here are like rock concerts," he adds. "There's just a big outpouring of love, and people are so incredibly supportive of us here." They generally pack the town theater, seating 2,000, or 1 percent of the population.
Still, Boise?
"I think of [the Project] as an all-American dance company," explains McIntyre. "It made a lot of sense for us to be a pioneer, to move into a community that really had not developed its dance community to the extent of, say, San Francisco or New York." He also touts the "exciting" potential of "helping to make the arts an integral part of the fabric of the city."
There's also the fact that McIntyre is somewhat hardwired for the slower, Western pace of life, having grown up in Wichita, Kansas. "I didn't used to think that was the case," concedes the 41-year-old. "I had to kind of go sow my wild oats and live in larger cities. But I [do] feel the most comfortable when I can really get to know the people around me, and there's just not this surge of a constant need to propel forward beyond my own pace. I'm able to do much better creative work in an environment like this."
Since forming in 2005, the Trey McIntyre Project has become known for its efforts to broaden the appeal of dance, with choreographed pieces set to rock, folk and bluegrass, among other genres, in addition to the more standard classical. The company is also known for its efforts to boost collaboration across the arts generally.
Next weekend, McIntyre, who last decade served a stint as resident choreographer for the Washington Ballet, will return to D.C. with his company. Presented by the Washington Performing Arts Society, the Project will perform two pieces it developed for the New Orleans Ballet Association — Ma Maison and The Sweeter End. (Also on the bill is a third piece, In Dreams, a ballet set to the rockabilly music of Roy Orbison.) For both New Orleans pieces, McIntyre tapped the city's revered Preservation Hall Jazz Band to create recorded jazz scores.
McIntyre decided to work with Preservation Hall for its dedication both to preserving the history of its art form but also to giving it a bit more modern appeal. His company is doing much the same. In addition to continuing with traditional live performance, the Project has been branching out into film, specifically by creating a video podcast series.
McIntyre doesn't make five-year plans, "because in three years…we have no idea the things that are going to be available to us just in terms of the technology alone. So I think it's pointless to plan too much."
He does plan to stay put in Boise, though. "I think we're just getting started [in figuring out] what's unique that we can do here that we can't do anyplace else."
In fact, he hopes other artists follow suit. "My hope is that it really starts a revolution of choreographer-based companies moving away from New York and San Francisco," he says, "and starting to spread the wealth throughout the rest of the country."
Trey McIntyre Project performs Friday, May 13, at 8 p.m., and Saturday, May 14, at 2 p.m. and 8 p.m. Sidney Harman Hall, 610 F St. NW. Tickets are $22 to $75. Call 202-785-9727 or visit wpas.org.