You won't have to be dressed to the nines to get into Number Nine, D.C.'s newest gay lounge, now open. But the space in the 1400 block of P St., once home to the sleek, modern Halo, will nonetheless be all dressed up in classic chic.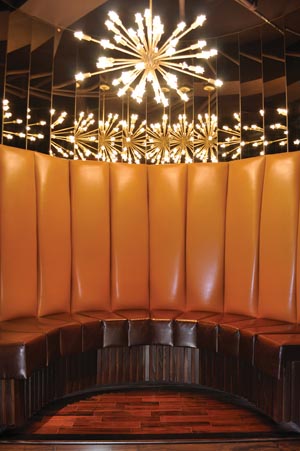 (Photo by Todd Franson)
"We've tried very hard to make it a classic, comfortable, warm interior, with very rich appointments and a lot of natural elements," says Ed Bailey, who's opening the lounge with his longtime business partner John Guggenmos, along with Jim Boyle and Yusef Khatib.
Number Nine features dark hardwood floors, marble and stone on the bars and tabletops, leather banquettes plus leather bar stools and leather ottomans and lavish bathrooms. It even boasts a gas fireplace upstairs — not to mention antique bronze and copper touches, tinted mirrors and accent colors of chocolate, coral and teal. It's designed to be sumptuous.
A giant, backlit metal "9," glowing from the rear of the bar, will be visible from the clear glass revolving doors in front. The lounge's name isn't a reference to finery of any kind — it's simply a nod to the fact that the venue is the ninth joint venture between Bailey and Guggenmos, spanning an impressive 21-year partnership. The first eight, in order: Tracks, Trumpets, the original Cobalt, Ozone, Millennium, Velvet Nation, Halo and Town Danceboutique.
"Twenty-one years ago I hired Ed as a DJ when I owned Tracks," says Guggenmos. "That's how I first met him. We just clicked."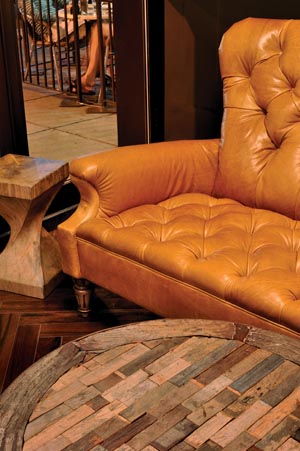 (Photo by Todd Franson)
Boyle, who befriended Bailey and Guggenmos while co-owner of Nation, joined the two to open Town Danceboutique in 2007. Boyle had an opportunity to join a different team opening a different club that year, "but it was a no-brainer to [go] with John and Ed," he says. "When you find good people to work with, you want to stick with them." Khatib has joined to make the team a quartet.
Number Nine is being conceived of as a restaurant for drinks — hence the extensive amount of seating and tables. "We're actually building this like we're building a restaurant," says Bailey, who says the model is a "cool boutique hotel lobby bar," the closest thing in Washington being the historic Hay-Adams Hotel. The bar will focus on offering classic cocktails, but with a twist — you can add not only fresh fruit but also all-natural, flavor-infused syrups, among other premium ingredients. The drink menu includes such classics as the mint julep, gimlet, Dark & Stormy and several mojito variations. A Lavender Lemon Drop features Absolut Citron Vodka and Sonoma Lavender Infused Syrup, while a vodka-based Berri Cooler packs its punch from Sonoma Acai Berry Infused Syrup.
"We're not reinventing the wheel here," says Bailey, "but the reality is that this is not something that exists within the gay community." Furthermore, Guggenmos sees Number Nine as a reflection of how being gay has progressed over the past 21 years. In some sense, "even today we're still the one last group that it's okay to discriminate against," Guggenmos says, noting "you can say 'fag' on TV and it's not met with [much] condemnation."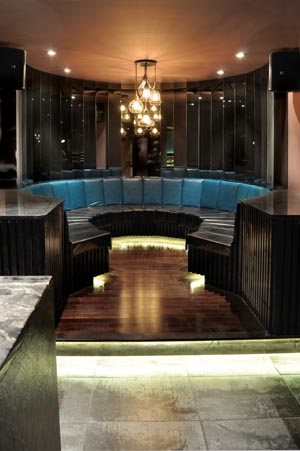 (Photo by Todd Franson)
Still, gays are far more visible and accepted today. And gay bars are, too.
Bailey concedes that the bar is sure to attract many of the straight folks who have moved into the Logan Circle area over the past few years, making it now "one of the most populated residential neighborhoods in Washington, D.C." But, he stresses, "it is a gay bar." Kris Sutton will serve as general manager, a big promotion for the Town bartender.
Bailey has put a lot of thought into Number Nine's sound system. "The music will definitely be current, but not thump-thump, not loud," he says. "No DJs. No dancing. No different theme nights, or anything that anybody has to figure out or think about." The lounge will open at 5 p.m. every day, with 2-for-1 happy hour pricing on all drinks until 9 p.m. And there will never be a cover.
"We're hoping to be a location where people meet up before or after dinner, or before or after the theater, or after work before they walk home," says Bailey. "Just a really comfortable place to hang out."
Number Nine is now open at 1435 P St. NW. Call 202-299-0999 or visit numberninedc.com.