"My persuasion can build a nation," Beyoncé sings on "Run The World (Girls)," the first single from her new album, 4. She's speaking in broad terms, about the often subtle and unrecognized power women have in human society. "Endless power, with our love we can devour."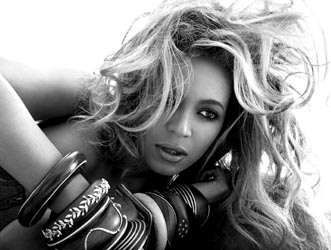 Beyoncé
On an individual level, however, Beyoncé hasn't quite proven she can build a nation. The New Yorker's Sasha Frere-Jones recently called Beyoncé "America's Sweetheart," and noted she's practically milquetoast compared to the more transgressive Lady Gaga. That may be true, but Beyoncé is nonetheless decidedly difficult to take.
Some people find Beyoncé hard to relate to, given that at least in outward appearance she's known nothing but success in all facets of life since she was a teenager. (And she's only 29.) Her dogged pursuit to keep her private life private, while commendable in idea and execution in our reveal-all age, doesn't help her connect any better.
A more serious hurdle is Beyoncé's voice, which is too brittle and shrill for some — at her most agitated she can sound something like a cat crying for its food. She often sings super-charged songs in a super-charged style. Regardless of whether it's a multi-instrumented syrupy ballad or a cacophonous amped-up jam, she generally shifts her voice to fourth or even fifth gear at least once.
And yet, for all the accelerated antics, she doesn't always win you over. Many times, there's an element of authenticity missing, as if it's all just a show.
Beyoncé attempts to sidestep that issue with 4. She's scaled back and toned down her sound — and taken an intentional one-way detour back toward 20- and 30-year-old soul and R&B. It's a calculated move away from what we've come to expect from the former Destiny's Child leader, whose merger of hip-hop, dance, pop and a little old-school R&B helped pave the way to what we hear atop today's pop chart. (Maybe it was too calculated: "Run The World" peaked at No. 29 on Billboard's Hot 100 chart, while follow-up single "Best Thing I Never Had" has already spent three weeks languishing at chart bottom.) Few songs on 4 come close to the pioneering pop of tried-and-true Beyoncé. Most are pleasant tunes, but they don't stick in your craw. They certainly don't break new ground; Prince, Earth, Wind & Fire and others got there first.
Beyoncé's slight shift to a more adult contemporary sound shouldn't be misconstrued as a sign toward maturity. "And I'm gonna always be the best thing you never had," she taunts an ex on her new single as if she were a tween. "I bet it sucks to be you right now."
Kenneth Edmonds co-wrote "Best Thing I Never Had," which sounds like a lesser version of the kind of tender R&B hits he had 20 years ago, recorded under his nickname Babyface.
Why did Beyoncé bother? What was her guiding philosophy beyond 4? It's not clear she had one. The album may start with Beyoncé pleading — as sweetly, restrainedly as she can — with her man to make love to her on the gentle "1+1." But it ends with her leading a troop of women in one of the most aggressive, audacious anthems pop music has heard in a long time, "Run The World," decidedly not a plea for a man's love. In between Beyoncé offers a couple other tender ballads, and a couple other wild, messy club-bangers, though nothing as exquisite or as exhilarating — and certainly nothing that finds anything like a middle ground.
Perhaps if Beyoncé had actually worked with the Antibalas Afrobeat Orchestra, the proceedings would have been more stirring. While recording 4 she reportedly spent a few days with the lively Brooklyn-based world music ensemble, which powered the percussive-heavy music behind the hit Broadway musical Fela! — co-produced by Mr. Beyoncé, aka Jay-Z. Instead, the fiery drum corps-styled "Run The World" — built around an M.I.A.-inspired dancehall sample — and the samba-esque "End of Time" are about the only propulsive pleasures to be had. Both were co-produced with DJ/producers Diplo and Switch.
BEYONCÉ
4
Sony
$7.99


AND A HALF
Apparently, Beyoncé inundated her label with six times the number of tracks needed to make a full album. That fact has been touted by her handlers as a sign of how prodigious and inspired she was, but given the mostly ho-hum 12 tracks that make up 4, I can't help but think she wasn't inspired enough.
Take "I Care," for instance. The song features nothing but Beyoncé and a sauntering bass beat in its verse, and a chorus that's almost as stunningly stark. But all charm is lost once we reach a bridge that leads to a cheesy '70s rock guitar solo, which Beyoncé then joins to create a peeling duet. The effect leaves Beyoncé singing directly to the listener and not just to her intended disinterested lover: "I know you don't care too much, but I still care, la la la la la."
Too bad she didn't care a little more.