Let's be clear: Dina Merrill is not a diva.
"She is extremely gracious and sophisticated," says Lynn Rossotti of Hillwood Estates. And yet, Merrill is the namesake presenter for this year's annual Divas Outdoors film series, presented with One In Ten, the D.C. nonprofit that produces the LGBT film festival Reel Affirmations. The Divas Outdoors series, says Rossotti, is one "in which we try to pick [films] that appeal to the LGBT community and really have that Hollywood diva-ish quality."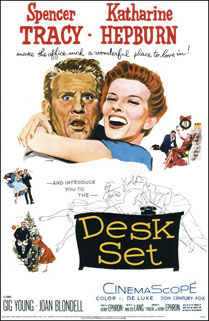 'Desk Set' poster
Merrill was Washington socialite and Hillwood founder Marjorie Merriweather Post's youngest daughter, and a featured actress in several Hollywood films. This year's series screens two classics co-starring Merrill: 1957's Desk Set, starring Katherine Hepburn and Spencer Tracy, and 1959's Operation Petticoat, starring Cary Grant and Tony Curtis.
Also this month, Hillwood opens an exhibition of wedding gowns and apparel that prominently feature Merrill — "Wedding Belles: Bridal Fashions form the Marjorie Merriweather Post Family, 1874-1958." And Hillwood is once again a Community Partner of Capital Pride.
Rossotti notes that Divas Outdoors is special event apart from the films. "We're not open evenings very often, and it's always a really wonderful treat to be able to enjoy Hillwood on a summer evening," she says. People are encouraged to stroll the mansion and the gardens, and have a picnic on the grounds before the screenings. There will even be a contest for "best picnic spread." Among the prizes: a copy of a DVD autographed by Merrill.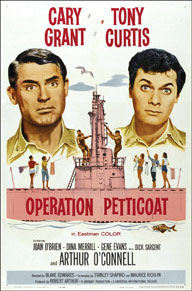 'Operation Petticoat' poster
Desk Set screens Friday, June 10, while Operation Petticoat is Saturday, June 18. Gates open at 6:30 p.m. both nights, with screenings at sunset. Hillwood Estate, Museum and Gardens, 4155 Linnean Ave. NW. Tickets are $15. Call 202-686-5807 or visit hillwoodmuseum.org.