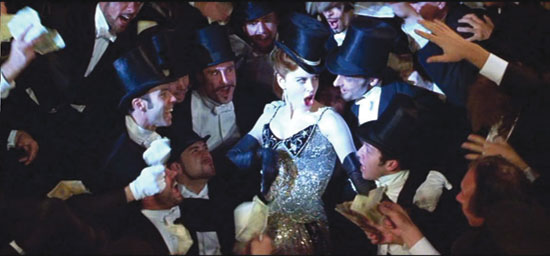 Ever wanted to blurt out "I'll have what she's having!" as Nicole Kidman has an orgasm in Moulin Rouge? Or twirl a diamond necklace during the 2001 film's "Diamonds Are A Girl's Best Friend" number? If so, Capital Pride has your ticket. The "Moulin Rouge! Interactive Film Show," set for Monday, June 6, takes its cue from the famous audience-engaging screenings of the 1975 camp classic The Rocky Horror Picture Show. Patrons will get a seat, a red velvet cupcake and a prop bag. The Renaissance Hotel Downtown will host the screening, with a cash bar offering drinks and snacks.
"During the scene where Kylie Minogue as the absinthe fairy comes out, we'll have green glow sticks that people can pull out of the bags," says Thomas Doyle, the Pride volunteer in charge of the screening. The prop bags will also include fake moustaches to match the facial look of the men in the movie. Local retail store Pulp will also include a $5 gift card in each bag. Meanwhile, the "diamond necklaces" will really be Mardi Gras-like plastic beads. "We obviously can't afford diamonds," concedes Doyle.
Moulin Rouge! is not nearly as subversive as was The Rocky Horror Picture Show, of course, but it is still a bit risqué. After all, Nicole Kidman plays Satine, a courtesan – essentially, a song-and-dance prostitute for the high-society set.
Before the screening, the evening's drag hosts, Destiny B. Childs and Ophelia Bottoms, will explain what audience members should do and when. Bottoms, who Doyle says "knows the movie inside and out," may also perform to a number inspired by the show. They will also help lead a raffle of gifts donated by area businesses.
People are encouraged to dress up as characters from the visually inventive film, which won Oscars for art direction and costume design. For an obscure dress-up option, a patron could go as the original Green Fairy.
"The Green Fairy was originally going to be a long-haired muscleman with a giant sitar, voiced by Ozzy Osbourne," explains Doyle. "It was eventually changed to a Tinker Bell incarnation, and that's when they got Kylie Minogue. [But] Osbourne still gives voice to the fairy's scream at the end, right as she's going off the screen."
Moulin Rouge! Interactive Film Show is set for Monday, June 6, starting at 7:30 p.m., at the Renaissance Hotel Downtown, 999 9th St. NW. Tickets are $25. Visit capitalpride.org.