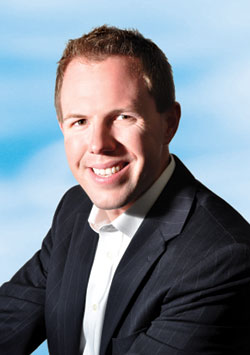 Michael Lutz
Happy Pride! On behalf of the Board of Directors, Staff, and Volunteers of Capital Pride, welcome to the 36th annual Capital Pride celebration. This year is one of our longest celebrations yet: 12 days of programming and events that celebrate our incredibly vibrant community.
I would like to extend a special welcome to all of those for whom this is your very first Pride celebration. Ten years ago I went to my first Pride celebration here in Washington, and I still recall just how special it was. Joining over 200,000 people on Pennsylvania Avenue in the shadow of our nation's Capitol to celebrate our heritage is quite a powerful experience. And, whenever someone asks me, "why is Pride still important?" I know I can answer, "because it's always someone's first Pride."
I am grateful for the support of our Community Partners and Sponsors — without them this celebration would not be possible. They are committed to our community, and as you see them around the city or at the Parade and Festival, please extend your gratitude for their support. Finally, none of this would be possible without our dedicated Staff and Volunteers: they are the keystones of our success in making everything come together.
As you page through the 2011 Official Pride Guide, take a moment to view our diverse calendar of events. I encourage you to participate in the many and varied activities taking place during these nearly two weeks of Pride. From athletics to poetry, religious celebrations to parties, and educational seminars to performing arts, I am confident that you will find something to pique your interest.
I am excited to have you join us for a spectacular 12 days of events, and I look forward to seeing you around town as we celebrate Capital Pride 2011!
With Pride,
P. Michael Lutz
President, Board of Directors