Today, the White House announced the President Barack Obama will be appointing former Rep. Patrick Murphy — the House champion of "Don't Ask, Don't Tell" repeal who lost his re-election bid in 2010 — to be a member of the Board of Visitors to the United States Military Academy, or West Point — the institution where he formerly taught constitutional law.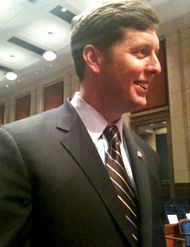 Murphy is an announced candidate for attorney general in Pennsylvania, but the Iraq war veteran has been a part of national politics — as recently as his attendance at the LGBT Leadership Council Gala in New York City on June 23, where Obama recognized him for his leadership on DADT repeal.
Murphy's appointment was announced this afternoon along with several other appointees and nominees, of whom Obama said in the statement, "It gives me great confidence that such dedicated and capable individuals have agreed to join this Administration to serve the American people. I look forward to working with them in the months and years to come."
According to the Board of Visitors's website, "The board, under the provisions of 10 US Code 4355 and the Federal Advisory Committee Act of 1972, shall inquire into the morale and discipline, curriculum, instruction, physical equipment, fiscal affairs, academic methods, and other matters relating to the academy that the board decides to consider."
Murphy, as noted in the White House biographical information provided, "became the first Iraq war veteran elected to Congress in 2006 and is currently a partner at the law firm of Fox Rothschild LLP. Volunteering for combat after the September 11 terrorist attacks, Mr. Murphy deployed to Baghdad in 2003 with the U.S. Army's 82nd Airborne Division. He earned the Bronze Star for Service.
Although referencing his time in Congress, the White House did not mention his work to repeal DADT, stating, "During his two terms in Congress, Mr. Murphy fought for a pay raise for U.S. troops, a new G.I. Bill for men and women returning from combat and increased protection for servicemembers under the Servicemembers' Civil Relief Act."
[Photo: Murphy (Photo by Chris Geidner.)]