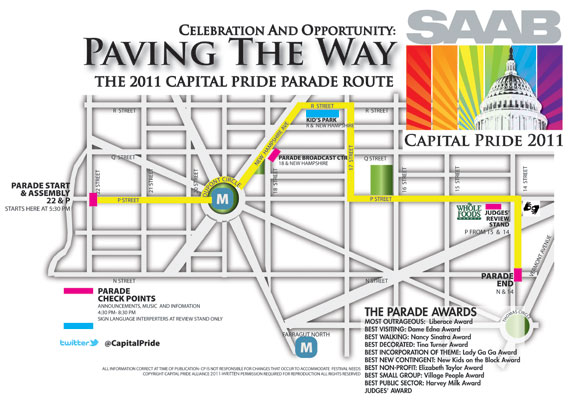 As of May 8, 2011. In alphabetical order. Subject to change.
Saturday, June 11, rain or shine
Stepoff is 5:30 p.m. at 22nd & P Sts. NW
Contingents
495 Bears
AARP
ACLU of the Nation's Capital
AHF- Blair Underwood Healthcare Center
All Souls Memorial Episcopal Church
Arlington Gay & Lesbian Alliance
Association of Welcoming and Affirming Baptists
Bet Mishpachah
Capital Area Gay and Lesbian Chamber of Commerce
Capital Area RainBowlers
Chesapeake and Potomac Softball League
Choice Hotels International
Citi
Council of the District of Columbia
D.C.'s Different Drummers
DC Council Member Jim Graham
DC Councilmember Mary M. Cheh
DC Councilmember Michael A. Brown
DC Cowboys Dance Company
DC Frontrunners
DC GLBT Arts Consortium
DC Kings
DC Lambda Squares
DC NOW
DC Rawhides
DC Rollergirls
Dignity/Washington
District of Columbia Aquatics Club
Dulles Triangles
Dykes on Bikes Washington, D.C. Chapter
Equality Maryland
Food & Friends
Food & Friends
Gay Men's Chorus of Washington, DC
George Mason University Police Department
Georgetown Day School
GLAAD
GLIFAA
GLOE/Washington DCJCC
GW LGBT Alumni Association
Hillwood Estate, Museum and Gardens
Homoto
HSBC Bank USA, National Association
La Clinica del Pueblo – Youth Program
Latin American Youth Center — Project STRIPES
Latino GLBT History Project
Leather Contingent/Centaur MC
Lutherans Concerned (DC)
Macy's
Majestic Club
Mautner Project
Metro DC PFlag
Metro Transit Police Department
Metro Weekly
Metropolitan Community Churches/The Fellowship/Unity Fellowship Churches
Mt Vernon Place, Capitol Hill, Foundry, Dumbarton and Metropolitan Memorial United Methodist Churches
National Gay and Lesbian Task Force
Open Doors/More Light Presbyterians
Peace Corps
People for the Ethical Treatment of Animals
Potomac Association of the United Church of Christ
Rainbow Families DC
Religious Action Center of Reform Judaism
Scott's Test
Sensazao LLC
Shenandoah Valley Gay & Lesbian Association (SVGLA)
So Addictive Lounge
Social Welfare Action Alliance/formerly Bertha Reynolds Society
Sonic Transducers
Spotlight Comunicaciones
St. George's Episcopal Church
St. Stephen and the Incarnation Episcopal Church
Studio X
Supreme Master Ching Hai International Association
Team DC
The DC Center for the LGBT Community
The Lesbian & Gay Big Apple Corps Marching Band
Unitarian Universalist Congregations of DC, Md. and Va.
Woolly Mammoth Theatre
P Street Parade Stage
Judge's Reviewing Stand
B'tween 15th & 14th Sts. NW
Music at 3 p.m.
Performances at 4 p.m.
Emcee: Lena Lett
DJ: Steve Henderson
Scheduled
Blair Michaels
Consuelo Costin
Venus D Lite
Jenna Drey
New Hampshire Ave. Stage
At Q St. NW
Emcee: Tia Chambers
DJ: Keith Hoffman
Award Categories
Most Outrageous
Best Visiting
Best Walking
Best Decorated
Best Incorporation of Theme
Best New Contingent
Best Non-Profit
Best Small Group
Best Public Sector
Judges' Award