Does America really need another version of "(Somewhere) Over The Rainbow?" And another ukulele-driven version at that? After all, it was just a few years ago that Jason Castro drummed up some attention with a cover of Hawaiian artist Israel Kamakawiwo'ole's version as a contestant on American Idol.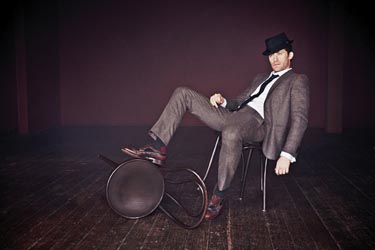 Matthew Morrison
(Photo by Brian Bowen Smith)
And just a year ago, the cast of Glee covered the same rendition of Harold Arlen and E.Y. Harburg's classic, originally written for the film Wizard of Oz and long ago established as Judy Garland's signature song.
But Will Schuester obviously felt left out. So Mr. Schue — that is, Glee actor Matthew Morrison — decided not only to play the ukulele for his cover of "Over The Rainbow," but to enlist occasional Glee guest star Gwyneth Paltrow to sing with him.
The end result is perfectly pleasant, and notable for its synthesized violins, which overpower the singers, burying them in the background. All told, that's how the song registers, too. It's anything but a distraction from whatever else you might be doing.
In that sense, it fits right into the self-titled debut from Mr. Schue — I mean, Morrison. First single "Summer Rain" is just about the closest thing to edge, even verve, you'll find here. "Your eyes are begging me to touch you there," Morrison sings. "Could be a thousand people watching, but we don't care." He's proposing that his lover stay with him on an urban rooftop, "let's make love in the summer rain." And yet Mr. Schue has insisted in press interviews he meant it as just an innocent rooftop rendezvous, not out and out sex.
Mr. Schue — d'oh, why do I keep calling him that? "They don't know my name, we only look the same," Morrison sings on "My Name," which could and probably should lash out at those of us who mistake the actor/singer for the part he plays. Instead, it belies the message; it's as bland as its title. "I didn't mean to disappoint," he sings. "But I'm not, who you think I am. I'm maybe not, who I think I am."
Oh Mr. Schue, get a grip, show some spine!
To be fair, Matthew Morrison is probably a juggling act that will work in his favor. The former Broadway star (Hairspray, The Light in the Piazza) doesn't completely abandon his theater roots. The set includes a couple cabaret-styled numbers, and ends with an affecting torch song, "It's Over," co-written and produced by Marc Shaiman (Hairspray). It also doesn't pander to that most elusive of markets, the kids who prefer edgy, buzzy pop and hip-hop. There are no rock shards here, and no embarrassing rap moments (as there often are with Mr. Schue on Glee). And Morrison only gets jiggy with it once, on "Don't Stop Dancing," co-written by former *N Sync-er JC Chasez. The mid-tempo song is so tame, you'll probably laugh at its titular command. Oh, some people actually dance to this song?
Morrison isn't capitalizing solely on Glee with the set — and he does deserve credit for choosing only a few covers, opting for many co-written originals. Besides Glee, Morrison seems to be angling for the Bruno Mars/Jason Mraz market — or at least Train. The ukulele-driven "Hey" echoes the pop trio's 2010 hokey hit "Hey, Soul Sister." And, for "Summer Rain," Morrison did work with the same production team, Espionage, responsible for Train's hit.
Morrison's also seeking to appeal to the vestigial fan base of '80s-era adult contemporary pop. He recruits Sting to duet with him on the self-help snooze-fest "Let Your Soul Be Your Pilot," complete with a color-by-numbers gospel choir wholly out of place on this otherwise reserved number. He also recruits Elton John — yes, Morrison's definitely got industry connections — to sing with him on a mishmash mash-up of two John hits, "Mona Lisas and Mad Hatters/Rocket Man." Ultimately, it's just hard to know what to think about all this.
In the end, the album seems like an also-ran in the flooded market of Glee-related memorabilia. It's certainly less satisfying than the Glee Cast album series featuring covers from the show.
MATTHEW MORRISON
Matthew Morrison
Mercury Records
$13.93


AND A HALF
Several songs actually come across as outtakes from Glee — as if they just weren't hip enough for the kids, but perfect for Mr. Schue. I mean, you-know-who.
"Still Got Tonight" includes a sweet, simple piano trill that to my ears recalls "Don't Stop Believin"' — and the message also recalls the Journey classic, which of course was popularly revived to great success by the TV show. In fact, the song factored into the same season finale that included the show's cover of "Over The Rainbow."
Maybe it's all just a happy coincidence. Whatever the case, Morrison is certainly determined to ride Glee's rainbow rocket way up high.