President Barack Obama had a tough task when he addressed a crowd of about 600 supporters at the LGBT Leadership Council Gala inside the ballroom at the Sheraton Hotel and Towers in New York City on Thursday evening, June 23. He wanted to show off his accomplishments to make the case for his re-election – but the ongoing debate over the marriage-equality bill in New York put Obama's lack of support for same-sex marriage front and center.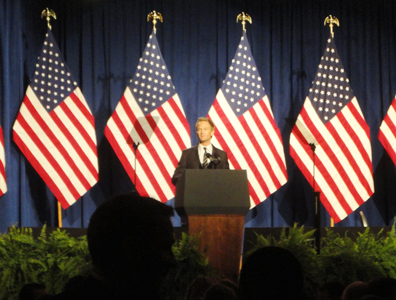 Neil Patrick Harris
(Photo by Chris Geidner)
Although there were cheers and applause inside the room, even emcee Neil Patrick Harris's listing of Obama administration LGBT accomplishments and praise from former Army Capt. Jonathan Hopkins about the passage of the Don't Ask, Don't Tell Repeal Act wasn't enough to satisfy all in the crowd. The $1,250-per-ticket gathering even had some hecklers – with one asking Obama directly in response to his mention of the New York bill, "Do you support it?"
The president, in a 25-minute speech, did not answer the question.
Stating that he "believe[s] that gay couples deserve the same legal rights as every other couple in this country," Obama also said that the debate in Albany – the "deliberation about what it means here in New York to treat people fairly in the eyes of the law" – was "exactly what democracies are supposed to do."
By praising "the leadership of Gov. [Andrew] Cuomo, with the support of Democrats and Republicans," Obama appeared to press a thumb on the side of passing the bill currently held up in the New York Senate. But, he did not ultimately state his preference for how that debate should come out – leaving many attendees wanting more.
David Mixner, who has been a strong critic of the pace of action from Obama on LGBT issues, attended the fundraiser but said that although he has endorsed the president's re-election, "I was more disappointed than I expected to be."
The mixed reaction from Mixner and others to the president's speech suggests a delicate, winding and possibly treacherous road ahead for Obama with even some supportive members of the LGBT community should he not "evolve already" on marriage, as online activists have begun framing it, in the months leading up to the 2012 election.
"I had no expectations coming tonight," said Mixner. "I knew he wasn't going to be doing marriage tonight. We had been told – but I would have liked to have seen it referred to as something different than 'that thing that's happening in Albany' tonight – which is, for us here, one of the great historical nights in our history in this community."
In the view of Paul Smith, the D.C. lawyer who successfully argued Lawrence v. Texas – the Supreme Court case that overturned sodomy laws – the big picture is more important than the issue of Obama's stated position on marriage equality.
The speech, he said, "was something that reminded us all about the amazing progress we've made for the last four years and why we need to re-elect the president, frankly."
Looking at the attention the president gave to his position announced this February that he believes Section 3 of the Defense of Marriage Act – the federal definition of marriage – is unconstitutional, Smith said, "Since I'm involved in all that litigation, I thought his decision was a spectacular one and it was nice that he reminded everybody that he decided, along with the attorney general, that they could no longer defend Section 3 of DOMA because it doesn't – it is simply indefensible – it doesn't do anything for the federal government except deny respect to married couples."
Pressed about whether he believes Obama will come out in support of marriage equality before the 2012 election, as advocates and activists – and even some senators – are calling on Obama to do, Smith said, "I don't know what he'll say – but his heart's with us."
Michael Chandler, an American who lives in Toronto and came to New York to attend the fundraiser, said the "challenges" of same-sex marriage "really are quite limited" and said, "I think we, as Americans, we're kind of behind the times when you look at the rest of the globe in that area."
Pointing to the experiences of other militaries with open LGBT service and the time it took for the U.S. to pass the Don't Ask, Don't Tell Repeal Act, he noted, "We're the melting pot of the globe here, and we aren't adopting laws that are very successful elsewhere."
Rabbi Sharon Kleinbaum of Congregation Beit Simchat Torah – a gay synagogue in New York City – took a less global view and focused instead on positive changes in America. Reflecting on the historical nature of the event, she said, "It was very moving. … The folks who started our synagogue in 1973 could not have imagined a president of the United States having a fundraiser specifically with the gay community, saying he stands for full equality of LGBT Americans. So, that is very moving to me."
She added, though, of her and her congregation, "We really look forward to getting to a point of complete equality," pointing specifically to marriage equality.
Export-Import Bank Chairman Fred Hochberg, an Obama appointee, also was in attendance, and he – unsurprisingly – boosted the case for Obama, saying, "President Obama's done an amazing job in so many areas … and has been a great leader for gay and lesbian Americans. He's made a lot of progress, he stands with us, and we're making progress on a lot of fronts."
Noting that he was around in 1993 when then-President Clinton tried to overturn the ban on gays and lesbians serving in the military and ended up with "Don't Ask, Don't Tell," Hochberg said of Obama's signing into law the repeal act, "That was a historic move last December."
Acknowledging the push for faster and further action on LGBT issues, he said, "Some of us would like … it faster, but we're making great progress. And I think he's been an amazingly steady leader in this area. Progress takes a step at a time – in so many areas – be it LGBT issues, immigration issues, jobs. We're trying to make progress on a lot of fronts, and this is one. And I think we're making good progress."
From the viewpoint of Sean Eldridge – the marriage-equality advocate who earlier this year announced that he and his partner, Facebook co-founder and former Obama campaign social-media guru Chris Hughes, were engaged – there's some balancing to be done.
"President Obama has done some amazing things for the LGBT community, from 'Don't Ask, Don't Tell' to his position on DOMA," he said, adding that he viewed Obama as superior to any of the possible Republican challengers to Obama in 2012.
"At the same time, I think it's right to demand leadership. I'm personally disappointed, and I think the community's disappointed, that it's taking him so long to finish his journey – to evolve – and come out in support of marriage."
Jeffrey McEldowney, an American who lives in London and has been supporting anti-bullying and safe-schools efforts, said, "There's a lot of work to do, and I think the president recognizes that, but I think we have to honor the things that have gotten done."
Of the critics seeking more movement, he said he understood, noting, "I think people are impatient about things that are fundamental. I understand the struggle people have wrestling with some of this … whether it's faith-based issues or different perceptions, but the reality is, to me, this is a constitutional issue. From that point of view, people should be impatient.
"And I think the president was, at least, genuine enough to recognize that and to say, 'You're right to be impatient. You need to push the world, and you need to push me.' And, I think people are doing that."
For Mixner, though, that wasn't enough.
"I think he was off tonight," he said. "I don't think he was briefed to give the kind of answer to deal with the kind of situation that he was in tonight. The room knew it."
Although the election is about more than one speech, Eldridge noted that, in effect, a marriage-equality clock is running.
"The longer he waits, the less he's able to stake his claim as a leader on our issues instead of someone who is following the tide."