"I thought that I hadn't really lived that much," says the 48-year-old legendary punk-rocker Bob Mould about being approached by a publisher in 2001 to pen his memoir. At the time Mould was going through some personal troubles. By 2008, he had his "life in order" and reconsidered the notion of examining his life story for public consumption.
Two and a half years and "a lot of soul searching" later, Little, Brown has released See A Little Light: The Trail of Rage and Melody, which Mould wrote with noted rock author Michael Azerrad.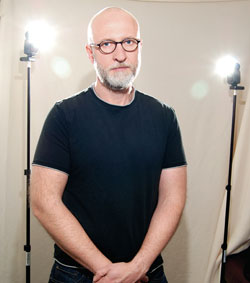 Bob Mould
Mould describes the book as a pretty no-holds-barred account of his rough childhood, as well as his struggles with coming out in the public spotlight, and then finding his way — and starting the gay dance sensation Blowoff — in D.C.
Mould, who moved to San Francisco in late 2009, mostly relied on his own memories for the book. "When I would consult with people [who were part of his experiences]," he says, "they would have completely different [and contradictory] stories. At that point, I realized it was best to go with what I know."
This Friday, June 10, Mould stops by The Birchmere for a hybrid book signing/concert, "a storyteller's kind of format." On Saturday, June 11, Mould spins with Blowoff cohort Rich Morel for a Pride Blowoff at the 9:30 Club. The bear-popular party, started in 2003, is still going "rocking solid," with regular events in New York, San Francisco and San Diego. In D.C., Mould says there's a new, younger crop of partygoers since Obama came to office. "Some nights it's all sweat, some nights it's more cologne," he laughs, adding that "the enduring beauty of Blowoff is that everybody's welcome and everybody seems to get along quite well."
Bob Mould performs Friday, June 10, at 7:30 p.m. The Birchmere, 3701 Mt. Vernon Ave., Alexandria. Tickets are $25. Call 703-549-7500 or visit birchmere.com. Blowoff is Saturday, June 11, at 11:30 p.m. Nightclub 9:30, 815 V St. NW. Tickets are $12. Call 202-265-0930 or visit 930.com.