Could it be time for a Candy Darling revival? It's been 37 years since her death due to leukemia — and the Andy Warhol-associated starlet's original 15 minutes of fame are long gone.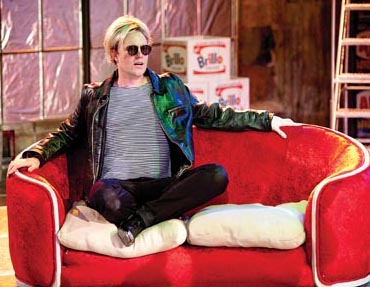 Pop
(Photo by Scott Suchman)
But our society is slowly, surely starting to get more comfortable, or at least familiar, with the notion of transsexuals and transgender identity. Perhaps time is finally catching up to the male-to-female transsexual Darling, born James Slattery.
Darling is certainly attracting renewed attention at this moment at two Washington-area theaters — including one all the way out in Rockville, but more on that in a moment.
In D.C. proper, Studio Theatre is giving over its experimental 2nd Stage to a 90-minute musical about Andy Warhol's late-1960s demimonde. Darling is portrayed in Pop! as Warhol's right-hand trans. Billed as a "musical murder-mystery extravaganza," Pop! takes as its jumping-off point the real-life, non-fatal shooting of Warhol. In this theatrical recreation, every "superstar" member of Warhol's infamous Factory is supposedly suspect of firing the gun — though it's pretty obvious only one of them has the cajones to do the deed.
Certainly, you never really suspect Darling, stunningly played by Matthew Delorenzo. So convincing is his portrayal of Darling as a demure woman — from the way he carries himself to his rich, high-pitched singing voice — you may wonder if Delorenzo is actually a transsexual. (He isn't.)
Pop! is played to the hilt as a fun, escapist night out at the theater. Considering that it's about a man whose controversial "pop art" rarely scratched below the surface, it's fitting the play would have no grand meaning to impart, either. It only ever touches on the issues of gender, sexuality, race and religion among the Factory denizens. The focus is on packaging and presentation: not on soup but soup cans; instead of what's inside, or not inside, a brown paper bag, the bag's the thing.
As a result, Maggie-Kate Coleman's story doesn't really draw you in. Coleman's lyrics aren't much better — though they do certainly get better than one early number in which a chorus repeatedly sings about "eating shit." Anna K. Jacobs's score, on the other hand, is lively and appealing, a multi-genre approach that fits right in with hit musicals of recent vintage. The music, brought to life by a six-piece band, is also a perfect fit with Keith Alan Baker and Hunter Styles's staging, which successfully conjures its late-60s era.
Pop! offers a fair number of visual treats: eccentric costumes courtesy of Ivania Stack, artistic video projections by Erik Trester, a few choice props from Giorgios Tsappas, and pre-show antics from ensemble actors, frolicking throughout the theater's space, with one man occasionally in the nude. But ultimately, Pop! gets its pizzazz from a strong cast and several knockout performances. The women in particular sing their strong soprano hearts out. Chief among them is Deborah Lubega as the Dreamgirls-esque Viva, who imbues her character as if Warhol had named her for the word vivacious, not a roll of paper towels.
And then there's Tom Story's portrayal of Warhol as a deceptively cold, dispassionate soul. He doesn't fully consider all the ways in which he's using his cast of characters as if they were paper dolls, not living, breathing beings. You almost don't care if he dies — and that is the show's point, as far as it goes.
PRESENTED BY the aptly named Unexpected Stage in Rockville, Candy and Dorothy also features a strong cast, this time in service of an equally strong and compelling script.
David Johnston got the wild idea of putting real-life public figures Candy Darling and Dorothy Day together — in the afterlife. The approximately 90-minute play gets even zanier from there, but it's never actually crazy — and they're certainly not dead.
Day, who co-founded the Catholic Worker Movement and is portrayed here as a Mother Teresa type, and Darling are pretty much polar opposites materially, spiritually, temperamentally, substantively. But even opposites can attract and find common bond.
POP!



To Aug. 7
Studio Theatre
$38 to $43
202-332-3300
studiotheatre.org
CANDY AND DOROTHY






To July 31
Rockville's VisArts
$8 to $20
301-337-8290
unexpectedstage.org
Robert Sheire may not portray Darling at her most beautiful, but he's got her old-Hollywood mannerisms and sense of glamour down pat. And his bravura performance is nearly matched by Jean Hudson Miller's dowdy Day, who is so consumed with helping the destitute and those who have suffered great misfortune, her life easily becomes a burden.
Johnston's script is smart and compelling, following the two leads as they eventually come to understand each other. In the process they also help an Earth-bound, down-on-her-luck young woman, played with charm by Dawn Thomas.
The play is performed in what looks to be a conference room in Rockville's nonprofit VisArts space. There's no elevated stage, and the audience sits in stackable chairs on two portable risers. It's a barebones production all around.
But you don't go to Rockville to be wowed. The fact that you likely will walk away with a sense of awe anyway is testament to the skills of the writer, the actors and the production's director, Christopher Goodrich, who's also Unexpected Stage's co-artistic director, in partnership with his wife Rachel Stroud-Goodrich. Candy and Dorothy opens the new company's second season. It's certainly off to a promising start.