Johnny Scruff was frustrated. Smartphone apps weren't helping him find the kind of guys he liked — scruffy guys. They were not, as he puts it, providing him "with a global scale of the gay community. It was just always about who was nearby."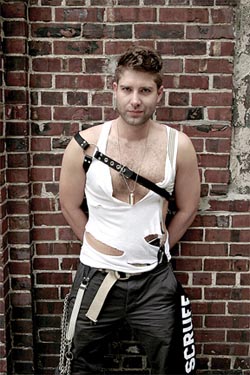 Johnny Scruff
(Photo by Cole Mangano)
So last year, with the help of computer programmer Eric Silverberg, Johnny launched a new app: Scruff. While Grindr connects a user only to those nearby, Scruff also includes a "global" tab featuring a rotating sample of Scruff users worldwide, totaling over half a million.
"We've had so many members meet guys from other states," Johnny says. "Military guys who've met their boyfriends on other bases. Guys who've gotten married from 'woofing' at someone from another country."
Johnny says the app's appeal goes beyond just the "woofing" bear community. And while facial or body "scruff" may be the norm, it's not essential.
Compared to other sites, on Scruff "you see guys that look more masculine, that look more rugged — whether they're smooth or hairy." But even effeminate guys use the site, as do drag queens. And Johnny finds that "awesome." As he says, "We want to be all-inclusive and create a community."
The 29-year-old New York resident says apps like his are actually helping, not hurting, gay bars. "When we send an alert out for people to go to a bar, the traffic doubles," he says. Scruff is a mobile service: Guys can take it with them wherever they go. "We were the first [gay dating] app to implement check-ins," he says, "and that helps the bars more, allowing people to see who's there."
Lately, Johnny has been spending more time in bars and clubs, promoting the app through official parties, including D.C.'s first Scruff party this Friday, July 29, during Town's wildly popular Bear Happy Hour.
A new version of the advertising-supported Scruff is scheduled for release next month, offering additional features through a paid membership. It's a move to help cover increasing costs of running the app, which requires 21 servers to process 25 messages a second and 10 million images a day.
You can bet founder Johnny will himself continue to be a Scruff member. The app has become such an overriding pursuit, Johnny effectively "married it," adopting its name.
He laughs: "Scruff has totally been my boyfriend for the past year."
Johnny Scruff appears Friday, July 29, starting at 6 p.m. at Town Danceboutique, 2009 8th NW. Call 202-234-TOWN or visit towndc.com. To download Scruff, available for the iPhone and Android, visit scruffapp.com.