Metro Weekly put out a call to the community to offer its own memories of Badlands/Apex.
What follows are a selection of the responses that came back.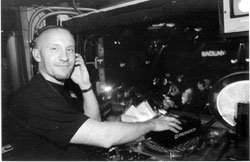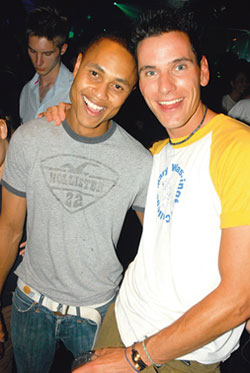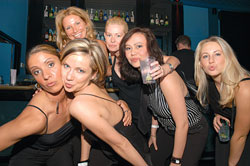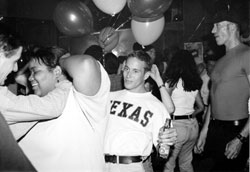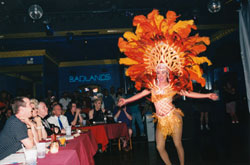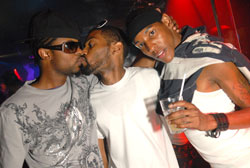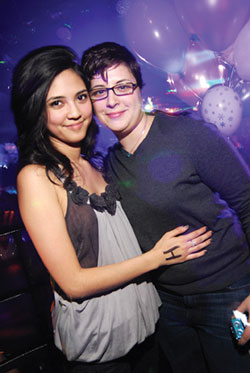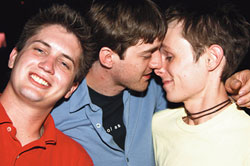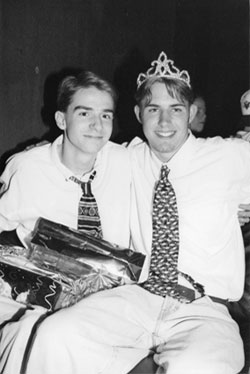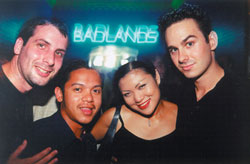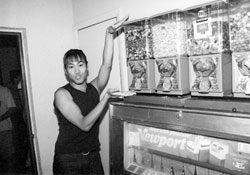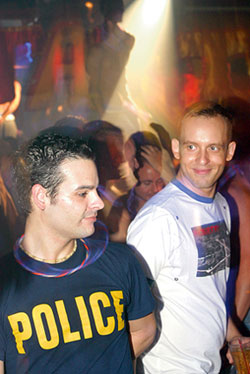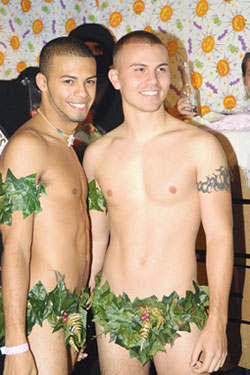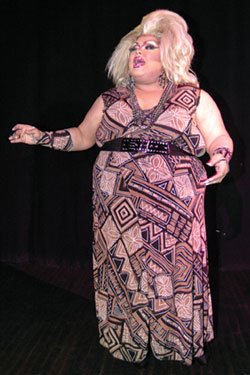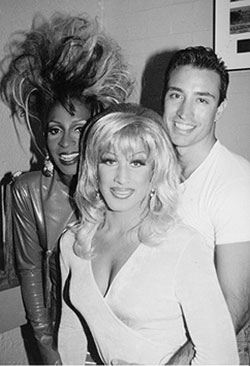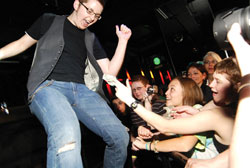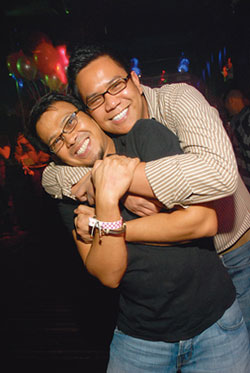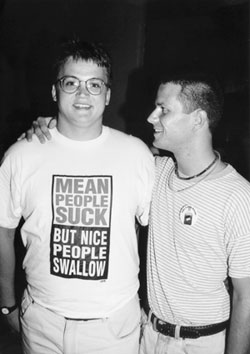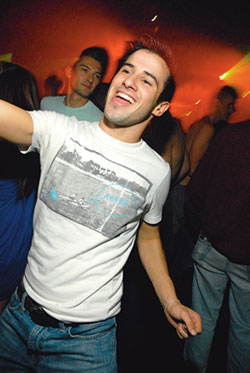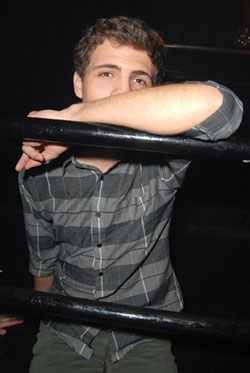 "On March 23, 1990 I decided to drive into Badlands all by myself from my recently purchased condo in Fairfax, Va. I didn't do this very often (or at all), so I was a little nervous. After wandering around the various bars tightly gripping my bottle of Bud, I set my eyes upon a small group of friends — specifically one tall, skinny boy-next-door type. I saw this guy and his friends hand off all their drinks to one friend so they could all go dance. I made my way over to the one friend juggling the drinks and said something insightful like, 'Wow, they left you with a lot of drinks!" To which he replied, "Didn't they? I'm a goddamn cocktail table!' The conversation lasted long enough for tall skinny guy to come off the dance floor, and the cocktail table introduced us. That meeting led to a very long conversation, some dancing to the B-52s ('Roam if you want to'), a phone number and a date to a party the next night. Shockingly, that was over 21 years ago and we are still together. Doesn't seem like yesterday, but it doesn't seem like whatever 21 years is supposed to feel like, either. Truly an eventful night at Badlands." — Bob Carroll
"I was 19, in college in Baltimore, and fresh out of the closet. There wasn't anywhere to go in Baltimore and I heard about 'college night' at Badlands from a friend. Walking up to the door, my knees were shaking from being so nervous about going into a gay club, but once in, and after meeting so many people, it quickly became my new home. But being in school in Baltimore, I'm glad I was paying 1997 gas prices!" — Keith Hoffman
"I will always remember while working there when it was Badlands that one of the neighbors kept constantly complaining about the loudness of the beats in the music. So we had to work a whole weekend soundproofing the back of the club. We decided to paint the place to look like the Partridge Family school bus. But one of the best times was the employee Drag Show with Craig, David, Joey-O, Paul, Peter, Anita, Larry, myself and others — when Paul, doing his rendition of Madonna's 'Rain,' all of a sudden totally puked all over the floor, leaving Larry to clean it up. That was when clubs were at their best." — Christian Warder (a.k.a. Jacky-O-Nasty)
"I coordinated the 'Return the Beat Around' dances at Apex during Mid-Atlantic Leather Weekend 2002 and 2003, and I get goosebumps (and a bit misty) remembering dancing with friends such as Billy Collison, Wayne Nesbitt, Bryan 'Pup' Mullikan, Neil Alexander and others who are now gone — and also with many others who are thankfully still here. Even if for one night or two nights a year when we danced, heaven was really here on earth." — Danny Linden
"Back around 1990 or 1991, the drill on Friday nights was to get a buzz going early at JR.'s and then head over to Badlands. Every Friday, there was this older guy who used to hang by himself in the back bar. At some point in the evening, the DJ would play Nancy Sinatra's "These Boots are Made for Walking," and he would get up on the little stage at the far end of the room and dance alone, becoming Nancy for those few short moments. Everyone would stop to watch, and it became something of a weekly ritual — sort of funny, but also a little sad since it was probably the high point of his life." — Harry J
"Apex — or The Pex as we 'old timers' called it — was the spot to be. The lines would continue around the corner to the coffee shop, which back in the day was the place to have a coffee, a bite to eat and smoke your cigs. My first time in Apex was when I was 18. I was new to the gay scene and somehow knew Apex was the place to go. I walked in and was overwhelmed by the thumpa thumpa. There was definitely the A-List group already formed in the club — usually, a boyfriend or partner of the staff. They had a VIP list that you could be added to after dating a staff member for 3 months. It meant free entry, not waiting in line and 2 dollar drinks! I made sure to get on that list." — Michael Cambellino
"I remember when Badlands first opened back in 1983. A group of us from the old Rogue (Ella Fitzgerald, Juliet Prowse, Michelle Montgomery and Tina Santana) had just finished the 'Man of The Month' contest at The Frat House (now Omega). We all went over to check the new dance club that was owned by the same owner, Glen Thompson. It was packed with people and the energy level was very off-the-scale. The video bar was very unique for that time. They also had an upstairs bar where you could chill out if you knew the right people. It was the anchor club that added another venue when P Street was the main street of Washington D.C.'s gay community along with Mr. P's, The Frat House, The Fireplace and Friends." — Frank Nowicki
"In 2001, the Washington Renegades Rugby team hosted the first international gay rugby tournament. We hosted teams from San Francisco, Manchester, London and Buenos Aires, with individuals from New York, Melbourne, and other places, also present. The tournament was held at Francis Middle School over by P Street Beach. The closest bar was Badlands, so we held the after-party there. Probably the most moving moment of the afternoon was the Buenos Aires team leading all the ruggers in a rousing rendition of 'Don't Cry for Me Argentina.' Featured prominently on stage? Mark Bingham, gay rugby player and [later] hero of 9/11, who had hurt his arm earlier in the day and was drinking a pint of beer with one arm, the other in a sling. Four months later, the world changed." — Mike Stebbins
"My favorite memory of Badlands (and there are, oh, so many) is being there during gay pride (late '80s, early '90s, back when the parade route went down P Street) and all were given squirt guns. What a great way to meet guys! Think he's cute? Soak him! It was a blast. My best gal-pal, with me at the time called it "the highlight of the gay pub crawl." It truly was. (*sniff*)" — Mark Trinkaus
"We used to spend every Thursday night at Badlands. As a freshmen at Howard University, it was the first gay club I was able to attend on a regular basis. We used to dance on the raised platforms in shredded t-shirts and too-tight jeans, while flirting with cute boys over too loud house music." — Robert Jackson
"Like most, Badlands was the first real gay nightclub I went to. I remember thinking it was so bright when I first started going there. It was a place of many firsts for me. I picked up my first trick there, met my first boyfriend, and Cookie [Buffet] made her drag debut dressed like Barbara Bush. I loved to go sing karaoke with Gladys Kravitz. I also remember how generous the club was with some of the charity work I did. One of the first fundraisers I was ever involved in helped raise money for SMYAL and we were able to collect $1,000 from them, which was really great. I remember the display case with the softball trophy that became the anti-drug display. I remember performing for Mayor Williams at the annual holiday party that was first organized by Phil Pannell and then the fabulous Wanda Alston. I remember when it became Apex and I stopped going. I remember sitting outside of SoHo and watching people leave. I remember the joy. I remember my last time there before New Year's eve on a college night thinking that I was getting too old for this for the 800th time." — Chris Dyer
"I met my ex-fiance at Apex. We were 20 and it was Lesbian Night. I had a habit of hitting on men on this night only to find out they where androgynous ladies. After dancing with him for a while I had to check and see if he was actually a boy. I did what I thought was a discreet breast check. He caught me and we laughed. He went home later that night, but left me with his baseball cap, which turned out to have his phone number written on it." — Ba'Naka Deveraux
"During the summer of 1991, I took a fellowship with a member of Congress. On the bulletin board at Lambda Rising, I found a flyer advertising a room for rent on Capitol Hill. I didn't learn until I moved in that my landlord was the manager of Badlands. What a bonus. I had just turned 21, so needless to say, I had an amazing summer. Badlands become my second home, and Dale, Robbie and the entire staff became part of my extended family. Looking back, much of my life today was shaped by that summer, and Badlands played a significant role." — Troy Petenbrink
"Apex will always bring back special memories for me. From just good times to go-go dancing there every Saturday to their infamous manager Joey O. Apex was the very first gay club I went to — it helped confirm my feelings for men. I came out of the closet shortly after experiencing Apex for the first time and now I'm a famous gay porn star." — Spencer Reed
"I chose Badlands as the first gay club I would step into after consistent prodding by my friend Katherine, the only person I'd come out to at the time. It was March 2001, and we were on the phone as I was going through the Destinations section of Metro Weekly. Until that time, my impressions of gay clubs were based on episodes of Queer as Folk, which greatly frightened me as a 23-year-old black male. I laugh now as I made all the bad club mistakes. I wore all black (which made me look straight). I arrived early (even the bartender shook her head). And it was the wrong night! I arrived with Katherine in tow to a sign outside advertising Lipstick. Newly out and totally oblivious, I walked in to find no men for almost two hours. Turns out, it was ladies night. But those ladies gave me great advice (and checked out my gal pal, who was giving total lipstick lesbian), and eventually introduced me to some guys when the main dance floor opened. That's when I was formally introduced to Deborah Cox's remix of 'Absolutely Not.' I haven't been the same since. Subsequent Karaoke nights with a fabulous drag queen host gave me a chance to show that I've got a voice and a place in this community. This led me to join the Gay Men's Chorus and 10 years from the month I stepped into Badlands, make the cover of Metro Weekly, in drag no less. Best wishes to the bartenders, the drag queens, the owners, staff and all those great folks who made a difference in the lives of so many 'firsts' like me." — Ryan Williams
"The best story I have is actually my boyfriend's. For years he's been teased for having spent quite a bit of time one night in the '90s, trying to pick up a handsome guy on the dance floor by exchanging some welcoming glances. Turns out he didn't get very far because he finally realized he was hitting on himself in the dance floor's mirrored wall. People still tell that story to this day." — Patrick Landis
"Aside from years of packed Friday nights and being the last on the dance floor with my swirly wand, my favorite, favorite memory was my birthday in 2002, when Julian Marsh happened to be spinning. All my friends brought swirly wands. I gave him one and he waved it from the DJ booth to me. I was surrounded my friends, and dancing to my favorite DJ, and everything in the world was perfect." — Staci Morgan
"I remember God showing up at Apex, during the tribute to Cheryl Spector on September 30, 2007. Cheryl was such a special light in the community and the Apex staff was especially wonderful to all the people who showed up for her." — DJ Erin Kelly
"1991. New Year's Eve. With my boyfriend, Curtis. At midnight, I met a fellow co-worker from the Bush #41 Administration in the way-way back room with the big screen TV/monitor. He told me that he was in the 'wrong' club and exited abruptly. I didn't mean to 'rain on his parade.'" — Greg Ruth
"Apex was my coming out, as it was for a lot of D.C. newly out. It was a place that provided comfort and safety to go and be what you were. Over the years it has stayed consistent in image and in delivery. I knew that everything was standard as I checked for the glass shoe at the entrance and the elephant heads on the back bar. Memories of dancing in front of the glass that surrounded Apex, up on stage looking over the crowd, or watching the artistic videos up on the screen — I smile and think to myself what a wonderful way to usher in my pride. Thank you, Apex, for providing a place I could be myself so I could discover myself." — Sterling Higgins
"Over the years, I've tried to refer to the club as Apex — but it will forever be in my mind Badlands. It was the first 'gay' club I ever went to. I remember how nervous I was and how I hid in the corner behind my best friend for the first hour. Long before it was cool to be gay or out for that matter, before Ellen, Queer as Folk and Will and Grace. I made a lot of friends. Some I still have, some I've lost, and some still frequent the clubs with the same ferocity as when we were twinks in our twenties. My best friend and I faithfully started our Friday nights here for too many years to count, and I took advantage of too many free college nights to remember (literally). Although I have long since given up bars for nights at home with a glass of wine and a movie, there is some part of me that wishes I could go back in time and relive one glorious, shirtless, sweaty, wall-to-wall boy, Friday night, drink in hand, dancing like my life depended on it and forgetting the rest of the world existed. Here's to you Badlands, to Apex, to Anita, to the Foreplay, you will be missed." — James T.
"Back in the late-1980s, I would sneak away from the Naval Academy whenever I could to go dancing with my prepped out gay friends at Badlands. As you might imagine, the environment at the Academy was not the most supportive. Being just 35 miles away from Annapolis — in Dupont Circle, and especially being at Badlands — was a complete and total escape to another world where there were people like me. Plus cool music, insane lights, a fun dance floor, and the best videos. Like, totally. Thanks for the memories!" — Jeff Petrie
"Badlands was the first gay club I went to in DC and it was always fun. I remember going there at Christmastime. There was a toy drive, and then-Mayor Anthony Williams' mother sang 'Oh, Holy Night' a cappella." — Howard Ghee
"Apex was the first club I ever went to when I turned 19. It was amazing. The lighting effects and music were great. I went all the time with my best friend. Had some great times there. Went for my last time in January, on my 22nd birthday. Hate to see it go." — Rodney Thompson
"I first moved to the D.C. area in 1996 and lived in Gaithersburg for the first 5 months, then moved to Dupont. During those 5 months, Badlands was my gay 'sanctuary' (I did not know about 17th Street). I'd come in via Metro, enjoy the video bar in a comfortable setting, dance a little, and hang at the coffee shop at the corner until I had to get back on Metro and head back to the 'Burbs. I've heard others malign it as 'tragic' over the years, but for me, Badlands was my 'gay bar' introduction to DC and the gay community. I am grateful that it was there to give me what I needed at the time." — Robbie Shore
"Two things in particular come to mind when I think about Badlands/Apex. As a DJ, the Liquid Ladies party at Apex was my first 'dance-floor.' I also met my partner of almost 5 years on the dance-floor at Apex." — Bobby T
"In December, I was invited to a friend's birthday party on a Saturday night, but it got cancelled. I wanted something else to do that night. Grace, Thomas, and Emily took me to Apex. I was excited. I became good friends with the guy checking IDs. He was looking at mine carefully. I let him know that I lost weight. The second time I went to Apex, I gave the guy checking IDs a hug." — Ruth "Lil' Ruthie" Shipps
"Five years ago, I arrived in Washington, D.C. for the first time and was ready to hit the party scene during my first year at college. On Thursday night — college night — my gay deafies said, 'Let's go to Apex!' I was like, 'Huh? What is that?' They took me there. It was my first time at gay club in D.C. It was amazing. My friends and I were so crazy and hooked up with guys. Thank you, Apex, for the great memories. I will miss you." — Cesar Ayala
"Apex was the first club I went to and actually felt completely comfortable. Going to school in New York, I'd come across quite a few gay bars with quite the creepy clientele. It was safe to say that I was a wallflower at most places, but Apex brought out a confident side of me I never knew I had. Before I knew it I was dancing with my shirt off and convincing my straight male friends to go hit on a few choice drag queens." — Andrew D.
"Apex/Badlands for me was very special, in that it was really the first gay club I went out to (albeit a few years underage at the time). I will never forget meeting Gladys/Howard in the Karaoke room and her encouraging this blonde boy to sing! I met my first music producer there and developed many life long friendships, which I cherish. Over the years that club would change its appearance a bit, some staff would move around and grow, as did our community. It is a shame to see its passing." — Nikolas Groshans
"Apex was amazing every day — including the day I got the phone call informing me that the club has closed and I will be laid-off. After five years of employment, off and on, I just could not get away from the place. I started as a customer at the age of 18. I celebrated my 18th birthday a few weeks after I turned legal with some good friends. I didn't stop going ever since that day back in 2005. I did not meet any boyfriends there, but I did meet some amazing people like Joey Oldaker (Boss, Friend, Mentor), Kristina Kelly, Melissa Cardarelli (DJ from Philly). Not to mention Inaya Day, Colton Ford, Amber & Zelma Davis. Melissa actually became my mentor when it came to DJing, and I learned almost everything I know from her and Joey. Thank you, Apex, for giving me the opportunity to be myself, have fun, meet people in a wonderful atmosphere both off- and on- the clock. You will be truly missed." — Anthony Swain
"A friend took me to Apex for my first trip to a gay club. I remember getting ready to go out — even then I was running late and changing outfits again and again! I also remember being extremely nervous about what I was about to do. And then we got inside and everything clicked." — Mark Brennan
"After coming out at the age of 31 and at times when I found myself unencumbered by a steady boyfriend, Badlands was part of a weekly circuit that included Trumpets, Tracks and JR.'s. I could indulge my social self at any one or all of these places in a given week." — Paul Wilson
"I use to go to Apex several years ago when I was new to the area. I enjoyed the girls they had in their drag shows. They had plenty of talented, attractive drag entertainers, who were often from out of the area. The times I did have there were nice. It is sad to see them or any business that was popular decline because of the economy or competition. I wonder what will take over the building next?" — Vinh D.