"We have very loyal football fans, and there was just about a rumble," says Doug Schantz, owner of Nellie's Sports Bar. Schantz is referring to one Sunday in early 2010, soon after the venue started its Sunday Drag Brunch, when football fans came streaming in to the main dining area to watch an early game.
"People were saying it looked like the Crips against the Bloods," says Schantz. "There were drag queens screaming at guys wearing football jerseys. It was a sight to behold. And both sides were winning."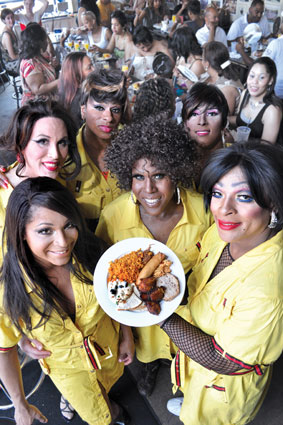 Nellie's Drag Brunch
These days, the brunch, organized and hosted by Nellie's stalwart queen Shi-Queeta Lee, takes place upstairs on the deck during football season to avoid such altercations.
Drag Brunch has become so popular, Nellie's requires reservations through OpenTable. And they're generally booked two weeks in advance. It's especially popular for birthdays or other group celebrations, appealing to both gays and straights, men and women.
"Even though there are other drag brunches in the city," says Shi-Queeta Lee, "[people] like ours because [the drag queens] actually wait on the tables. We intermingle with the guests as well as perform."
In fact, Lee and her all-star team of local drag queens offer some of the most attentive table service around, wearing bright yellow waitress dresses straight out of a twisted IHOP dream. The queens even make waffles to order. For $20, brunch patrons can eat an unlimited amount of food, from standard breakfast fare to traditional Southern and Cuban items. The bar is open, too, with Zing Zang Bloody Marys the house specialty.
"There are no rules to drag brunch," says Schantz. "[But the drag queens] are not going to make people feel uncomfortable. They feed off of the crowd's reactions." All told, the vibe at Nellie's Drag Brunch is far more laid back than you'll find elsewhere.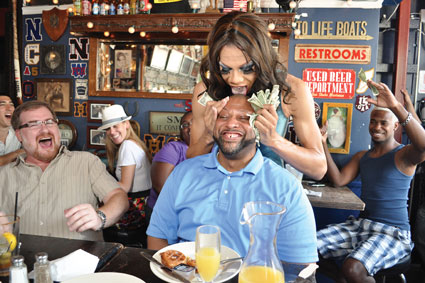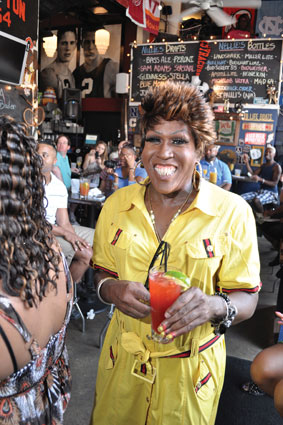 "I really hesitated to do anything other than sports," says Schantz. But in addition to big-screen viewing of sporting events and hosting of local sports teams, Nellie's, now in its fourth year of operations, has proven to have wide appeal. "Nellie's has become a natural neighborhood bar that appeals to a lot of people that live nearby. Not all of them are sports fans."
Lee, whose real name is Jerry Van Hook, first started a drag brunch at the old Cada Vez space several blocks west on U Street. After that closed, she hosted a few others around town before finding the perfect fit at Nellie's, where she also emcees Tuesday night's Drag Bingo.
"She's amazing," Schantz says. "She's on the executive manager level. I couldn't do anything without my Shi-Queeta."
You might even call her Nellie's star quarterback — just don't expect her to wear a football jersey.
Nellie's Drag Brunch features two seatings every Sunday, at 11 a.m. and 1 p.m. Nellie's Sports Bar, 900 U St. NW. $20 All-You-Can-Eat Buffet. Call 202-332-NELL or visit nelliessportsbar.com.