Before this week, President Barack Obama had, on several occasions – including from the Oval Office in June 2009 – stated his support for the repeal of the Defense of Marriage Act. He and his administration had not, however, endorsed any specific legislation to do so.
In February of this year, the administration did take special aim at Section 3 of DOMA – the provision that defines marriage as one man and one woman – when Attorney General Eric Holder told House Speaker John Boehner (R-Ohio) that Obama and the attorney general had concluded that the provision is unconstitutional. Holder further stated that, accordingly, DOJ would no longer defend Section 3 of DOMA in court.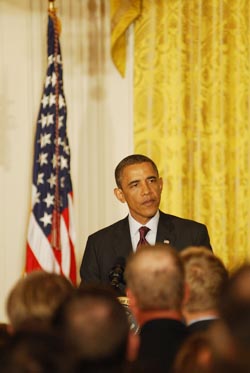 President Obama
(Photo by Ward Morrison)
Section 2 of DOMA, which purports to prevent states from being forced to recognize same-sex marriages legally entered into in other jurisdictions, remains in effect and not under direct attack in any of the pending court challenges – although supporters and opponents of same-sex marriage question whether the provision is constitutional or necessary, respectively.
On Tuesday, July 19, though, the administration went further, putting its weight behind the Respect for Marriage Act. The bill would not only repeal both sections of DOMA, but it also contains a "certainty provision" that would guarantee to same-sex couples who are legally married in one state that their marriage would continue to be recognized for federal purposes even if they move to a state that disallows such marriages.
In response to a question from Metro Weekly, White House press secretary Jay Carney said, "He is proud to support the Respect for Marriage Act, introduced by Sen. Feinstein and Congressman [Jerrold] Nadler [(D-N.Y.)], which would take DOMA off the books once and for all."
Carney said, "This legislation would uphold the principle that the federal government should not deny gay and lesbian couples the same rights and legal protections as straight couples" – noting that DOMA "continues to have a real impact on the lives of real people – our families, friends and neighbors."
Although Obama's support for the repeal of DOMA – particularly since the Feb. 23 Holder letter – has been well established, today's briefing was the first time that the administration had endorsed the "certainty provision" portion of the RMA.
The provision, which would replace the federal definition of marriage in the U.S. Code, states that wherever in federal law marital status is a factor, "an individual shall be considered married if that individual's marriage is valid in the State where the marriage was entered into."
Freedom to Marry president Evan Wolfson, whose time spent advancing marriage equality over the past 20 years has been unparalleled, "applauded" the move, saying in a statement, "The federal government should not be picking and choosing which marriages it will honor and which it will disregard when it comes to the important federal protections that come with marriage, such as Social Security, health coverage, fair tax treatment, and immigration rights."
He added that "Congress should follow the President's lead and return the federal government to its traditional practice of honoring all lawful marriages equally – without the 'gay exception' of DOMA."
The news came less than 20 hours before the Senate Judiciary Committee is scheduled to hear testimony from supporters and opponents of the RMA – including Wolfson and Human Rights Campaign president Joe Solmonese.
In a statement provided to Metro Weekly, Solmonese said, "Momentum is important leading into this hearing and the President's endorsement, not only of DOMA repeal generally but this particular bill, helps put wind in our sails."
Nadler – whose gay, lesbian and bisexual constituents will be able to enter into same-sex marriages beginning on July 24 – also praised the announcement.
"I am thrilled by President Obama's endorsement today of the Respect for Marriage Act, legislation which I introduced in order to repeal the discriminatory and cruel Defense of Marriage Act once and for all," he said. "The President's unprecedented decision to support this timely legislation sends a powerful message to Members of Congress and to the American people that now is the moment to dispense with DOMA and remove this ugly blight from our legal code."
The Courage Campaign has been working – successfully – to urge senators to sign on the support the bill, and its chair, Rick Jacobs, noted in a statement today, "It is rare that a White House endorses a bill that has yet to pass first in either the Senate or the House. President Obama's decision to do so underscores the urgency with which the Defense of Marriage Act must be repealed."
As the witnesses called by supporters of the RMA who are due to testify on July 20 aim to show, others spoke of the individual impact of DOMA on couples.
Noting that DOMA "denies rights to gay couples and their families simply because of their sexual orientation," Winnie Stachelberg, the vice president for external affairs at the Center for American Progress, said in a statement, "Passage of the RMA would represent a huge leap forward on the path toward full equality for same-sex couples in the United States. The administration's support of the RMA is important and greatly welcomed."
As Rea Carey, the executive director of the National Gay and Lesbian Task Force, said in a statement, "DOMA has only served to belittle our country's deeply held values of freedom and fairness. It has only served to hurt families, not help.
"This must end now."