[UPDATE: A vigil has been scheduled for 7 p.m., on Saturday, July 23, in Northeast D.C.]
A transgender woman was shot and killed in Northeast D.C. during the early morning hours of Wednesday, July 20. The Metropolitan Police Department has little information about the suspects other than that they are "two black males," according to MPD Public Information Officer Gwen Crump.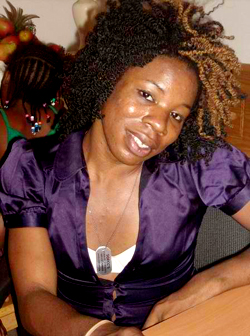 Lashai Mclean
The victim has been identified as 23-year-old Lashai Mclean of Northeast. The homicide took place on the 6100 block of Dix Street NE, in the same neighborhood as the Wanda Alston House, the home for LGBT youth that is a project of Transgender Health Empowerment (THE).
"The matter is under investigation," Crump said.
According to an MPD press release, members of the Sixth District station responded to a reported shooting at 4:26 a.m.
"Upon arrival on the scene, they found a victim suffering from an apparent gunshot wound. D.C. Fire and Emergency Medical Services personnel transported the victim to a local hospital where the victim was pronounced dead."
Brian Watson, program director at THE, who lives in the neighborhood in which the homicide occurred, says Mclean was a THE client of but not of the Wanda Alston House.
"Lashai had been a client of ours for the last few years," he says. "She was one of younger clients, she came to our drop-in center, most of our staff knew her because she came here on a weekly basis.
"There was a point where she was here almost everyday."
At this point, Watson adds that THE is putting together what it can from minimal information. Watson says Mclean was with another member of the transgender community who "got away," but that members of THE have yet to determine who that is.
"We haven't gotten any information from GLLU or anything, that's why we still don't know what's going on. … We don't know if police have anyone in custody, we don't know if they got away, we do know that someone was with Shay, but we don't even know who that was."
In a press release issued by the mayor's office, Mayor Vincent Gray (D) said, "Every homicide in the District of Columbia is a tragedy for which the perpetrators must be brought to swift justice."
"However, if the investigation concludes that this shooting was the result of bias based on sexual orientation or gender identity, MPD and my administration will work with this community to see that there is an appropriate response to this kind of violence, which cannot be tolerated."
Anyone with information, is requested to call MPD immediately at its toll free crime tip line 1-888-919-CRIME.