Local HIV/AIDS organizations responded this week to the Federal Center for Disease Control and Prevention's new study on HIV infections in the U.S.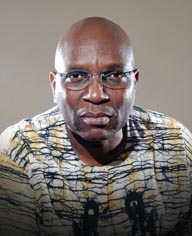 Ron Simmons
(Photo by Todd Franson)
The study, released Aug. 3, concluded that while rates of new infections have stayed within the same range between 2006 and 2009, in 2009 there was an alarming increase of 48 percent in infections of African-American young men who have sex with men (MSM).
Metro TeenAIDS responded to the report by calling for more data in D.C.
"This group of young people face a continuing risk of infection that goes far beyond what the overall data would suggest," Adam Tenner, executive director of Metro TeenAIDS, stated in a press release.
"This new report is a wake up call that the District government, the DC Public Schools, community based organizations, and the business community need to ensure we have all the information we need to ensure high quality services directed at this vulnerable group."
According to the report, "[T]he reasons for this increase [among African-American men] are not fully known, but may include a high background prevalence of HIV in black MSM and societal factors, including stigma of HIV and homosexuality, limited access to health care, and poverty that may create an enabling environment for HIV infection."
While stressing the urgency of the matter, Ron Simmons, executive director of Us Helping Us, People Into Living, stressed that the data does not necessarily conclude that black men are doing "less" than their white or Latino counterparts in HIV prevention efforts.
"What this data means to me is that we have to double our efforts," Simmons says.
"We have to think outside the box. I think what is going to be key is that the black male community has got to begin to have a different self-concept of themselves. Also, it's important that we begin to spread an understanding of why that data is what it is, so that black gay men, no matter where they are in this country, are not reading it and thinking, because of the media coverage, 'What is it that we are doing wrong?'
"It's not that you're doing something wrong. In fact you're trying more than possible to do something right. It's just that we've got to do something else and that to me is the key message."
Simmons adds that he's given some thought as to what "something else" might be.
For HIV-positive men, he says the key strategy is for them to be open about their HIV status and to encourage others to get tested.
"When all is said and done, you can't get HIV unless you get it from somebody who is positive," he says. "So if you are positive, you should let people know that."
For HIV-negative men, Simmons says he's formulating a new effort that asks men to wait 30 days – pointing to the weeks after infection it may take someone to test positive – before having anal intercourse with each other.
"I think part of [the solution] is going to be we have to change the notion within the community about sex and intimacy," he says. "'Outercourse' versus intercourse.
"I would love to have something that would be, 'Wait a month before you fuck.' People tell me that's not going to work, but I think it will. If you meet someone and you think it can be serious, both of you come in and get HIV tested and then you get tested again in 30 days."
Local activist Justin B. Terry-Smith, who is black, gay, HIV-positive, and the author of a children's book addressing HIV titled I Have a Secret, finds the CDC report "startling."
"I'm a little surprised that people are not getting the message," he said.
"I think in the '80s and '90s we kind of had this 'in your face' look of death of HIV and AIDS, and now we don't. Now the message has kind of been lost. People think that if they get HIV they can get back in the game with these medications and it's just that easy.
"It's true, you can live a long healthy life with HIV. But … why would you want to get this disease? I don't think people are asking themselves that question."